If you follow the financial markets fairly closely, you are subjected to an endless number of predictions every day of the week. Those predictions are about (among other things) where the stock market is going, where commodity prices are going and which specific companies to buy.
After awhile, you learn which voices you should ignore and which ones you should pay attention to. One voice that has a history for making accurate predictions is GMO's Jeremy Grantham.
Grantham famously warned investors to avoid assets exposed to the Japanese bubbles (equity and real estate) of the late 80s, the growth stock bubble of the late 90s and the debt bubble in 2008.
So my ears perked up this week when I learned that Grantham said that investors should get exposure to natural gas. Grantham is a numbers driven investor. If he is willing to issue an opinion, it is based on what his quantitative analysis is telling him. There are no "gut feel" predictions coming out of Grantham's mouth.
Grantham didn't just say that he expects natural gas prices to rise, though. Grantham was much more specific. At the Richard Ivey School of Business value investing conference, Grantham told listeners that within five years, prices of natural gas will have tripled as a short-term surplus will have turned into a long-term shortage.
Grantham is hardly the first investor who has suggested going long natural gas over the past few years. Many before him have suggested the same, but have been disappointed.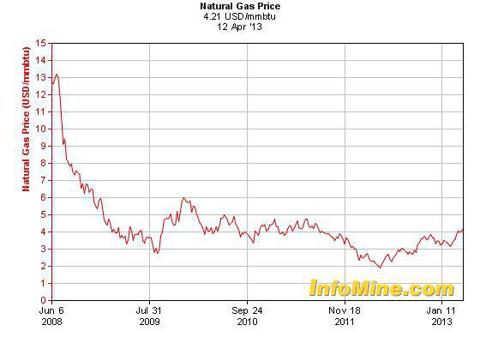 The chart above tells the story of a natural gas price that has stayed stubbornly low much longer than many have expected.
But Grantham hasn't been advocating being exposed to natural gas prices until now. He hasn't been beating the drum on natural gas, so what has changed?
According to Grantham, the reason that natural gas prices will go up is because the prices in the United States are simply too low, at less than half the price of levels in other major economies.
That price differential is driving a huge increase in demand as plastics manufacturers, petrochemical companies, fertilizer makers and other consumers are increasing and will continue to increase demand in the United States.
To that reason for being bullish on natural gas prices I'd add two more things.
The first is very evident in the rig count chart below: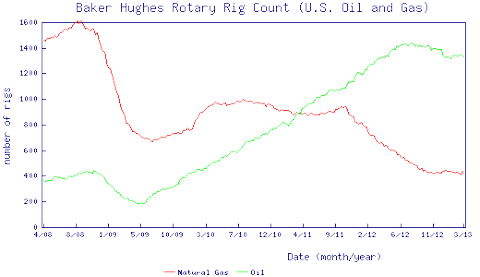 In the past 18 months, the number of rigs drilling for natural gas has been cut in half. Yes, there is natural gas production involved in the drilling of oil wells, which have increased, but that rig count drop has to have a major impact on the supply side.
The second reason I'd add to the bullish natural gas case is that I don't think the natural gas rig count bounces back much until natural gas prices are significantly higher. At current prices and even higher, drilling for natural gas doesn't make economic sense.
A few months ago, EOG Resources' (NYSE:EOG) Mark Papa said his company wouldn't be interested in doing much drilling for natural gas until prices were at least $6/mcf.
Now Papa's statement of needing at least a 50% increase in natural gas prices isn't anything close to Grantham's call for a triple, but it does indicate prices should go significantly higher.
If You Believe Grantham, Go For The Leveraged Bet
I don't know exactly what data Grantham is looking at that gives him the conviction to call for a triple in prices within five years. I don't have any knowledge personally that would make me think prices could go that high, but I also deeply respect Grantham, who is not a person known to make foolish predictions.
If Grantham is saying something, he has some solid data behind it.
If I was an investor willing to take Grantham at his word, then I believe I'd be buying a healthy position size Chesapeake Energy (NYSE:CHK).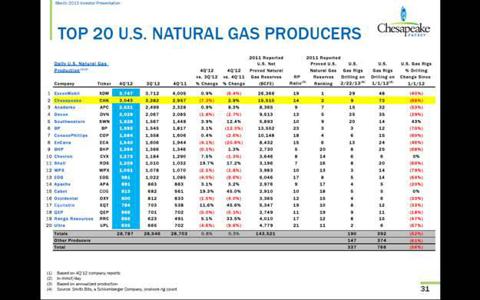 At $4/mcf, Chesapeake is a heavily indebted company struggling to generate enough cash flow to fund the transition to a production base more heavily weighted to oil. At $12/mcf, which Grantham predicts is coming, Chesapeake has no debt concerns and has the enormous asset base of unconventional natural gas assets that could print money.
In other words, Chesapeake's cash flow and EBITDA have huge leverage to natural gas prices.
Chesapeake's former CEO Aubrey McClendon discussed this in the Q3 2012 conference call:
To highlight just how much we will benefit from strengthening natural gas markets, I'd like to remind you that in 2013, every $0.10 per mcf change in natural gas prices roughly translates into $100 million of additional EBITDA.
It is hard to imagine, but Chesapeake's EBITDA fluctuates by $100 million for every ten cent move in natural gas prices!
For 2013, Chesapeake is projecting EBITDA of $4.86 billion if natural gas prices average $4/mcf.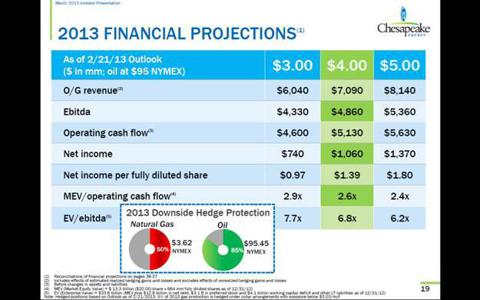 According to McClendon, each $0.10/mcf increase in natural gas adds $100 million to EBITDA, so that means every $1.00 increase in natural gas adds a cool billion to EBITDA.
Here is what Chesapeake's EBITDA looks like, assuming the following increases in natural gas prices and using McClendon's guidance with respect to the impact of a $0.10/mcf change, adding $100 million in EBITDA:
Natural Gas Prices up $1.00 - EBITDA becomes $5.860 billion
Natural Gas Prices up $3.00 - EBITDA becomes $7.860 billion
Natural Gas Prices up $5.00 - EBITDA becomes $9.860 billion
Natural Gas Prices up $7.00 - EBITDA becomes $11.860 billion
If Grantham's prediction about natural gas prices tripling comes through, Chesapeake's EBITDA would be above the high end of the range of numbers above.
These are very rough numbers, but they illustrate the point that Chesapeake would be an enormous beneficiary should the highly respected Grantham be correct. The EBITDA increase would drive the share price higher and hugely deleverage the company.
Disclosure: I have no positions in any stocks mentioned, and no plans to initiate any positions within the next 72 hours. I wrote this article myself, and it expresses my own opinions. I am not receiving compensation for it (other than from Seeking Alpha). I have no business relationship with any company whose stock is mentioned in this article.