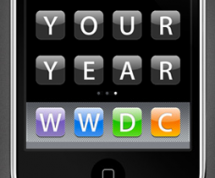 By MG Siegler
It's now just about May and there's still been no official word from Palm (PALM) when it comes to an official launch date or pricing for the Pre. All we know is what we've known for a long time -- it'll launch the first half of 2009; a window that is quickly closing. But a few pieces of new evidence today point to an actual specific date.
And it's a very intriguing one -- June 7: The day before a likely Apple keynote address at its WWDC conference. That is of course interesting because Apple could very well use that keynote to unveil the next version of the iPhone, just as it did last year for the iPhone 3G.
A public launch of the Pre the day before could suck some of the wind out of Apple's sails. But it's also pretty risky, as it means Palm only has one day to convince everyone that its product is better than the latest version of the iPhone which is likely to have some substantial improvements. And no one knows for sure what all those improvements are -- it could very well blow the Pre right out of the water, one day into its young life.