Suntech Power (NYSE:STP) has gone on a big rally lately, more than doubling from its price of $0.36 on April 1, to closing at $0.89 yesterday. However, overwhelming evidence suggests that STP stock has no value at all, and this will be confirmed sometime with news within the next month, or even the next week.
Suntech's Bonds Haven't Risen In Value With The Stock
If you bought Suntech as a value play instead of just playing the momentum, bondholders would shake their heads. Yesterday, the bonds traded at 31 cents on the dollar. Since the bondholders are currently in negotiations with Suntech, surely they have better knowledge of what's going on with the company than shareholders do.
Some investors might be excited about STP because they saw what happened with anther debt laden company, Overseas Shipholders (OSGIQ). OSGIQ has risen ten fold from its low after filing for bankruptcy. However, looking at the bonds, there is just no rational comparison. OSGIQ's bonds that expire in 2018 and 2024 have annualized yield to maturities of 14.95% and 11.21%, respectively. STP's convertible bonds, which mature on May 15th, give an annualized yield to maturity of over 3500%! Hmmm, 3500% vs 14.95% and 11.21%, which do you think would be less likely to get paid back?
Crazy Rumors
A big reason Suntech has gone on this rally is because of a rumor that Warren Buffett will buy the whole company and bail out the shareholders. In my opinion, this is a ridiculous proposition. Buffett is a value investor, and looks for bargain prices in quality companies. He looks to take advantage of distressed companies like Suntech by buying their assets at discounted prices. He doesn't make speculative bets by acquiring unprofitable companies with massive amounts of debt. Berkshire Hathaway's subsidiary, MidAmerican Energy, might discuss purchasing some of Suntech's assets in an auction, but there's no way that it's going to acquire the entire company with all its debt.
This Reuters article says Suntech is in "dire need of cash" and is "seeking to find a strategic investor to repay debt and revitalise the company by selling assets." However, no details were given on how any stake sales would be structured or how it would affect existing shareholders. Investors buying the stock should realize that there has been no sign of a shareholder, or convertible bondholder, bailout.
Suntech's Debt Load Is Astronomical
Suntech is almost totally broke and, as shown below, it must pay $1.825 billion in total debt due by Q213.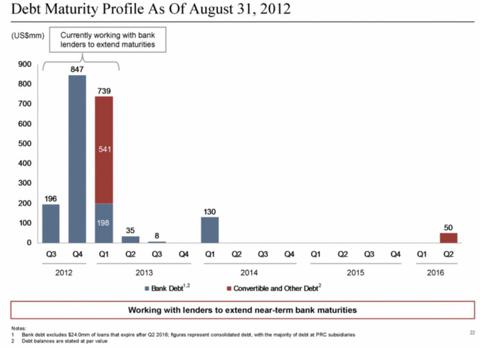 $1.782B of the $1.825B of debt hasn't been paid and is actually past due! Suntech's creditors aren't happy. They want their money back, and now! On March 20, Suntech's senior creditors, a group of eight Chinese banks, signed a petition for insolvency and restructuring against Suntech's biggest subsidiary, Wuxi Suntech. The procedure is designed to facilitate "an orderly restructuring plan for both Wuxi Suntech and it's creditors." In other words, the creditors want Suntech to be liquidated so they can get their money. What a quandary! How will Suntech pay off all that debt? By selling its unprofitable subsidiaries? I think not. These banks realize the impossible situation SUntech is in, and have already taken 50% loan loss provisions on their debt to Suntech, and possibly may need to take more.
"The bank doesn't rule out taking further provisions on loans to Suntech", said Mr. Li, President of Bank of China, one of Suntech's creditors.
As stated in Suntech's bondholder presentation in November 2012, Suntech doesn't have any non-core assets left. Therefore, any sale of its core assets will be a serious blow to the company.
Last month, Suntech missed a payment of $541M to its convertible bondholders that was due on March 15th. That week, Suntech announced that it was completely closing its manufacturing center in Goodyear, Arizona, costing 43 workers their jobs. It had previously partially cut down the workforce. So this United States factory isn't up for sale anymore.
Its factories are likely still unprofitable in China, so it's doubtful Suntech could get a great price for them. According to Solarbuzz, the China solar market saw its demand drop by 23% in Q113 compared to Q412. Demand is predicted to be swingy in China, but we can't know that for sure. Demand might continue to be sluggish in China for the rest of the year.
Its subsidiaries in Europe are also likely unprofitable, so Suntech probably wouldn't be able to get a high price for them either. Although the US saw solar PV installations surge in Q412, it generally slowed in Europe.
Continuous Losses
On December 30, 2011, Suntech reported $709M in cash. Since then, the following is the financials that it reported in 2012: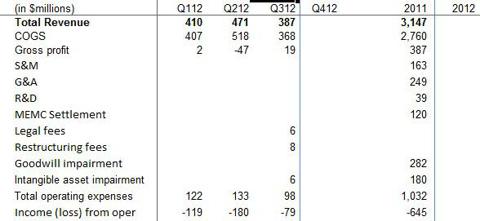 While the bottom line, loss from operations, isn't all cash flow, we can still treat it as such since Suntech is selling off its assets now. Depreciation expense decreases the selling price of its assets. The company hasn't reported Q412 or Q113 yet. I believe the delayed filing is a sign that those quarters weren't very good for Suntech.
If we assume that the company lost $100M in each of those two quarters, that totals $578M in losses since Q112. That leaves a cash balance of about $709M-$578M = $131M after Q113. That will only last a little over one quarter more at this burn rate.
Shorting Suntech Is A No Brainer
I believe Suntech is a very good short as it is destined to go bankrupt and the stockholders won't receive anything. The great part about this short trade is that the catalyst is near. Convertible bondholders got denied payment last month, and the payment due date got pushed out to May 15. Suntech likely won't deny them a second time without some kind of a deal or a true default. Its senior lenders are getting impatient, as well as the convertible bondholders. Suntech is in negotiations with the bondholders at this moment. They will surely come to some kind of an agreement before or by May, when bondholders' and shareholders' fate will be decided.
With a stock that has risen like STP has just based on hype, any real news is good news for short sellers. We want as much truth to come out as possible about the company. The more truth, and less rumor, that comes out, the more the investing community will learn how hopeless the situation is for the shareholders.
Disclosure: I am short STP. I wrote this article myself, and it expresses my own opinions. I am not receiving compensation for it (other than from Seeking Alpha). I have no business relationship with any company whose stock is mentioned in this article.