Goldman Sachs (NYSE:GS) is set to release its first-quarter results on April 16 at 7:30 a.m. ET. Below I have provided an update of the quarter as well as what to keep an eye on.
Profile and Estimates
Goldman Sachs has a market cap of $69 billion and currently trades for $149.00 per share. Shares are up 17% YTD and are 66% above their 52-week low. Analysts have a mean target price of $147.08 and a median price target of $148.50 on the common shares. Twenty-one analysts have an average first-quarter EPS estimate of $3.68 on estimated revenues of $9.32 billion. Goldman Sachs has beat estimated earnings per share by more than 10% in each of the last four quarters.
Click to enlarge images.

Fundamentals
P/E of 10.4, P/B of 1.0, and D/E of 2.4 are all below the industry averages 25.7, 1.1, and 2.8, respectively.
Operating margin of 32.8%, net margin of 21.3%, and ROE of 10.7 are all above the industry averages 21.0%, 4%, and 2.8, respectively.
GS currently yields a 1.3% dividend.
Profit Drivers and What to Watch For
In the current low interest environment, revenues from equity underwriting were down last year from those generated in 2011. But they were helped out by a subsequent increase in revenues generated from debt underwriting as evidenced below:

Even though year-over-year equity underwriting declined, the last two quarters showed a reversal of this trend with revenues growing close to 50% from the third to fourth quarter in 2012. Any more growth from this revenue stream would be a strong signal of a recovering capital market (because of the low interest environment) and a big positive for Goldman shares.

In addition to growing revenue streams, Goldman Sachs has put costs first and plans to cut approximately $1.9 billion by scaling back and reallocating its employed workforce to higher value locations.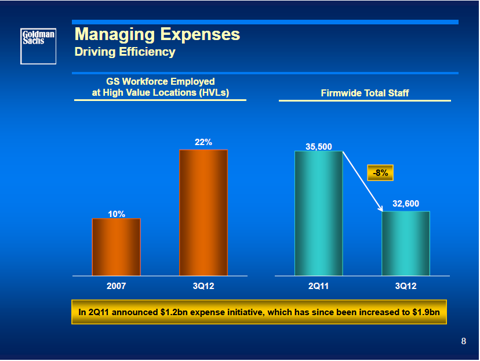 Recent News
Goldman Sachs recently received a positive endorsement by Warren Buffett who reached a deal with Goldman to convert Berkshire's (BRK.A, BRK.B) held warrants to approximately 9 million shares (approximately 2% of GS).
It recently passed Fed stress tests; however, GS will need to resubmit its plan by the end of the third quarter with "certain enhancements." Goldman Sachs made no mention of buybacks or a dividend hike at the time of the announcement.
Bottom Line
Even after its recent run-up, Goldman Sachs offers a lot of value at historically low valuations. Berkshire's endorsement is a major positive and GS still has possible buybacks and a dividend in-store for investors willing to wait for improved capital ratios and the Fed's approval. I would be happy investing in Goldman, but personally feel the shares are fairly valued at the current market price and so would not buy unless a market correction or significant dip provided a better entry point. Until then, my eyes are on the upcoming earnings.
Disclosure: I am long BRK.B. I wrote this article myself, and it expresses my own opinions. I am not receiving compensation for it (other than from Seeking Alpha). I have no business relationship with any company whose stock is mentioned in this article.