For more than 18 months, we have been bearish on the future of the solar industry, with First Solar (NASDAQ:FSLR) being a name we've carefully avoided. Shares went parabolic Tuesday afternoon, jumping over 40% at one point. CEO Jim Hughes also delivered some positive commentary about First Solar's cost-per-watt pathway (below 40 cents in the near-future) and "off-grid" electricity sales potential.
During its analyst day, the firm also provided much more bullish financial guidance than the Street had forecasted. First Solar anticipates full-year revenue of $3.8 billion to $4 billion to drive earnings per share of $4.00-$4.50. Operating cash flow is expected to be $800 million to $1 billion, but that matters little, in our view, because free cash flow is a far more meaningful metric. First Solar predicts capital expenditures of $350 million to $400 million, giving us a wide range of free cash flow of $400 million to $650 million. A great portion of this guidance upside comes from the unexpected revenue recognition of the Desert Sunlight project.
First Solar also provided some color on its 2014-2015 outlook (shown below), though it also sees capital expenditures in FY14 of $200 million and of $350 million in FY15. Even though the guidance is fairly strong, in our view, questions, about long-term industry profitability, as well as management's focus.

With regards to industry profitability, First Solar believes it can be on the low-end of the cost-curve; an essential characteristic for firms looking to earn economic profits in commodity industries. This may be true, but government backed Chinese firms do not have to worry about margins. As long as irrational price destructive behavior occurs, it may not matter how strong First Solar's cost position becomes. Let's also not forget that FY13 guidance anticipates gross margins of 20-22%. This leaves little room for taking on interest bearing debt for expansion opportunities or plowing money back into R&D.
Additionally, First Solar competes not only with other solar firms, but with every source of power generation. Thus, the company has previously relied on government subsidies to remain competitive with other power sources, though Hughes claims it can compete without subsidies. This is particularly troublesome as the US undergoes a natural gas revolution that could keep prices of natural gas and coal depressed, which we believe could prevent solar energy from becoming an attractive alternative. Consequently, First Solar may have to focus on international expansion opportunities to grow its business. As we can see (below), the firm's international projects are still relatively small abroad.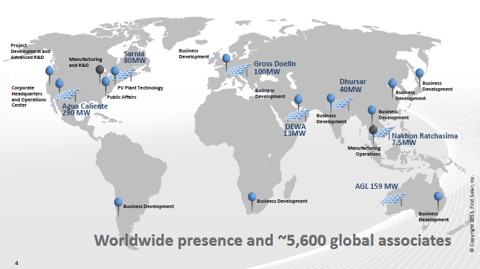 Our other reason for remaining subdued about First Solar's growth prospects is management's focus. As we wrote at the end of February:
Management even admitted that the company is going to engage in value-destructive pricing as it hopes to drive its competitors out of business, saying:
"But it is a very aggressive market at this point in time and I think you're going to find that over time the strength of a company like First Solar with the balance sheet that we have and the capacity that we have, is going to sustain ourselves, whereas some of our other competitors it's not clear that they are going to be able to sustain, to be able to execute successfully, given how they are currently engaging the market."
The above statement is the exact opposite of an industry structure conducive to generating high returns on invested capital (ROIC) over time. Management considers numerous factors when evaluating potential deals, but the company's commentary leads us to believe that ROIC isn't near the top of that list. There isn't any simple hurdle rate for investment projects, but more importantly, we fear this will lead the company to make poor investments for the sake of growth or market share expansion."
We believe this still rings true, and we believe management could continue booking poor return projects, especially if electricity pricing remains competitive. We're not interested in First Solar at this time, but we will continue to observe the industry to see if fundamentals turn positive.
Disclosure: I have no positions in any stocks mentioned, and no plans to initiate any positions within the next 72 hours. I wrote this article myself, and it expresses my own opinions. I am not receiving compensation for it (other than from Seeking Alpha). I have no business relationship with any company whose stock is mentioned in this article.