I have been thinking about what will happen when (if?) the market, and our Team Alpha Retirement Portfolio, corrects (view the latest update here). Make no mistake about this; at some point the market will correct. I say IF, tongue in cheek, because throughout history every bull market corrects. This bull market will be no different.
Actually there is ONE difference, especially for us retired folks. In past market corrections, investors could park portfolio assets into fixed income securities, like Treasury Bonds. Since the equity markets were in a bull mode, interest rates for Treasuries were decent and the actual cost of the bonds were at or below par. A pretty good place for a "flight to safety". In the very least, our money was just about keeping pace with inflation, and was safe by virtue of the fact that it was backed by the USA.
Now, we are faced with the lowest yields for all Treasuries since 1900.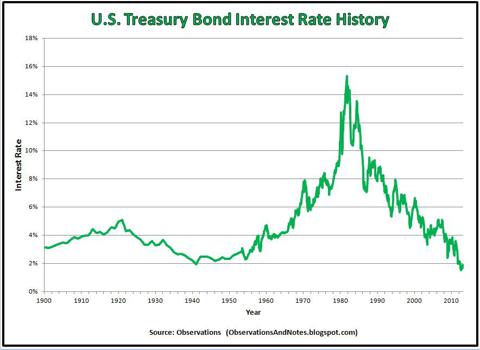 For only the 2nd time in 113 years is the 10 year Treasury yield below 2%. Some might argue that since inflation is "so low", that 2% still keeps up with inflation. I would urge those folks to visit the supermarkets and gas stations and report back to us.
The Facts Are Quite Simple
I am not a mathematician, nor do I have an MBA, but I do know the simple facts of equities and treasuries.
As more folks buy treasuries the yield goes down and the bond price goes up.
As folks sell bonds the yields go up but the bond price drops.
When folks buy equities in dividend paying mega cap, blue chip stocks, they will continue to receive a dividend, unless the company stops giving them (a rare occurrence by the way).
When the stock prices drop, investors can sell quickly or use cash reserves to buy the dips.
Investors USUALLY sell bonds to move into equities.
Given these simple facts, let's take a look at what is happening today, especially for retired folks. First, the interest received from treasuries are lower than the average dividend yield of the S&P 500.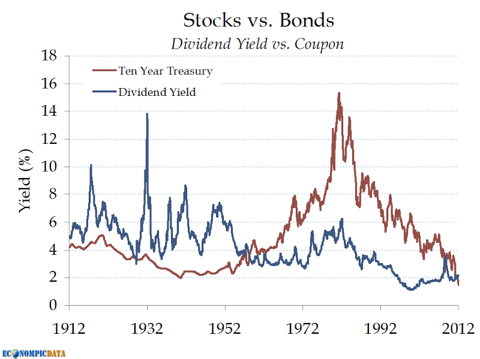 Not since the early 1950's have dividend yields been higher than treasuries. That is a conundrum for investors who are seeking safety from a market decline.
With yields so low, and bond prices so high, there is more of a risk that the bond market could crash than the equity market. Therefore, if investors in stocks feel the need to flee, I suggest that the bond market is NOT the place to flee to.
In my opinion it would be jumping from the frying pan into the fire.
What Are Our Choices?
I believe that you all know my position. If the market corrects, dividend seeking investors should buy the best possible stocks at cheaper prices. Not only would we continue to receive our stream of income, but as stock prices drop, we can add to those positions and increase our income going forward. We might even be able to increase our overall yield, which as the share prices recover, would mean that we would enjoy exponential growth in both income and portfolio value.
The Team Alpha Retirement Portfolio is aimed directly for these circumstances. The Team Alpha portfolio now consists of Ford (NYSE:F) Chevron (NYSE:CVX) Apple (NASDAQ:AAPL), McDonald's (NYSE:MCD), Exxon Mobil (NYSE:XOM), Johnson & Johnson (NYSE:JNJ), AT&T (NYSE:T), General Electric (NYSE:GE), BlackRock Kelso Capital (NASDAQ:BKCC), KKR Financial (KFN), Procter & Gamble (NYSE:PG), CSX Corp. (NYSE:CSX), Realty Income (NYSE:O), Coca-Cola (NYSE:KO), Annaly Capital (NYSE:NLY), Cisco (NASDAQ:CSCO), Bristol-Myers Squibb (NYSE:BMY), Healthcare Select Sector SPDR (NYSEARCA:XLV), and Wells Fargo (NYSE:WFC).
In a market correction, review your core holdings in this (or any) portfolio and see which stocks you want to add to. I would look at the bellwether stocks; JNJ, KO, PG, XOM, CVX, and MCD from this portfolio.
Adding shares of these stocks when the prices have dropped give investors an opportunity to pick up more shares with an "accidentally" higher yield. If you do not have any cash in reserve (remember way back when I said an investor should have a 5 year cash reserve before investing?) I would sell some of the more risky stocks, like AAPL, BKCC, KFN and F, to redeploy the cash into those "platinum" stocks. Once the correction settles down, you can rebuild your portfolio with other stocks, once again.
Since the riskier stocks being sold are a small percentage of this overall portfolio, the reduced income would be small compared to a complete liquidation. Plus, when the dollars are reinvested in the bigger names, some of the income will be recouped anyway.
Another choice is to sell a percentage of each position, lock in profits, and keep the cash in a safe place to buy shares when you feel more comfortable. By doing that, you will have a smaller percentage of your overall portfolio value at "risk", but you would also have available cash on hand. If you own 100 shares of "X", you could take 50 shares off the table, or whatever amount gives you comfort. By doing this you will still have a position in the stock, book some profits, and build cash reserves.
The other choice would be to flee to the safety of the Bond market. Of course you would be buying "high" and receiving little in return. Here are treasury yields as of the end of January 2013: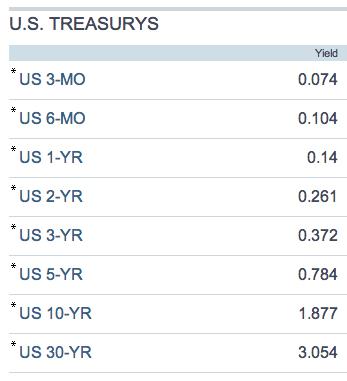 Then, when everyone wakes up and realizes that they cannot live on 1.85% yields, you will then be forced to sell low, lose money and probably be afraid to do anything. You can, of course, hold these to maturity, and many folks do that. I prefer the other choices I suggested.
My Opinion
As I stated, bond prices are at an all time high and the yields are at an all time low. If you feel the need to flee to "safety", keep it all in cash. On the other hand, I would suggest sticking to the discipline of buying on the dips, and adding to your core holdings.
Disclosure: I am long AAPL, BKCC, BMY, CSCO, CSX, F, GE, JNJ, KO, MCD, NLY, O, T, WFC, XLV, XOM. I wrote this article myself, and it expresses my own opinions. I am not receiving compensation for it (other than from Seeking Alpha). I have no business relationship with any company whose stock is mentioned in this article.