Acorda Therapeutics (NASDAQ:ACOR) is a bio-pharmaceutical company that engages in the identification, development, and commercialization of therapies for multiple sclerosis, spinal cord injuries, and other central nervous system disorders.
The company focuses on late-stage and commercial-stage products that provide near-term financial results. This is an efficient use of company resources and a key reason for higher margins.
Despite a forward P/E of 30.23, the company is expected to continue growing solidly over the next 5 years with analysts expecting 20% yearly EPS growth. This provides it with a PEG of only .41. The company has very little debt, with a long term debt-to-equity ratio of .01. Acorda also has a profit margin of 50% and sports a return on equity of 52%, meaning that it uses its resources well. It ended 2012 with cash, cash equivalents, and investments of $333 million. [Date from Finviz]
The company has solid earnings and could be considered a value play because of it's PEG and current P/E of 8.3, but it has attributes of a growth stock as well. It has EPS growth this year of 402% and projected EPS growth next year of 94%. Additionally, its five year sales growth has averaged 50% per year. Now that the company has strong margins, you can expect it to turn these consistent sales increases into consistent earnings increases.
Acorda's main drug is Ampyra, a drug designed to aid people with Multiple Sclerosis in walking. The sales of this drug are likely to be the continued mainstay for company going forward. Additionally, Ampyra is being studied forcerebral palsy and post stroke medical issues, so there are other sales drivers.
Acorda's 4th quarter results show earnings missed analyst expectations but sales beat expectations. The earnings disappointment is mainly due to increased spending on R&D. Sales of Ampyra, which make up almost 90%, increased 21% YoY.
The company has another drug -- Zanaflex -- which went off patent and is now available in generic form. The company has an agreement to produce a generic form of this with Watson Pharma, but proceeds from this are expected to stay small relative to overall revenue since there will be more competitors in the generic space.
Other drugs in Acorda's pipeline include: Diazapam Nasal Spray, for patients with epilepsy; AC105, which was developed as a treatment for acute spinal cord injuries; GGF2, developed as a treatment for heart failure and severe neurological applications; and two drugs in R&D and pre-clinicals.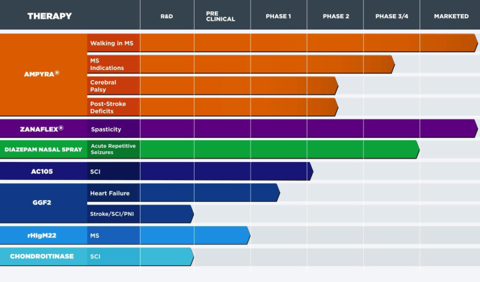 Risks
The risks for this company, like many small and medium-sized pharmaceutical companies, includes the potential that one of its pipeline drugs gets denied approval or doesn't show expected results.
The other main risk is the fact that Acorda depends on Ampyra for huge portion of its revenues and earnings. While sales for that drug are expanding, it is never comfortable to put your "eggs in one basket." While there is nothing to indicate there will be trouble with sales of Ampyra, it would be nice for more pipeline drugs to get approved. In the meantime, the sales of Ampyra will drive the stock price for better or worse.
Events
One of the biggest reasons for owning this stock is to take advantage of a potential buyout. A prime candidate to acquire Acorda is ELAN Pharmaceuticals (NYSE:ELN), as noted in this Bloomberg article. Elan sold its share of a multiple sclerosis drug to Biogen (NASDAQ:BIIB) so it is loaded with cash and has a sales staff familiar with neurological drugs. That provides it with a synergy to Acorda's product because Acorda's drug - Ampyra - is used to treat Multiple Sclerosis. Additionally, Acorda has had a manufacturing agreement for its main drug Ampyra, so ELAN is very familiar with it.
However, Avanir Pharmaceuticals (NASDAQ:AVNR), Questcor Pharmaceuticals (QCOR), and Jazz Pharmaceuticals (NASDAQ:JAZZ) are also potential targets.
Chart
The chart shows that Acorda has moved up dramatically since December, much like the rest of the market. In Ichimoku, the fact that the price is above the cloud and the tenkan (blue line) and kijun (red line) indicates a strong bull trend. Each one of those provides an element of support, so a break below each signals more potential for a downtrend. Until that happens you may see the price bounce above them.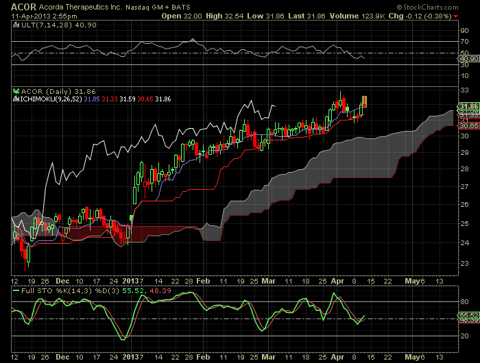 The Play
Options in this stock are not very liquid so it may be best to stick to the stock if you want to take advantage of further price increases.
Disclaimer: We do not know your personal financial situation, so the information contained in this article represents an opinion, and should not be construed as personalized investment advice. Past performance is no guarantee of future results. Do your own research on individual issues.
Disclosure: I have no positions in any stocks mentioned, and no plans to initiate any positions within the next 72 hours. I wrote this article myself, and it expresses my own opinions. I am not receiving compensation for it (other than from Seeking Alpha). I have no business relationship with any company whose stock is mentioned in this article.