Capstone Mining Corporation (CSFFF.PK) is an undervalued junior copper and zinc producer with operating mines in Mexico and the Yukon, and projects under development in Chile and Canada. It produces about 80 million pounds of copper and 15 million pounds of zinc annually and generates cash flow from operations at today's commodity prices of about $120 million estimated for 2013.
Why should investors be interested in a small copper zinc producer? A peek at Capstone's balance sheet provides an answer. Capstone is not only debt free but at year end 2012 held cash of $500 million. At today's stock price of about $2.15, Capstone has a market capitalization of less than $800 million and a book value approaching $1.4 billion.
It is not often you can acquire shares of a profitable company at a deep discount to book value, but that is the case for Capstone today. Capstone's cash balance could grow by another $100 million in 2013 as its cash flow from operations is likely to exceed its capital outlays by that amount.
The outlook for copper is stable, with prices in the $3.50 to $4.50 per pound range expected to prevail until such time as there is a significant disruption to the supply demand balance arising from either a substantial increase in the growth of the world economy or a significant decline, since the supply side based on mine production is not expected to increase or decrease dramatically any time soon. The Economic Intelligence Unit forecast for copper prices shows a modest rise through 2017. Copper is so closely tied to the world economy it is often called "Dr. Copper" and all forecasts should be viewed with caution.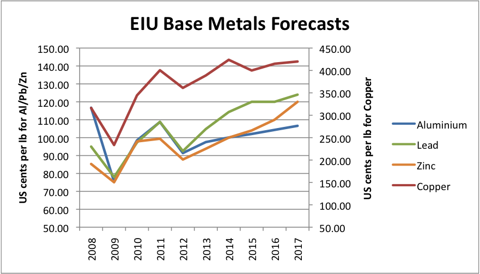 The key consuming areas are India and Asia, both of which are growing albeit at lower rates than in the recent past. Rio Tinto (NYSE:RIO) published a recent comment on the supply and demand outlook for copper indicating that supply would continue to be challenged while demand was tied to growth in China and India.
The Wall Street Journal reported April 11, 2013, that Glencore International PLC and Trafigura Beheer BV have between them stockpiled much of the world's available copper supply in warehouses in Antwerp, Belgium, and Johor, Malaysia, as well as other locations including the United States.
What effect his concentration of warehouse stocks in the hands of two trading companies will have on the short term copper price is a matter of concern. However, with Capstone trading at a discount to its cash position and able to generate positive cash flows at relatively low copper prices, it should not be a major risk to an investment in Capstone.
I expect the market to recognize the value in Capstone over time, and see a reasonable prospect for meaningful appreciation in the stock. As a result, I am long the shares.
Disclosure: I am long OTCPK:CSFFF. I wrote this article myself, and it expresses my own opinions. I am not receiving compensation for it (other than from Seeking Alpha). I have no business relationship with any company whose stock is mentioned in this article.