This is the second edition of the weekly series called The Weekly Dow (for last week's article on the Top 5 Dividend Plays, click here). This week, we will look at the 5 cheapest Price-to-Book multiple stocks in the Dow Index Industrials Index (NYSEARCA:DIA). By the way, please reference my prior article on the pros and cons of looking at book value, specifically as it applies to bank and insurance stocks.
The 5 Cheapest P/B Stocks
As of April 9, 2013, the 5 cheapest P/B stocks in the Dow are Alcoa (NYSE:AA) at 0.7x, Bank of America (NYSE:BAC) at 0.9x, JP Morgan (NYSE:JPM) at 1.2x, Travelers (NYSE:TRV) at 1.3x and Verizon (NYSE:VZ) at 1.7x.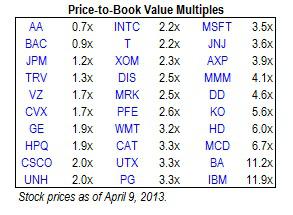 Note that 3 of these stocks (BAC, JPM and TRV) are bank and insurance stocks. Note that bank stocks and insurance stocks are levered, and the financial assets that are held on their balance sheet can significantly change in value. For example, during the financial crisis in 2007-2008, the values of some of the mortgage products and complex derivatives held by the banks (CMBS, RMBS, sub-prime loans, credit default swaps, etc.) were eventually discovered to be worth just a fraction of what they were recorded as on the bank's balance sheet. As a result, the banks had to write-off losses on these investments, which significantly lowered the bank's book values. Back then, if you believed the book values of the banks at that time, you would have been burned badly.
Fast forward to 2013 and the bank's balance sheets are significantly stronger. Furthermore, for calculating P/B multiples for JPM and BAC, I used tangible book value, which removes goodwill and intangibles and therefore is a more conservative book value to look at. Nevertheless, the challenge (and risk) of how to accurately value the financial assets held by banks still remain.
Alcoa Looks Interesting
Out of the 5 lowest P/B stocks mentioned, Alcoa potentially looks the most interesting. Alcoa is the world's largest aluminum player, capturing 20% of alumina market share and 10% of aluminum market share globally. Here is quick pros and cons on Alcoa.
Pros:
a) 2013 global aluminum demand growth of 7%, driven by fuel efficient Aerospace and Automobile needs.
b) Higher margin, downstream business (Rolled and Engineered segments) now comprise of 70% of profits. Lower margin, commoditized upstream business (Alumina and Primary Metal segments) comprise just 30% of profits.
Cons:
a) China became a net exporter of aluminum in 2002/2003. The increase in supply to the market has driven down aluminum prices.
b) On December 18, 2012, Moody's announced a negative outlook to Alcoa's debt rating (currently lowest level of investment grade rating of BBB-/Baa3). S&P and Fitch both have stable outlook.
Finally, a look at Alcoa's historical 10 year financials shows that Alcoa may be at a cyclical inflection point.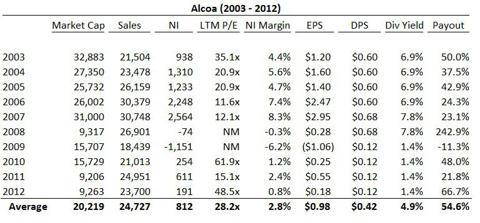 Click to enlarge
Dow Jones Valuation Multiples
As of April 9, 2013, the Dow Index average multiples are the following: 13.5x 2013E P/E, 12.1x 2014E P/E, and 2.3x 2013E P/E-to-Growth. The average dividend yield is 2.6%, with an average dividend payout ratio of 36.0%. The average P/B is 3.5x.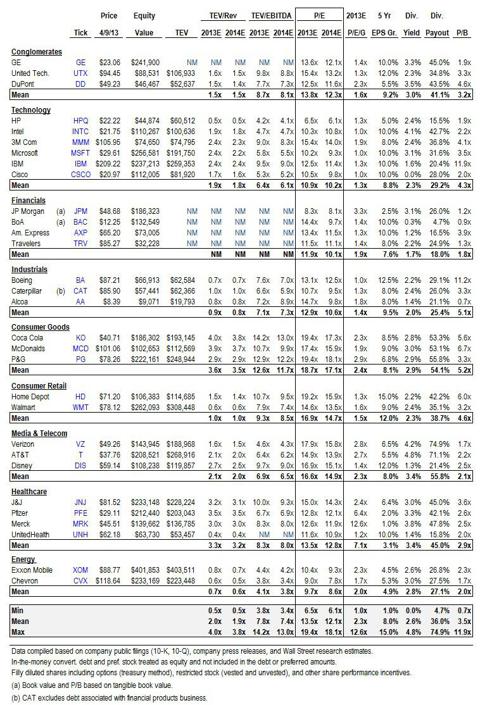 Click to enlarge
Dow Jones Operating Metrics
As of April 9, 2013, the Dow Index's average revenue growth rates are 4.2% in 2013 and 4.3% in 2014. The average EPS growth rates are 11.6% in 2013 and 12.0% in 2014. The average 2013 EBITDA margin is 24.9% and 2013 Net Income margin is 13.8%. The average 5-year EPS growth rate is 8.0%.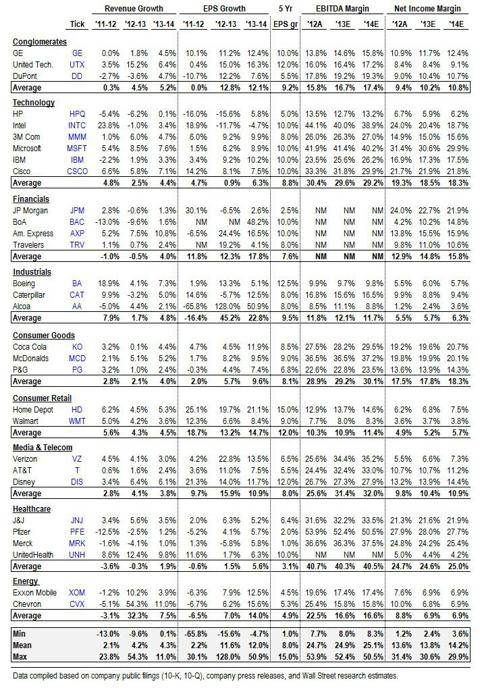 Click to enlarge
Note: The Dow Jones Industrials Index comprise of Verizon (VZ), AT&T (T), General Electric (GE), United Technologies (UTX), DuPont (DD), Exxon (XOM), Chevron (CVX), Johnson and Johnson (JNJ), Pfizer (PFE), Merck (MRK), Coca Cola (KO), McDonald's (MCD), Proctor & Gamble (PG), Hewlett-Packard (HP), IBM (IBM), Intel (INTC), Microsoft (MSFT), Cisco (NASDAQ:CSCO), 3M (NYSE:MMM), Boeing (NYSE:BA), Caterpillar (NYSE:CAT), Alcoa (AA), Home Depot (NYSE:HD), Wal-Mart (NYSE:WMT), Disney (NYSE:DIS), UnitedHealth (NYSE:UNH), American Express (NYSE:AXP), Bank of America (BAC), JP Morgan (JPM) and Travelers Co. (TRV).
Disclosure: I am long AA, MCD. I wrote this article myself, and it expresses my own opinions. I am not receiving compensation for it (other than from Seeking Alpha). I have no business relationship with any company whose stock is mentioned in this article.