Investors seeking yield have been considering Master Limited Partnerships (MLPs) for their above average distributions and steady price appreciation. Kinder Morgan Energy Partners (NYSE:KMP) is a pipeline transportation and storage MLP with 46,000 miles of pipelines and 180 terminals. KMP's pipelines transport natural gas, crude oil, refined petroleum products, carbon dioxide, and more. The storage terminals hold petroleum products and chemicals.
KMP sports a decent yield of 5.5%. The partnership has increased its distributions every year since 1997. The partnership agreement requires KMP to distribute all of its available cash on a quarterly basis to its unitholders. KMP anticipates that it will pay cash distributions of $5.28 per unit in 2013. This is a 6% increase in distributions over 2012 and would make the yield 5.9% in terms of the current price. That's not a bad yearly raise for income investors, considering that the average pay raise for working stiffs in only 3%.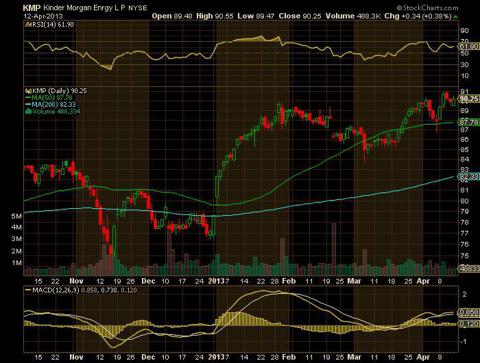 Click to enlarge
This is a great income producing investment which has also increased significantly in price since the 1990s. Adjusted for splits, KMP rose from the single digits in the mid-1990s to reach its current price of $90.
KMP is undervalued as it trades at only two times its net asset value per unit. The industry average net asset value per unit is 2.9. Therefore, KMP is positioned well among its peers. Another key valuation metric that shows how KMP is undervalued relative to its peers is the price to cash flow ratio. KMP has a price to cash flow ratio of 9.9, while the industry average stands at 14.2.
Outlook for 2013
The partnership plans on generating about $5.4 billion in earnings for 2013. $30 million in excess cash flow is expected to be generated above the cash distributed to unitholders this year. KMP plans to spend $2.9 billion on small acquisitions and joint ventures to expand the business.
Most of KMP's revenue is fee-based and is not sensitive to commodity prices. The Carbon Dioxide segment, however, is sensitive to the price of West Texas Intermediate crude oil. For 2013, KMP estimates that for every $1 change in the average price per barrel of WTI crude oil, the Carbon Dioxide segment cash flow will change by $6 million.
The Risks
The transportation and storage of natural gas, oil, and other commodities involves many potential hazards. Any leaks, explosions, or mechanical problems can result in significant financial losses. These hazards also pose safety risks that could result in serious injuries or death.
The energy industry is highly regulated for environmental, health and safety issues, climate-change regulation, etc. If these laws are tightened, KMP could be faced with higher costs or delays in completing projects.
Conclusion
Kinder Morgan Energy Partners looks like a good combination of valuation, yield, and growth. This should be considered as a holding in the income investor's portfolio. KMP should also be considered as an investment in the portfolios of long-term dividend re-investors. KMP is expected to grow earnings annually at 11.75% for the next five years. This should allow for steady price appreciation and increasing cash flows. The increased cash flows will allow KMP to continue increasing its distributions to unitholders.
Disclosure: I have no positions in any stocks mentioned, and no plans to initiate any positions within the next 72 hours. I wrote this article myself, and it expresses my own opinions. I am not receiving compensation for it (other than from Seeking Alpha). I have no business relationship with any company whose stock is mentioned in this article.