This is the third article I have written in the last two years on TARO Pharmaceutical Industries (NYSE:TARO). TARO is a generic drug manufacturer based out of Israel with its functional headquarters in the United States. It has been the subject of two takeover offers from its 67% parent, Sun Pharmaceuticals "SUN", which attempted to buy-out TARO minority shareholders at valuations that I and other shareholders viewed as extremely inadequate. Today, TARO trades at approximately a 47% premium to Sun's August 2012 offer which was abandoned in February 2013. This article updates my view on TARO and its value. TARO's share price was at $57.97 as of 4/11/2013.
I believe an investment in TARO offers upside of 74% if it trades at similar multiples of its public peers and 155% if it gets purchased by another generic drug manufacturer at the median transaction multiple of historical comparable generic drug merger and acquisition (M&A) deals.
TARO manufactures over 200 different prescription and over-the-counter products in facilities located in the US, Canada and Israel. Its main area of expertise and specialization is in dermatological creams, ointments and gels. This area of the generic pharmaceutical industry has characteristics that make it highly profitable for the companies in this niche. Most dermatological prescriptions have relatively low prescription counts and require more sophisticated production methods than normal generic pill based drug manufacturing. Also, for creams and ointments to receive FDA approval, the manufacturers need to perform trials to show the FDA the generic formulation's effectiveness and safety, which is another hurdle that normal pill generics do not have to complete. This creates a large barrier to entry as it is quite expensive to build a manufacturing facility and gain FDA approvals for new generic creams and ointments. This has led to an oligopolistic (2 to 4 competitors per drug) industry structure with high margins.
I have previously written two articles on TARO which you can find here and here.
Before giving an update on what is going on, I would like to give you a timeline on the events that have taken place between Sun and TARO:
May 2007 - Sun begins acquiring shares of TARO, eventually owning controlling interest after a few years of court battles with the founders. TARO trades on the Pink Sheets due to delayed filing of its financial statements.
January 2011 - Sun finalizes the acquisition of its 67% stake in TARO.
June 2011 - TARO becomes up to date on its financial filings, but still trades on the Pink Sheets. It is widely held that companies which trade on the Pink Sheets typically trade at lower multiple than stocks that trade on major exchanges due to the "taint" of not complying with those exchanges' listing standards.
October 2011 - Sun makes bid of $24.50 per share to acquire remaining shares of TARO.
March 2012 - TARO is listed on the New York Stock Exchange.
July 2012 - After nine months, TARO's board rejects Sun's offer of $24.50 per share.
August 2012 - Just one month later, TARO's board approves Sun's offer of $39.50 per share, despite TARO trading at a market price above the offer.
February 2013 - TARO and Sun terminate the merger agreement as Sun deemed TARO minority shareholders unwilling to approve the merger unless the price was increased substantially.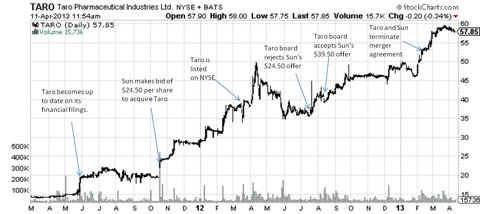 In one of my previous articles on TARO, which you can find here, I used historical acquisitions of generic pharmaceutical companies as a method to value what TARO would be worth to an industry buyer. Recently there have been two acquisitions that should be noted.
The first acquisition of note was in February 2013 when Mylan (NASDAQ:MYL) purchased Agila Specialties from Strides Acrolab. Mylan paid $1.6 billion in cash plus another $250 million in potential payments. According to public sources, Agila recorded 2012 earnings before interest taxes depreciation and amortization (EBITDA) of $86 million. Based on the $1.6 billion paid and Agila's 2012 EBITDA, Mylan paid an 18.6 times trailing twelve months "TTM" EBITDA multiple for Agila, which is just above the average 17.8 multiple I mentioned for comparable M&A transactions in my previous article. If I include the additional $250 million in potential payments, the total EBITDA multiple comes out to 21.5 times. Agila is a generic pharmaceutical company that predominantly produces injectable drugs. Injectable generic drugs are similar to TARO's topical drugs in that they are more difficult to manufacture than pill based generic counterparts.
The second acquisition of note was made by Sun, TARO's 67% parent. In November of 2012, Sun purchased the dermatological company DUSA Pharmaceuticals (NASDAQ:DUSA) for an enterprise value (EV) of $168 million, which based off of DUSA's 12-month EBITDA ending in September 2012 of $7.2 million, comes out to a 23.3 times EV to EBITDA multiple.
Both of these offers confirm that non-pill based generic drug manufacturers sell to industry acquirers for high EBITDA multiples when they have businesses with strong cash flows and limited competition. As a reminder, Sun's offer for TARO in April 2011 was for 7.2 times trailing-twelve-months EBITDA. Sun's second offer for TARO in August 2012 was for 4.8 times TTM EBITDA. These offers are clearly well below other M&A transactions in the space, including Sun's recent acquisition of DUSA.
One of Sun's main reasons for coming in with a low EBITDA multiple for TARO was its expectation that TARO's business was going to suffer declining growth and profitability. In June of 2012, TARO's management provided projections for its full year 2012 and the next five years' results to its advisor, Citibank, for the purpose of doing a fairness opinion for shareholders. This was done before TARO rejected Sun's initial offer in July 2012. When Sun made its next offer which was accepted by TARO's board in August 2012, TARO's management did not update their estimates despite knowing the results of nearly two more months of operations.
TARO changed its Fiscal Year End to March 31st in 2012 but it is unclear whether management took this into account when making their forecast. You can see their forecast below: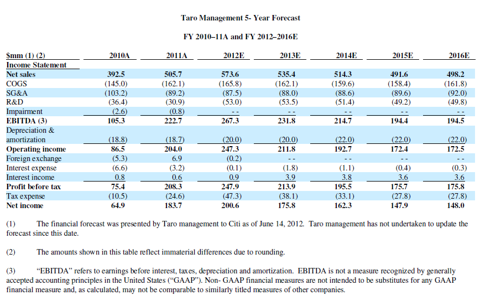 Below is a breakdown of the differences between management's estimates and actual results for the 2nd half of calendar year 2012. There were only 16 days left in the 2nd quarter when management presented their forecast to Citi, so I assume that TARO had a strong sense of the full quarter results at that time. However, it is possible that I am misinterpreting which year-end was being used for estimates since TARO changed its fiscal year-end to March 31 in May of 2012, just before the estimates were presented to Citi.
If I am interpreting TARO's management incorrectly, and instead their estimates represent the new fiscal year ending on March 31st, 2013, I have done the below analysis to show that TARO's business needs to fall off a cliff in the fiscal 4th quarter to meet TARO management's low-ball estimates. TARO has already exceeded management's expectations for Net Income and EBITDA in the first 3 quarters of the fiscal year.

Any way you look at it, TARO's management made estimates that were very low compared to any rational estimates of full fiscal year 2013 results. If we assume that the quarter ending in March 2013 produces similar results as the one that ended in March 2012, EBITDA and Net Income will be over 30% greater than what management estimated:

If I annualize the first 3 quarters of fiscal year 2013, to estimate the full fiscal 2013 results for TARO, my full fiscal year 2013 estimates for Net Income and EBITDA are 44% and 39% greater than management's estimates respectively:

In one last scenario where I assume that the quarter ending 12/31/2012 and 3/31/2012 produce the same results, Net Income and EBITDA are 52% and 44% greater than management's estimates respectively:

While it may seem incredulous that TARO's board could be so wrong about the future of the business, it is not so difficult to understand when investors realize that once Sun pushed through the indemnification of TARO's officers and board in a corporate bylaw change in December of 2011 there would be no potential financial ramifications to them. As a matter of fact, TARO also indemnified Citi, so that if it was sued because of its fairness opinion, it wouldn't have any liability.
In their quarterly earnings releases, Sun and TARO claimed that TARO would not be able to hold on to price increases that TARO made in early 2012. It was one of the main justifications as to why they were not willing to pay a higher price for TARO. This view has not held out to be true so far. Just last month, Credit Suisse said TARO has pushed through a 30% plus price increase on three of its major generic drugs and raised sales estimates for TARO for 2013.
The second source is interesting because it states:
"The December 2012 quarter proved to be the best ever quarter for TARO with revenues at $185 million thereby beating all estimates. Gross margins at 75.4% were healthy while EBIDTA margins at 58.4% improved 443 basis points, compared to the September 2012 quarter. The recent price hikes along with strong product pipeline will help TARO sustain growth rates going ahead.
While Sun has dropped plans to raise its stake in TARO from 66% to 100%, the move is being looked at positively. The premiums being demanded by minority shareholders would have led to large cash outgo and in turn limited Sun's ability to go for more acquisitions."
The first paragraph confirms our previous thoughts that the price increases are holding and will sustain improved performance for the foreseeable future. The 2nd paragraph however is not completely correct in Sun having a large cash outflow if they purchase TARO. Currently Sun shows TARO's cash on its own balance sheet since they consolidate TARO for accounting reasons. Sun reports $492.55 million in cash while TARO has $479.14 according to Bloomberg. However, TARO's cash belongs to its shareholders and any acquisition of TARO using that cash is paying shareholders with their own money.
Assuming Sun is not willing to acquire TARO at what minority shareholders feel is a fair price, I believe a likely scenario going forward will be for TARO to make acquisitions using its own cash. This could create a positive situation for minority shareholders of TARO, by making the company a larger and more attractive play in the generic pharmaceutical space. Naturally as companies grow, they become more interesting to investors and sell-side analysts and could lead to Wall Street coverage which will allow TARO to trade at multiples closer to its public peers. If Sun were to undertake this strategy, it would be in the best interest of TARO to increase the value of its shares, as it can use its shares for acquisitions instead of cash, which could be accretive to all shareholders.
So What Is TARO Worth?
One commonly used method to value companies is by looking at where other comparable companies trade in the public markets. For comparable companies, we used (NYSE:TEVA), (NASDAQ:PRGO) and (ACT). TEVA, MYL and ACT are generic pharmaceutical companies which primarily sell products in pill and tablet form, as well as some dermatological drugs, and generate most of their revenue from North America. PRGO sells many OTC products as well as generic pharmaceuticals, which also include dermatological generics. Below is a table showing these companies and their Enterprise Value to TTM EBITDA multiples: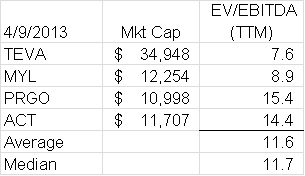 Sun, which has approximately 40% of its EBITDA being contributed by TARO, trades at 26 times TTM EBITDA and 17.5 times forward EBITDA according to Bloomberg. As a matter of fact, TARO provides nearly all of the cash that Sun shows on its balance sheet. Assuming TARO trades at the median of the group's EV to TTM EBITDA multiple, the stock would trade at $100.92. Based on the Credit Suisse analyst's sales projections for 2013, our valuations for TARO are in the table below: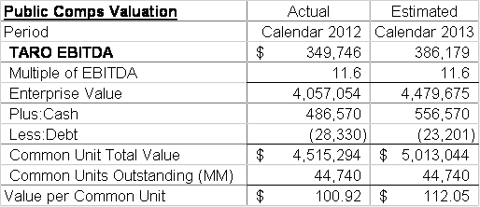 Although we think that sales will be higher than what the analyst projects, we will keep the conservative value for our valuation. Based on these projections we would value TARO as a stand-alone public company based on 2012 results at $100.92 per share and $112.05 at the end of 2013 based upon 5% sales growth.
If we use historical acquisition multiples to value TARO to a potential acquirer, we can use this list of comparable deals.

It is important to consider that the two transactions in this list with the lowest multiples, PRX and Foguera, were much lower than the others for special reasons. First, PRX was primarily a generic pill pharmaceutical manufacturer which has a very competitive environment and differs from companies like TARO as I have previously mentioned. Foguera, while similar to TARO in that they manufactured generic skin care medicine, was different because a very large portion of Foguera's business was contract manufacturing, which is a low margin business.
Using a median multiple of 15.6 times EBITDA, we get the following values for TARO: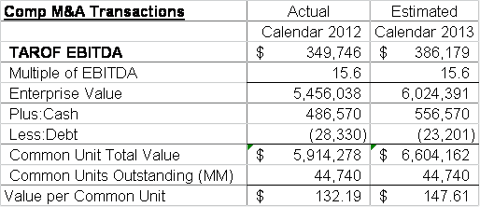 The table shows that TARO could be sold for $132.19 per share currently and $147.61 per share in one year to an industry buyer. The conservative multiple I chose above is in the lower end of the multiple range of transactions, however I believe that TARO deserves a higher multiple, of approximately 20 times since as mentioned before, I feel that the segment of drugs that TARO deals with has strong barriers to entry compared to other segments. The market would seem to agree, since Sun trades at such high multiples.
Going forward we think there are 3 scenarios that can play out since Sun has all this cash sitting on TARO's balance sheet without direct access to it. They could use TARO as an acquisition vehicle and make good use of the cash. In this scenario, TARO would benefit from having a higher share price because it will allow TARO to use its shares as currency for acquisitions. Another possible scenario is for Sun to make a reasonable offer to purchase the rest of TARO from the minority shareholders to gain full control of TARO. And finally, Sun can decide to sell TARO and immediately realize TARO's value. Based off of Sun's last offer for TARO of $39.50 in August 2012, Sun values TARO's business at significantly lower multiples than what the public markets and acquirers value comparable companies. I believe Sun could get approximately $150 per share if it sold TARO to another pharmaceutical company. All of the potential scenarios end up greatly benefiting TARO's minority shareholders.
Disclosure: I am long TARO. I wrote this article myself, and it expresses my own opinions. I am not receiving compensation for it. I have no business relationship with any company whose stock is mentioned in this article.