Deleveraging of corporate equity, regardless of industry segment, shows no sign of letting up. The breakneck pace of new preferred stock issues that we have seen over the last several months continued unabated during March 2013.
The 20 new preferred stocks issued during March 2013 bring the year-to-date total to 53 new issues - a bumper crop for preferred stock investors to pick from [1]. But by the time most preferred stock investors knew of these new issues the market price had jumped well above their $25 par value.
Principal Protection
The SA article titled "Fed Policy Fails On Jobs But Highlights Opportunity For Income Investors" provides some real data regarding the relationship between increasing interest rates and preferred stock market prices. Rates and prices for fixed-rate securities tend to move in opposite directions. While many preferred stock investors view a period of falling prices as an opportunity to purchase more dividend-paying shares at bargain prices, others who may need to liquidate their holdings put more importance on principal protection strategies.
There are several strategies for adding a layer of principal protection to a preferred stock investment but purchasing for the lowest possible price is a common thread.
Purchasing Newly Issued Preferred Stocks for Wholesale Prices
Purchasing preferred stock shares below their $25 par value is mostly a matter of taking advantage of how new preferred stocks are introduced to the marketplace. By doing so, savvy preferred stock investors have been able to make below-par purchases all year long while others have been paying much higher prices for the same securities.
At the beginning of this year the SA article titled "Principal Protection For Preferred Stock Investors During A Low Rate Environment" presented a chart that shows the results of this principal protection strategy for each month during 2012.
For our new readers allow me to summarize how a preferred stock investor is able to purchase shares of newly issued preferred stocks at wholesale prices (below $25 per share). Then I'll show you how this principal protection strategy performed last month.
When a new preferred stock is introduced to the marketplace, a group of "underwriters" pools their cash and purchases the new shares from the issuing company. An application is filed with the NYSE (typically) at this time for a new trading symbol, a process that usually takes a couple of weeks. The underwriters receive a discount off of par, typically paying about $24.25 per share (this discounted price is published on page 1 of the prospectus; see PSA-X's prospectus for an example).
Anxious to get their cash back (and not at all interested in waiting until someone at the NYSE gets around to assigning a new symbol), the underwriters usually sell the new shares at wholesale prices to dealer/brokers using a temporary trading symbol [2] on the "Over-The-Counter" stock exchange (OTC) for about $24.50 per share. The dealer/brokers, now out the cash, are looking for buyers - any buyers - and will frequently accept buy orders below par (but above $24.50) as speed is critically important at this point in the process.
Armed with an online trading account, it is during this wholesale distribution of new preferred stock shares on the OTC exchange that you are usually able to make purchases at a discounted price, essentially taking part of the original $0.75 per share underwriter commission and putting it into your own pocket [3].
March 2013 Results
The strategy of purchasing newly issued preferred stock shares during OTC wholesale distribution works especially well during periods when NYSE buyers are putting substantial upward pressure on prices (as has been the case for the last year). These retail buyers tend to push up market prices once the new shares begin NYSE trading, providing an extra layer of principal protection in the form of an unrealized capital gain to those who paid wholesale.
Of the 20 new issues introduced during March five were exchange-traded debt securities (ETDs). ETDs are very similar to preferred stocks but can offer the investor lower risk than the same company's preferreds since ETDs are actually bonds that trade on the stock exchange (see "Preferred Stock Investors: 'Exchange Traded Debt Securities' Offer Same Reward, Lower Risk"). ETDs, as bonds, move directly to the New York Stock Exchange when introduced and are not assigned a temporary OTC trading symbol.
Of the remaining 15 new preferred stocks for March, nine (60%) were distributed to the marketplace using temporary trading symbols on the wholesale OTC exchange: PSA-X from Public Storage (NYSE:PSA), PSB-V from PS Business Parks (NYSE:PSB), TCO-K from Taubman Centers (NYSE:TCO), AF-C from Astoria Financial (NYSE:AF), IPL-D from Alliant Energy's (NYSE:LNT) Interstate Power and Light, WFC-P from Wells Fargo (NYSE:WFC), C-C from Citigroup (NYSE:C), TCBIP from Texas Capital Bancshares (NASDAQ:TCBI) and DDR-K from DDR Corporation (NYSE:DDR).
Here's the update for March 2013. For each of these nine new preferred stocks, the yellow diamond on this chart shows the opening OTC market price while the gray diamond shows today's price (April 11, 2013).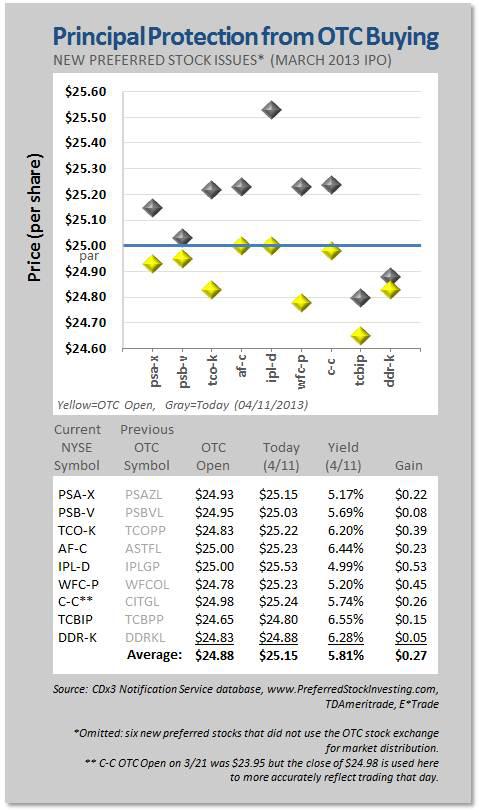 Note how in all cases, the yellow diamonds (OTC wholesale price) are not only below the $25 par value of these new preferred stocks but are also lower than the gray diamonds (current retail price as of April 11).
Just as occurred during every month of last year (see chart) and the first two months of 2013 (see chart), savvy preferred stock investors have seen their March OTC purchases increase in value by an average of $0.27 per share, pushed up by those waiting to purchase the same shares for retail prices on the NYSE.
Footnotes:
[1] Sources for all preferred stock data in this article: CDx3 Notification Service database, (PreferredStockInvesting.com), TDAmeritrade (TDameritrade.com) and E*Trade (eTrade.com). Disclosure: The CDx3 Notification Service is my preferred stock email alert and research newsletter service and includes the database of all preferred stocks and exchange-traded debt securities traded on U.S. stock exchanges used for this article.
[2] Sources for OTC trading symbols: the CDx3 Notification Service (my subscription research service) provides OTC trading symbols via email alerts for new preferred stocks and exchange-traded debt securities; QuantumOnline's site (quantomonline.com, requests a fee on the honor system) does not provide email alerts, market prices, ex-dividend dates or downloadable data but frequently lists OTC symbols for do-it-yourselfers.
[3] How easily you are able to participate in OTC trading depends on the breadth of your broker's contracts with "market makers," of which there are about a dozen. While the process is invisible to you, market makers manually coordinate trades since the OTC exchange is less automated than other trading venues. Most online brokerage systems (e.g. TDAmeritrade, E*Trade and most others) allow you to place trades for new preferred stock shares using the OTC trading symbol just like any other stock trade.
Disclosure: I have no positions in any stocks mentioned, and no plans to initiate any positions within the next 72 hours. I wrote this article myself, and it expresses my own opinions. I am not receiving compensation for it (other than from Seeking Alpha). I have no business relationship with any company whose stock is mentioned in this article.
Additional disclosure: Securities identified within this article are for illustration purposes only and are not to be taken as recommendations.