Solar electricity energy demand has increased by 30 percent annually over the past year due to rapid decrease in solar panel costs and prices. The decline in cost has been achieved by economies of scale, technology improvement and increase in efficiency of solar cells. The average cost of solar photovoltaic (PV) panels dropped 27 percent over a year and the average price of solar panels declined 60 percent, due to mass production and increasing competition.
Many countries are producing energy from solar panels due to increase in global warming and high conversion rate - more efficient solar cells. And also solar energy is clean and effective. Germany is one of the largest producers of solar energy, which produced 27.9 TWH in 2012, about 5 percent of total electricity. America is producing 7.7 GW's of electricity using solar panels. It produced 3.3 GW's in 2012, a 76 percent growth from 2011.
According to the research report, the solar industry generated USD 94 billion revenues in year 2011, globally. Lower prices of solar panels will affect the solar manufacturers' margins in year 2012, but most researchers say that the prices will stabilize in year 2013.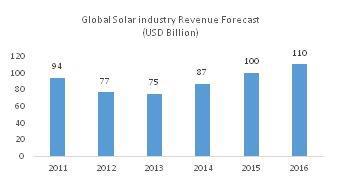 About the Company:
First Solar (NASDAQ:FSLR) is the leading provider of photovoltaic (PV) solar energy solutions, globally. With its highly sophisticated vertical integration capabilities, First Solar delivers power plant solutions that maximize value and mitigate risk for customers, worldwide, and improving every aspect of the solar value chain. First Solar is expanding its market reach through mergers and acquisitions, as the demand for solar energy increases globally.
First Solar acquisition of Tetra-Sun:
First solar has recently announced its acquisition of a solar PV technology startup company, Tetra-Sun, which has developed break-through technology that enhanced conversion efficiency by 21 percent. Tetra-Sun's solar panels are more efficient than First Solar thin-film products, benefits superior energy margins in hot climates when compared to typical silicon PV modules, and better suited for small rooftop systems. First Solar tentatively plans to begin commercial-scale manufacturing of the new technology in the second half of 2014.
First Solar acquisition of North Star project:
First Solar announced that it has acquired the 60 megawatt (MW) North Star solar project from North Light Power, which is its first project in Fresno County, Calif. The construction of the project will start in 2013 and will be completed in 2015. The project will produce clean renewable energy to power 21,000 California households and reduce 39,000 metric tons of CO2 and 33,000 metric tons of water consumption per year.
2013 Financial Guidance:
Higher demand for clean and renewable energy favors First Solar full-year 2013 financial guidance and its future targets. For year 2013, the company expects to generate revenues from sales of solar panel shipments to USD 3.8 and USD 4 billion. The company expects to generate operating income in between USD 430 and USD 460 million, and diluted EPS between USD 4 and USD 4.5, in 2012 diluted EPS was negative 1.11. Working capital is expected to decrease by between USD 50 and USD 200 million from 2012.
| | | |
| --- | --- | --- |
| | 2014 Target | 2015 Target |
| Module Shipments | 1.8 to 2.2 GW | 2.3 to 2.7 GW |
| Revenues | USD 3.5 to USD 4.0 Billion | USD 4.2 to USD 4.8 Billion |
| Earnings Per Fully Diluted Share | USD 2.50 - USD 4.00 | USD 4.00- USD 6.00 |
| Operating Cash Flow | USD 500 to USD 800 Million | USD 600Million to USD 1 Billion |
Revenues recognition for its Desert Sunlight project reflects in the company's 2013 guidance and 2014 outlook. Desert Sunlight project is 550 MW solar power plants that is under construction in Mojave Desert, USA.
Conclusion:
The analysis shows that the solar industry has very high growth in the coming years as many countries are shifting their focus towards clean renewable energy, i.e. solar energy. Energy produced from solar panels displaces CO2, and can reduce water consumption if placed on canals or water reserves. Given that First Solar had a series of acquisitions which will help it to cope with its future demand. And with the help of its newly acquired technology, it will be able to generate highly efficient solutions at lower costs. I think investors should take advantage of this solar industry growth by investing in this stock.
Disclosure: I have no positions in any stocks mentioned, and no plans to initiate any positions within the next 72 hours. I wrote this article myself, and it expresses my own opinions. I am not receiving compensation for it (other than from Seeking Alpha). I have no business relationship with any company whose stock is mentioned in this article.