Every time my wife and I go to an amusement park she always does her best to make sure we avoid the parts with all of the roller coasters. Why is this so? Three words; she gets sick. With so many ups and downs, flips and kicks its no wonder why people get sick on roller coasters. Investing in the stock market can be the same way with all of its pops and drops, upgrades and downgrades, confusion and halts. So what can we learn from the roller coaster rides that so many stocks take us on? Let's take a look.
To say that Vringo (VRNG) has been a roller coaster ride for many of its investors might be an understatement. Because of its bi-polar attitude and volatility, it has been quite the experience for all investors taking part whether you're a technical or fundamental kind of investor. With so many ups and downs, twists and kicks its no wonder why some investors have left the patent litigation party. Why is this so? Because its tends to make investors sick. Nothing will make investors more sick to their stomachs than seeing a 20 to 30 percent gain completely wiped out in a matter of minutes, like Vringo has shown investors. However, the opposite has also occurred with Vringo rewarding investors with massive gains which is one of the reasons that keeps bringing investors back in the game.
Taking Profits Along The Way
Making money in the stock market is no guarantee. If it was so easy then everyone would be doing it. Heck, I would have saved those stressful years in college and thousands of dollars in tuition if it were so. Now let's take a closer look at Vringo which has a 52 week high of $5.73 and a 52 week low of $1.75.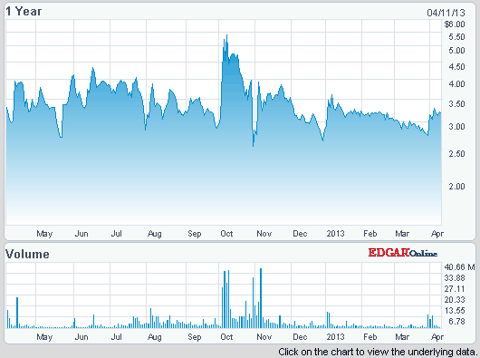 Click to enlarge
Looking over the past year on the chart, we can see that there has been some major volatility going on with Vringo. Of course that is somewhat expected with all the hoopla going around in the patent infringement case of Vringo vs Google (NASDAQ:GOOG), AOL (NYSE:AOL), Target (NYSE:TGT), Gannett (NYSE:GCI), IAC/Interactive (IACI).
Looking at the chart we can see that from May through September of last year, Vringo shares were trading back and forth in the $3-$4 range. Then in October, Vringo's shares popped up into the mid $5 range. At that time some investors took profits while others did not, thinking the price was going to go much higher. Unfortunately for some Vringo investors things started taking a turn for the worst after shares hit a 52 week high of $5.73.
Even though the jury returned a favorable verdict for Vringo in that they found infringement by Google, the legal motions between the two have taken months and are still not resolved. Because time is money, Vringo's stock performance has suffered because many wanted to profit off of a quick ruling. So much for the "rocket docket"... right. Since the verdict in November, investors have been waiting anxiously for post trail motions to be finalized and to be ruled on. The long delay has hurt Vringo's stock price taking it several times under $3 dollars. Investors who took advantage of the lower share prices have to be feeling good right now after the last share spike that sent shares up to $3.50. So the lesson here is that there is never any shame in taking profits. Yes, you might miss out on some gains if it trades higher, but you also might miss out on some losses if you would have held on.
Another thing investors can do that can be very profitable is to keep half of their position (long or short) and then trade the other half on the pops and drops. That way you can still make money by trading and taking advantage of the spikes, while still holding a core position just in case the big news finally arrives. It would be very unfortunate to day trade everything you had, only to miss out on a huge spike with news of a settlement, buyout or favorable ruling in the battle of Vringo (David) vs. Google (Goliath).
Have Trailing Stop/Stop Losses
I have never been a fan of stop losses mostly because I am more of a long term investor and have plenty of time on my side. After doing my research about a company I wait until I feel it's trading at reasonable value before I get in. That was the case with Vringo when I got in during the summer in the low $3's.
On October 9, 2012, Vringo had a high of $5.73, a low of $4.40 and closed the day at $4.45. Because of the high volatility of Vringo, I decided I would use stop losses for the very first time for some protection. Then on October 31, 2012, the court ruled that Vringo's past damages would be limited to when the complaint was filed. This was not the news that longs were hoping for and because of that, Vringo fell from a high that day of $4.47 to a low of $1.75 and closed the day at $2.56. Luckily for me I had some stops in place that helped protect me that day.
So what kind of stops are out there? There are many different kinds of stop losses. Of all the different kinds, I am beginning to be a fan of trailing stop losses. A trailing stop loss is a wonderful feature for all investors long or short. A trailing stop loss allows you to specify the amount that you are willing to lose without limiting the amount of profit that you can gain.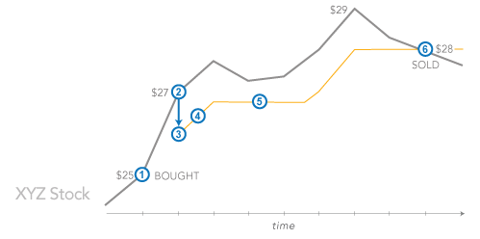 The picture above illustrates the trailing stop loss (Yellow line). Once it is placed (Step #3) it follows the stock and protects your losses without limiting the amount of profit that you can gain. So the lesson here is no matter how confident you are in your investment, always protect yourself against unforeseen events. Like the saying goes, it's better to be safe than to be sorry.
Keep Some Money Set Aside
When investing I always try to have a goal in mind of where I want to be and how this stock is going to get me there. This help determines how many shares I'll will be buying. With Vringo, I bought a chunk of shares (low $3's) at one time at what I believed were really undervalued levels. Because I did this I did not have any money leftover. Because Vringo has had some wild swings, I've actually missed out on some opportunities of buying some under $3. So the lesson here is that even if you think you are getting shares at a steal of a price now, always keep some money set aside in case you are presented with an offer that you just can't refuse.
Be patient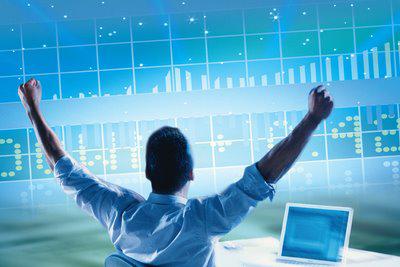 Patience is key when investing in the stock market. So when the going gets tough, the tough get going. If things aren't going your way one of the best things that I've found to be helpful is to go back through the research that you hopefully did, that made you excited about a particular stock. Going through and reading it again should keep you calm with all the noise that is out there. Hopefully it will re-affirm to you why you strongly believe in the company and its stock. As we can see with Vringo, things are starting to go its way and the future is looking better with each passing day. Heck, just last week Vringo and Microsoft delayed their litigation 60 days in order to talk about a potential settlement and or buyout.
Conclusion
Vringo should still be considered a speculative stock, meaning it has a bit more risk when compared to other stocks (just look at all the volatility). It's speculative in the fact that it hasn't proven it can generate revenue and a large portion of Vringo's revenue depends solely on winning court cases and/or settlements. However, with higher risk means also the potential for higher rewards. Once Vringo can finish wrapping up its victory over Google the tides will be changing in knowing Vringo's patents are valid and are worth a lot of money. The average consensus price target that analyst's have for Vringo is $8.00.
Patent companies like Vringo can offer investors substantial rewards as well as headaches. There are many different ways to play them as I've previously written about on Seeking Alpha here and here. Playing the field right and learning from your mistakes will certainly make you a better investor the next time around. So good luck with your investments and I look forward to all of your comments and insight. Investors are always reminded that before making any investment, you should do your own proper diligence on any stock mentioned in this article. Any material in this article should be considered general information, and not relied on as a formal investment recommendation.
Disclosure: I am long VRNG. I wrote this article myself, and it expresses my own opinions. I am not receiving compensation for it (other than from Seeking Alpha). I have no business relationship with any company whose stock is mentioned in this article.