This is interesting and worthy of an Amazon.com (NASDAQ:AMZN) article: ComScore is reporting quite a severe slowdown in Amazon.com web traffic. The slowdown is evident both in the U.S. and International segments. The charts below illustrate what's been happening (Source: comScore, RBC research).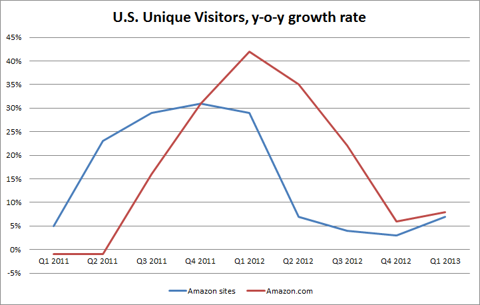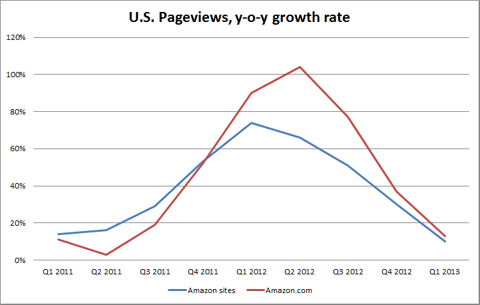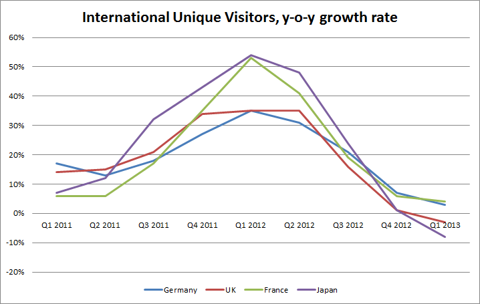 As we can see, except for unique visitors in the U.S., which saw a slight uptick in Q1 2013 to still-low growth rates, everywhere else growth rates are collapsing, including in the U.S. for pageviews.
More incredibly still, international unique visitors are actually turning negative for the UK and Japan. The UK represented 10.6% of Amazon.com's 2012 revenues and Japan represented 12.8%, so 22.4% of Amazon.com's revenue base might actually be seeing less interest from its users at this point, if comScore's numbers are to be believed.
Japan
Additionally, Japan might also be a source of concern due to currency translation issues. The JPY is falling rapidly, having devalued a further 8.8% between the end of 2012 and the end of Q1 2013. On 12.8% of revenues, this could have a negative impact of up to 1.1% of Amazon.com's overall Q1 2013 revenues.
Conclusion
Even as the market screams higher, more and more signs pile up showing Amazon.com's substantial slowdown. From the ChannelAdvisor numbers implying revenue will miss consensus to comScore's numbers regarding Amazon.com web traffic, everything points towards a continued slowdown.
And as a added worry, the Yen's sudden move might also have a material impact on reported revenue, as well.
Disclosure: I am short AMZN. I wrote this article myself, and it expresses my own opinions. I am not receiving compensation for it (other than from Seeking Alpha). I have no business relationship with any company whose stock is mentioned in this article.