Nvidia (NASDAQ:NVDA) is a provider of visual computing, high performance computing and mobile computing solutions that generate interactive graphics on various devices. The company has pioneered the art and science of visual computing. NVDA has laid down a share buyback and dividend plan that has attracted a lot of attention. Nvidia's fundamentals and its announcement of returning $1 billion to its investors are going to play on the company's stock for the fiscal year 2013.
There is tremendous return potential embedded in Nvidia by virtue of its graphics/HPC businesses, the potential growth in its Tegra business and its large (and growing) cash position. The company is quite well positioned fundamentally with no debt on its balance sheet and a cash pile that makes up almost 50% of its market capitalization. Whereas, the company has an attractive valuation in the stock market as its price has declined by more than 20% over the last year. Even before the announcement, the company was worth every penny of one's investment. The buyback announcement has come as an additional perk of investing in this stock.
The announcement
Previously, NVDA disclosed that it will return $200 million to investors; $100 million via share repurchase and $100 million via dividends. This announcement was made in November when the stock was trading at $11.9. This news unleashed the bulls on the stock and it reached $12.83 by early 2013.
On 11th April 2013, the company made another announcement and this was to return $1 billion to its shareholders in the current fiscal year through share buybacks and dividends, which makes a total of $1.2 billion that the company aims to return to its investors. This $1 billion will be distributed largely through a structured stock repurchase program, which includes the $100 million being repurchased in the current quarter. Further, the company will distribute $50 each quarter through dividends, paying $0.075 per share every quarter. Immediately after this, announcement the company gained 2.66% in the stock market. Nivida has a market cap of $8.1 billion and each share is priced at $13.11. Comparing the specifics of the announcement and the company's current market capitalization, the prospective stock price hike via repurchases become obvious. The continuous dividends will attract investors, further mounting the stock price.
About the company
A major portion of the sales of the company is sourced from PC sales. The company has experienced a lot of volatility due to the uncertainty surrounding its operations. The recent news will stabilize the company's stock price and regain investors' confidence in its prospects. The company is favorably priced compared to its competitors and the conventional price ratios render the stock undervalued.
· EPS of $0.9 and a dividend yield of 2.4%
· Profit margin of 13.14% and an operating margin of 15.15%
· Return on assets of 6.77% and an ROE of 12.54%
· Book value per share is 7.83, with cash of $6.05 per share
The company has posted record earnings for the fiscal year 2013. There has been tremendous growth in key financial figures over a period of 1 year. To highlight a few:
Nvidia's revenue grew by 7.5%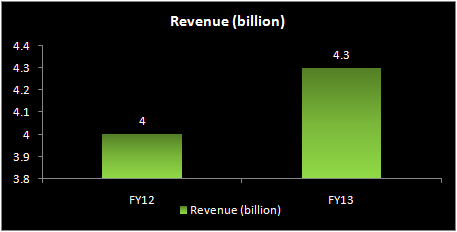 Cash on the balance sheet increased by 19.35%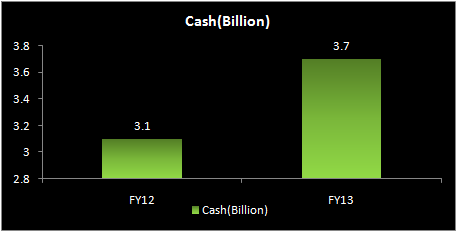 Nvidia's gross profit margin has been increasing over the quarters of fiscal year 2013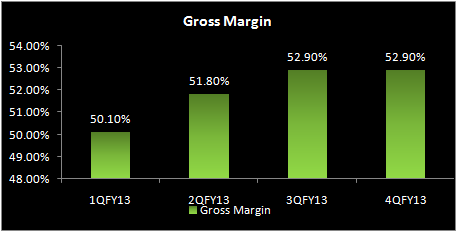 Its Tegra revenue increased by 50% YoY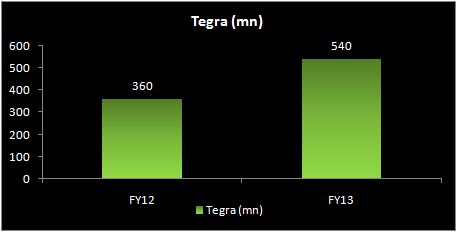 To put a few things in perspective, I am sharing what the CEO of Nvidia, Jen - Hsun Huang, said at the annual investor conference:
Now when you look at the results, I think the results are speaking for themselves. Over the course of last three years, we've grown on a CAGR about 20%. Almost every single business is growing. And it was kind of interesting that when you are vibrant and you are strategically relevant to your customers. Every single PC OEM today has a desire to expand beyond the PC. Every single PC OEM has a desire to expand beyond the PC. When you are strategically relevant to them in one area, it helps your business even in the commodity areas.

For example, GeForce OEM, GeForce OEM is basically a basic PC and it's growing at 12% CAGR. Now at 12% CAGR, some of it is market share, some of it is just because we are just a more important customer for people to work with, more important supplier, or more important partner for people to work with because there are so many other areas where the technology that we create are essential to their business. Essential to their growth, they would like to partner with us. And so as you can see we are growing across the board. Tegra is about 109% CAGR, Tesla 68% CAGR, Quadro is 15%, gaming is 9%, okay, growing across the board.
Conclusion
Nividia's financial position is stabilizing. Though the company's operations are not expected to record an outstanding performance in the current fiscal year but the share buyback and dividends will work as catalysts to stock price performance. Nvidia's shares are down 14% at $13.11 from its 52-week high of $15.22. Given the current market capitalization of the company, a relatively large amount of equity is being distributed to the investors. This will skyrocket the stock price and investors will be able to book a good total return at the end of this fiscal year. Given the current price of the stock and the expected price hikes, Nvidia is a great buy.
Disclosure: I have no positions in any stocks mentioned, and no plans to initiate any positions within the next 72 hours. I wrote this article myself, and it expresses my own opinions. I am not receiving compensation for it (other than from Seeking Alpha). I have no business relationship with any company whose stock is mentioned in this article.