We analyze LinkedIn (NASDAQ: LNKD), the biggest professional social network, taking a one year investment horizon view. We review the firm's business model, recent acquisitions, the overvaluation issue, growth prospects and momentum. As a conclusion, we label LNKD as neutral, mainly due to the fact that we consider it overvalued at $185 per share. However, the strong monetization model of the firm keeps us from taking an immediate bearish view.
Business Model
Diversification: LinkedIn's revenue is highly diversified. It comes from 3 products:
Talent solutions (53%): the cash cow of the firm. We discuss this point later in the article.
Marketing solutions (27%): advertisement. Notice that LinkedIn sells advertisement by impressions and not by clicks. This means that an increased number of page views translates into higher ad revenues. Aware of this point, LinkedIn is in constant search for new products and applications that would allow its users to be kept actively engaged in the site. Some examples include the "profile strength" indirect point system, the "endorsements" social feature and the future integration with the recently acquired Pulse application.
Premium subscriptions (20%): Personal Plus, Business and Business Plus subscriptions, ranging from $7-$34 per month, which allow users to see the full list of who has viewed their profile, see expanded profiles and contact anyone with Inmail.
Monetization: LinkedIn is probably the best monetized social network example. Even though LinkedIn's visitors do not make visits as frequently as in other social networks, LinkedIn has managed to generate $8 annually per monthly average user.
27% of this comes from advertisement solutions. Facebook (NASDAQ:FB), on the other hand, has a highly engaged user database. However it only manages to generate approximately $5 per monthly average user, most of it supported by advertisement.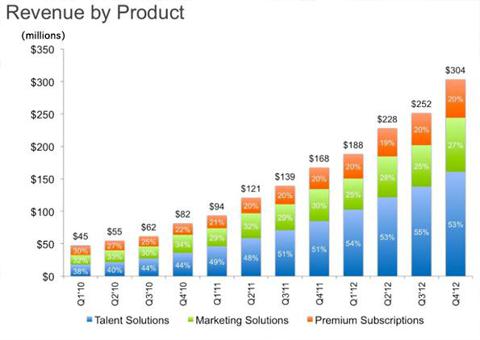 Talent Solutions: The cash cow of LinkedIn (53%) and the main difference between this firm and other social networks is the "Talent Solutions" service, a fancy name for the activity of selling data and tools to corporate recruiters.
This set of services has become a must-have in corporate HR, at least in the U.S., because it gives recruiters the ability to basically source anyone on LinkedIn: contacting anyone, building and tracking talent, promoting job opportunities and getting top billing for high priority jobs, amongst other services.
Users come first: LinkedIn gives plenty of stimulus for its users to be actively engaged, and for non-users to at least consider registration:
First of all, LinkedIn helps users to get jobs.

LinkedIn has managed to do something for its users that few other social networks could have ever done: help them to make a brand out of their names.
LinkedIn's user profiles regularly show up on the first page of results, when searching for a name.
It also gives users the ability to track their professional network anytime.
By introducing several social features and clever gamification, the company makes the "LinkedIn" experience pleasant: its users disclose a vast amount of information about their careers (from past experience to "endorsements") without even knowing it.
As a result, LinkedIn has created a database of more than 190 million professionals. We estimate that about 10-15% of them are actively engaged, visiting the site once a day or more. This number comes from the fact that about 13% of users have 500+ connections. We also estimate that 0.5% of them have a premium subscription.
Growth opportunities
In the previous section, we placed importance on the current state of affairs of the company. In this section, we emphasize the ability of LinkedIn to continue growing its database and revenue in the next 2-4 years.
Starting from the conclusion, we do not believe that LinkedIn will be able to continue its historical revenue growth rate in the next years.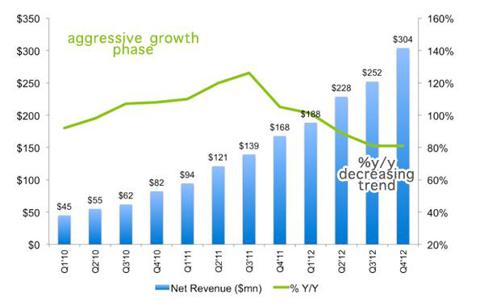 The inability of LinkedIn to sustain historical revenue growth is not due to the lack of "strength" in its 3 products. Basically, we forecast a decrease in member registrations, unique visitors and page views.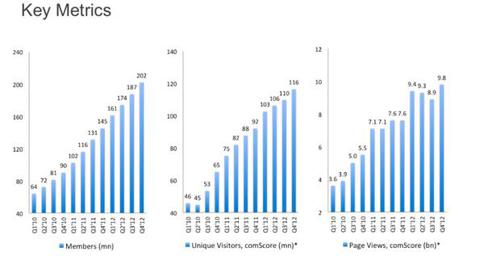 This is due to the fact that LinkedIn will find it very challenging to become the ultimate "hub" for online professional activity in the future. And the ability of LinkedIn to move from its current stage into a new period as "the professional hub" will be crucial for the future of the firm. Like Johhn Bischke puts it, "this is (was) the $100 billion opportunity for LinkedIn".
Users see LinkedIn as a way of putting their resume online, but not as the primary place where their professional activity will take place online. There are several "indirect" competitors, on the other hand, that offer a better environment for carrying out your real professional activity. They may be small in DAU if you compared them with LinkedIn, but together they form a strong competitor: GitHub and Stackoverflow for software engineering, Academia.edu for research, RePEC for economists, DeviantArt for design, Seeking Alpha and SumZero for investment, Proformative for accounting and Doximity for medicine, to mention a few examples.
Investors who consider that LinkedIn has a strong position in this young industry because of its unique competitive strengths need to acknowledge the fact that the market under which this industry operates is changing fast. Users prefer to engage in smaller networks, more elitist and with a narrow focus; simply because they find it more pleasant to interact with professionals that have a higher understanding of their interests.
Finally, there are direct competitors that could ultimately replace LinkedIn as the largest professional social network, because they are experiencing a similar growth rate in DAU that LinkedIn experienced 2 years ago. Competitor Viadeo is not only growing fast, it already has more users in high-growth economies (China).
Overvalued?
With a current market capitalization of $20 + billion, LinkedIn is worth one third of what Facebook and its 1 billion users is. This shows that a large database of users is not everything in the industry and that good monetization skills are as important as technology.
However, taking under consideration the business model of LinkedIn, we still think that at $185 per share, the stock is overvalued.
To support the current market valuation, it is necessary to assume an extremely high annual growth rate of users, in the 30s, for the next 5 years. This implies transforming LinkedIn from its current state into a massive global hub for all kinds of professional activities, from software engineering to medicine. We explained in the previous section why we think this is unlikely to materialize.
Although we are not alone in our view (for example, Trefis forecast a 24% average annual growth rate, which is optimistic enough, and they still cannot justify the current market valuation), we ought to mention that the current street sentiment is not bearish. About 55% of the covering analysts still rate LinkedIn as a buy, and we ourselves do not expect a correction in the short term.
Momentum
LinkedIn has been "the best performing social network stock" in the street so far:

That being said, we do not agree with the current price level and we consider it overvalued. Furthermore, the stock was trading at $170 on April 8th and closed at $185.39 on April 12th. It is basically at its 52 weeks high ($186.06).
We really see no major reasons that could justify the recent increase in stock price. There were good macroeconomic signals in the last week but LinkedIn was already overvalued at $170.
The acquisition of Pulse, an RSS reader application that provides selected news in a nice user interface and that relies heavily and smartly on open source to support its operations, but with no known tangible assets; for $90 million, does not change the value of LinkedIn per se. LinkedIn will certainly try to integrate Pulse successfully. It could succeed, or it may not. But if LinkedIn manages to integrate Pulse successfully, the company would still need to create $90 million in revenue from the integration in order to justify the deal.
Price target: $150
Rating: Neutral
Disclosure: I have no positions in any stocks mentioned, and no plans to initiate any positions within the next 72 hours. I wrote this article myself, and it expresses my own opinions. I am not receiving compensation for it (other than from Seeking Alpha). I have no business relationship with any company whose stock is mentioned in this article.