Back in March I wrote a story called Marin Software: Successful IPO Inside The Numbers on the very successful IPO for Marin Software (NYSE:MRIN). The stock has done reasonably well, holding on to much of its initial IPO jump, and is currently selling at $14.90. At that time the article was based on the original S1 filing and I was waiting for the fourth quarter numbers to be released. This past week Marin Software announced their first public conference call for May 8th that will cover the first quarter of FY13. Wondering if I had missed the release I went back through the filings and found that they had put the fourth quarter numbers in an updated prospectus released on March 22nd. Since the data is now available let's take a quick look at how they did in the fourth quarter.
Courtesy of stockcharts.com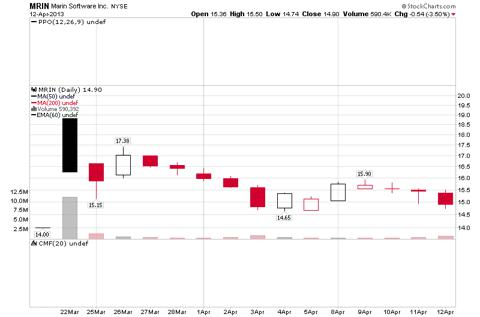 As mentioned in the original article, growth year over year has been outstanding. Current growth rates were 152% from 2009 to 2010, 90% from 2010 to 2011 and with recent numbers - 65% in FY12. The fourth quarter numbers that were not part of the original S1 filing break down like this. In 2011 fourth quarter revenues were approximately $12M and the loss was about $4.4M. In the fourth quarter of 2012 revenues were $17M and the loss around $7M. Revenues grew at a 42% rate while net loss continued to increase.
While revenue growth continues to greatly outperform a vast majority of companies, it is probably wise for investors to understand that Marin Software currently sells at 8x recent 12 month revenues, and other high growth stocks that have not been able to generate profits even with excellent growth have significantly lost their shine in the public investing eye. The good news for Marin is they are now well funded with $128M in the bank and relatively low debt at $10M. Now being well capitalized they should be able to convert their high growth rate into bottom line improvements. The first quarter numbers that will be released on May 8th should provide a good clue to how the company is doing and how the investing public perceives them.
Disclosure: I have no positions in any stocks mentioned, and no plans to initiate any positions within the next 72 hours. I wrote this article myself, and it expresses my own opinions. I am not receiving compensation for it. I have no business relationship with any company whose stock is mentioned in this article.