Another reminder that gold and silver prices are set in leveraged futures markets was offered up on Friday when technical selling led to one of the worst one-day declines for precious metals in years. As technical levels were breached to the downside, stop loss orders were triggered and the price declines accelerated, gold ending the day $84 an ounce lower and silver tumbling almost two dollars an ounce.
Amid more calls of manipulation by powerful forces with vested interests in the increasingly shaky current system of pure fiat money, the gold price fell below $1,500 an ounce for the first time since July 2011 and an ounce of silver sold for less than $26 for the first time since late-2010. The combination of a bearish call by Goldman Sachs, speculation that the Federal Reserve will slow its money printing effort, and concern over Cyprus gold sales made buyers of precious metals scarce. Once important technical levels were breached, the selling accelerated.
Gold demand in China continues to be impressive and lower prices are expected to boost gold buying in India, but the pace of selling in gold ETFs by U.S. investors picked up considerably. At the same time, COMEX gold inventories are seeing record declines as more deliveries of the physical metal are made. Silver ETF holdings were remarkably steady given the price declines for the metal and, similar to the developments seen in 2008, coin premiums are now rising sharply as the disconnect between the paper futures market and the physical market grows.
For the week, the gold price plunged 6.7 percent, from $1,582.30 an ounce to $1,477.00, and silver tumbled 5.5 percent, from $27.35 an ounce to $25.85. Gold is down 11.8 percent this year, 23.2 percent below its 2011 high, and silver is down 14.8 percent, some 47.8 percent below its record high almost two years ago.
As shown below via StockCharts, gold's losses accelerated sharply on Friday after it fell through a key support level at around $1,520 an ounce, its low from December 2011 that occurred shortly after a record high of over $1,900 an ounce just months earlier.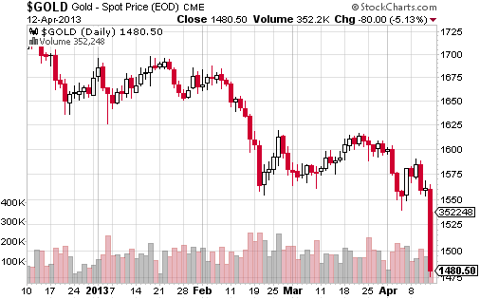 Click to enlarge
This marks the end of a trading range that began in April 2011 when the gold price first broke through the $1,500 level.
At this point, all sorts of lower price targets are being talked about as the short-term prospects for gold and silver have deteriorated significantly. But, there remains a vigorous debate about whether the long-term bull market is over.
Many investment banks seem to think the secular bull market is now history and a recommendation by Goldman Sachs on Wednesday to short gold contributed to last week's sell-off.
Goldman lowered their average gold price forecast for 2013 from $1,610 an ounce to $1,545 and from $1,490 to $1,350 for next year. They also cited year-end targets of $1,450 an ounce this year and $1,270 in 2014. Analysts pointed to an improving U.S. economy and lackluster price action despite a resurgence in euro zone risk aversion stemming from events in Cyprus. They also noted that higher inflation, a long-awaited catalyst for higher gold prices that has yet to emerge after many trillions in central bank money printing, is likely several years away.
The argument about an improving U.S. economy is now far less convincing than just a month ago since economic data has consistently been coming in below estimates, a small increase in payroll taxes and modest spending cuts now apparently taking their toll. Also involved in last week's market swoon was more discussion in the Federal Reserve's meeting minutes about "tapering" their money printing effort sooner rather than later as the economy improves, but, given the recently weak data, this too seems far less likely than a month ago when the meeting was held.
Interestingly, investment banks in Germany and Switzerland have a much more positive outlook for precious metals as Deutsche Bank said on Tuesday that it had lowered its 2013 average gold forecast by 12 percent to $1,637 an ounce and trimmed its 2014 forecast by 5 percent to $1,810. UBS lowered its average gold price forecast from $1,900 an ounce to $1,740 this year but left its forecast for next year unchanged at $1,700.
Another factor cited in last week's sell-off was the possibility of market manipulation by hedge funds and/or big banks with possible government ties as policy makers around the world have a vested interest in maintaining confidence in the financial system and currency regime.
There was no real news Friday morning to trigger a gold market decline, but once certain technical levels were breached, stop loss selling ensued and a free-fall in prices followed. This has been familiar pattern in recent years and, at Mineweb last week, Lawrence Williams published another excellent, even-handed, and highly recommended article on the controversial subject of gold market manipulation that began by noting:
...the financial powers that be are at the very least conscious that some kind of control of the gold price can work to the favour of an attempt to maintain global financial stability, and that of the U.S. dollar in particular (effectively seen by the U.S. elite as the same thing!).
One thing is certain, there exists a strong motive by the powers that be to keep a lid on the gold price since much of the world's financial system and the entirety of the global currency system is based on confidence. Since the 2008 financial crisis, confidence in both institutions has been shaken to their core and recent events in Europe have created a whole new set of concerns for investors and wealthy individuals alike.
Word that most of the gold reserves held by the Central Bank of Cyprus are now in play in order for the nation to meet the terms of its growing bank rescue bill were another factor in last week's market swoon. As detailed in Cyprus Gold Sale Misinformation - Is Everyone Out To Get Gold?, there was a good deal of confusion about this story when the news first broke and, over the weekend, Cypriot central bank officials continue to claim that President Nicos Anastasiades does not have the authority to sell the nation's gold reserves without the central bank's consent.
Of course, this quickly led to speculation that the much larger gold reserves of countries like Italy, Spain, and Portugal might also be sold in order to meet the terms of any new bailout package and this added to the futures market selling.
European Central Bank President Mario Draghi said on Friday that any profits from Cyprus gold sales must be used to pay back prior loans and, according to this Bloomberg report, there is now disarray at the Cyprus central bank. Two resignations and the illegal annulment of a recent central bank appointment were the result of a growing rift between the government and the central bank and this could lead to further turmoil.
The possibility of Cyprus exiting the eurozone is suddenly back on the table, just as a new wave of austerity backlash has emerged in Portugal and a dysfunctional Italian parliament attempts to elect the country's next president.
If or how these events might affect the gold price is anyone's guess, however, given last week's market action, U.S. investors in gold ETFs are not likely to be influenced by any news coming from Europe.
The SPDR Gold Shares ETF (NYSEARCA:GLD) shed 47 tonnes of gold last week, the biggest weekly outflow since the trust lost 60 tonnes in late-August 2011 as the gold price was approaching its record high.
So far this year, GLD has seen outflows of 192 tonnes but, interestingly, COMEX warehouses have seen outflows of about one-third that amount.
According to this report by Tekoa Da Silva and as indicated in the chart below, some 2 million ounce of gold have exited the COMEX over the last three months in what are record outflows.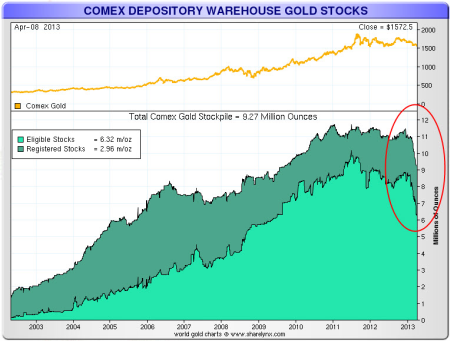 It is not known why this metal has left the COMEX, however, one point seems clear - some owners of the metal no longer want to store it there.
In silver markets, despite plunging prices amid short positions in futures markets that recently reached multi-decade highs, the holdings of the popular iShares Silver Trust ETF (NYSEARCA:SLV) were steady last week, still up over 400 tonnes for the year.
Importantly, record short positions in the past have marked major lows for the silver price, so, it's possible an enduring bottom is not far off.
The premium for the Sprott Physical Silver Trust (NYSEARCA:PSLV) has shrunk to record lows near zero, however, this is likely a result of shares being sold from the Sprott Foundation, much of which was said to be used to buy mining stocks that have been beaten down even more than the metals.
Silver coin premiums are now at their highest level since just after the worst of the financial crisis in early-2009 and, after the late-week price plunge, these premiums are likely to move even higher as coin sales by the U.S. Mint continue at a record pace in 2013.
In China, net gold imports from Hong Kong rose from a three-month low of 27 tonnes in January to 61 tonnes in February and declining prices are expected to attract more buyers. Net gold flow from Hong Kong to China reached a record high of 557 tonnes last year and, combined with a record high in domestic mine output, China remains an important source of gold demand along with India.
Look for gold buying in India to ratchet up as price declines are sure to attract the world's most price-sensitive buyers. Efforts to curb gold imports via higher duties over the last year have proved ineffective at anything other than spurring a booming smuggling trade and it now seems likely that the Indian government will refrain from giving black market gold sellers any more reason to increase their business.
Gold trading in Dubai last year surged to $70 billion as the United Arab Emirates city accounted for some 20 percent of the world's physical gold imports and exports. This is up from just $6 billion a decade ago as the region has become a major gold center, continuing to add to its infrastructure, the latest development being news that Dubai's Kaloti Group will soon build a $60 million state-of-the-art gold and precious metals refinery.
Though the dynamics have changed significantly in recent days, the story remains largely the same as it's been for years now as physical precious metals flow from the West to the East as leveraged traders in futures markets push metal prices up and down, the latter being the preferred direction as of late. Meanwhile, the world's major central banks continue to print record amounts of paper money in an attempt to cure the world's financial and economic ills, many of which were caused by monetary policy that, over the years, had been far too loose for far too long.
Precious metals investors are reminded that this is not a sprint, it's a marathon.
Disclosure: I am long GLD, SLV, PSLV. I wrote this article myself, and it expresses my own opinions. I am not receiving compensation for it (other than from Seeking Alpha). I have no business relationship with any company whose stock is mentioned in this article.
Additional disclosure: I also own gold and silver coins and bars.