Equity Research and Valuation Report - Hanesbrands Incorporated (NYSE:HBI)
Analyst Notes
Hanesbrands coverage initiated by 10StockIdeas.com. Shares of Hanesbrands have been rated Overweight with a twelve-months price target of $53.46. The strengths of HBI can be noted in several areas:
- Excellent brand name recognition
- Appeal across age, gender and income brackets
- Global market reach
- Necessity product and steady demand
- Improving margins despite rising cotton prices
Earnings
Company Highlights:
- Year-on-year sales growth of 2%
- Adjusted Operating Income FYE 2012 at 10.3% of net sales
- Adjusted Net Income FYE at 6.6% of net sales
- Diluted EPS FYE 2012 at $2.32
- Company to initiate a quarterly dividend of 20 cents/share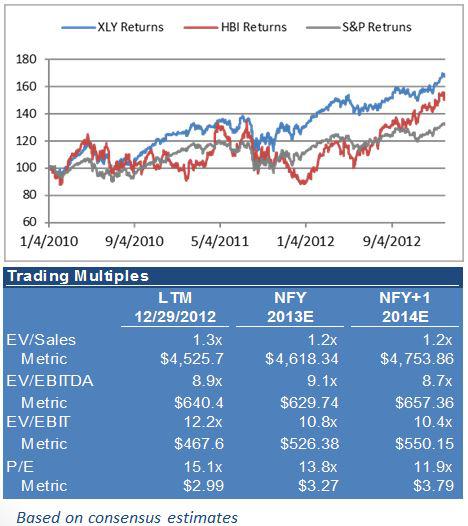 Investors' Day Highlights
Highlights from the most recent investors' day:
- $800 million in sales growth from 2009 to 2012 ( 5% CAGR)
- $100 million in operating profit growth over the same period
- $1.00 earnings per share growth over the same period
- 27% reduction in long term debt year-over-year
- Greater than 50% of customers are under the age of 35
- 40% of customers live in households with more than $75K of annual income
- Management focus on continuous margin improvement via "innovate-to-elevate" strategy
FYE 2012 Financial Results
Balance Sheet Notable Changes:
- 21% increase Y/Y in cash position
- 22% reduction Y/Y in inventory on hand
- 27% reduction Y/Y in long term debt
Operational Results:
- 2% increase in sales Y/Y to $4.5B
- 5.6% in cost of good sold Y/Y to $3.1B
- 6.3% reduction in SG&A expense Y/Y to $980M
- 12.4% reduction in interest expense Y/Y to $137M
- 5.1% reduction in diluted EPS Y/Y to $2.32 per share
- 11.4% increase in adjusted diluted EPS Y/Y to $2.99
- 14% 5 year CAGR for diluted EPS (including projected periods
Cash Flow Items:
- 59% increase in depreciation and amortization expense Y/Y to $172M
- 55% decrease in capital expenditures Y/Y to $41M
Innovate-To-Elevate Strategy
The success of Hanesbrands depends on the success of its innovate-to-elevate strategy. The strategy can be summed up as such: 1) focus on long term customer trends, not the predominant fashion and 2) supply chain improvements. The philosophy being pursued by HBI management is pretty intuitive. By looking at products from HBI, its target amateur athlete is not looking for fashionable and performance merchandise. Rather HBI is marketing average cotton products that can be used by real everyday people. This is a great deviation from the mainstream producers of athletic apparel.
The results of HBI's strategy in terms of sales is impressive. It has four franchises with sales of $400 million or more. It is the third largest apparel brand name in terms of dollars and the number one in terms of units.
Supply chain improvements is another element in HBI's recent success. It will also be an ongoing driver of its future success. Supply chain management off-shored the majority of production, reduced energy and water consumption by 20% and 30% respectively as well as producing cost savings of $30 to $40M/yr.
Clothing and Footwear Consumer Consumption
It is imperative to plot HBI's historical revenue against consumer consumption.. As it is clear from the below graph, revenue remained relatively steady against a consistent rise in consumer consumption of clothing and footwear.
Cotton Price and Margins
We also considered the quarterly average cotton futures price relative to both quarterly gross profit and operating income. HBI records its hedging activity on its SG&A expense line. There is a strong lagging correlation between cotton futures prices and operating income. Gross profit, on the other hand, is not correlated to the price of cotton.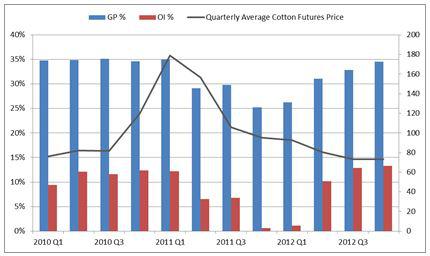 Management Guidance For 2013
HBI reaffirmed the following financial projections on its latest 8K release:
- Long term operating margin in the range of 12%-14%
- Net sales of $4.6B for 2013, $100 million or 2% increase over 2012 sales figures
- Operating profit of $500M or 7% increase over adjusted 2012 operating profit
- EPS in the range of $3.25-$3.40. An increase of 9%-14% over adjusted 2012 EPS figures.
Valuation
We conducted a valuation of Hanesbrands utilizing two methodologies: Market Based Multiples Analysis and Discounted Cash Flows. We developed our model and projections using historical growth rates, historical margins, management guidance and analysts' consensus estimates to value HBI's share price.
Our price estimate for Hanesbrands as noted at the beginning of this report is $53.46 FYE2013. Below is summary of our valuation exercise using both methodologies.
We are basing our overweight recommendation on the above valuation summary. We believe this valuation is rather cautious and even though HBI does not have any catalyst to increase sales exponentially, it does possess catalysts to improve their margins and bottom line returns.
Multiples Analysis
To conduct this analysis we went through an extended list of comparable companies. Hanesbrands is quite unique in its dependence on cotton products. Its line of products is also quite limited, unlike other participants in the cottons and apparel industry. We used the Standardized Industrial Classification Code(SIC) 5600 as a benchmark. SIC Code 5600 refers to Retail-Apparel & Accessory Stores. We also incorporated in our analysis names in related SIC Codes such as Under Armour (SIC Code 2300). Included in our analysis were the following names:
- Large-Cap: Limited Brands (LTD), Gap (NYSE:GPS), TJX Companies (NYSE:TJX) and Ross Stores (NASDAQ:ROST)
- Mid-Cap: Urban Outfitters (NASDAQ:URBN), Under Armour (NYSE:UA), American Eagle Outfitters (NYSE:AEO), Abercrombie & Fitch (NYSE:ANF) and Fifth & Pacific (FNP)
- Small-Cap: Aeropastale Inc. (NYSE:ARP), Quiksilver (NYSE:ZQK), New York & Company (NYSE:NWY), Pacific Sunwear (NASDAQ:PSUN) and Coldwater Creek (NASDAQ:CWTR)
Hanesbrands is a mid-cap company based on equity and enterprise valuation. The company does have, however, historical large-cap margins and growth profile. This profile has HBI trading at large-cap multiples. As stated earlier, we do believe HBI has the capacity to improve on its margins and unlock value in-line with other mid-cap competitors. For this reason, we believe HBI should receive an uptick in its trading multiples.
We based out market valuation of HBI based on mid-cap multiples, taking into consideration, sales volume, earnings power and growth profile. Using that line of thought, we took the lower end market valuation of comparable companies and applied those to HBI figures. Actual NFY multiples are based on actual trading multiple given estimated 2013 figures.
Benchmarking Analysis - Inputs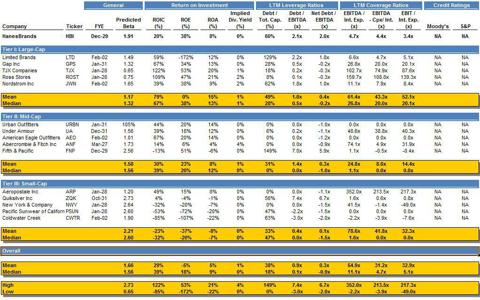 Discount Cash Flow Valuation
We tested two scenarios in our DCF model: Base and Likely. A summary of both valuations scenarios is provided below.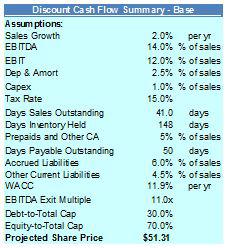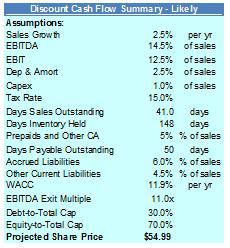 For our likely scenario, we provide below a summary of the implied Enterprise Value, Equity Value, Share Price, Perpetuity Growth Rate and Enterprise Value to EBITDA ratio.
Discounted Cash Flow Valuation - Sensitivity Analysis
Using our likely scenario, we provide sensitivity analysis for Enterprise Value, Implied Equity Value, Implied Share Price, Present Value of Terminal Value as a Percent of Enterprise Value, Implied Perpetuity Growth Rate and Implied Enterprise Value to LTM EBITDA.
Open Questions & Caveats
On April 8th, 2013, Hanesbrands announced the initiation of quarterly dividend of 20 cents per share. This adds up to $78 million per year, assuming 98 million shares outstanding. The latest cash balance as reported on the balance sheet was $43 million. A pertinent question has to be asked about the sustainability of the cash outlays. It is also alarming to understand how the company plans to continually reduce the debt burden (as highlighted during the latest investors' day) with the new cash outlay requirement. The cash position of HBI will need to be closely monitored in the upcoming quarters.
Management operating income projections do not refer to any increases in cotton futures' prices. Our valuation of HBI's share price does not incorporate any significant future increases in cotton prices. Cotton futures prices are in backwardation. With that in mind, we estimate HBI will exceed its earnings estimates for 2013.
Disclosure: I am long XLY. I wrote this article myself, and it expresses my own opinions. I am not receiving compensation for it (other than from Seeking Alpha). I have no business relationship with any company whose stock is mentioned in this article. 10StockIdeas.com does not conduct any business with Hanesbrands or any affiliated parties. The opinions mentioned in this report belong to the analyst who prepared this report. Sales, margins and earnings estimates of the comparable companies were based on analysts polled by Thompson Reuters and are not based on any analysis performed by 10StockIdeas.com.
- Overweight rated stocks are expected to outperform the S&P500 index over a 12-months period
- Market Weight rated stocks are expected to perform in line with the S&P500 index over a 12-months period
- Underweight rated stocks are expected to underperform the S&P500 index over a 12-months period
- Price Target refers to a 12-months period
The analyst who prepared this report is long XLY.
The financial model used in this analysis was sourced from the published book "Investment Banking" published by Wiley Finance and written by Joshua Rosenbaum and Joshua Pearl.