The price action in gold on Friday was most unsettling, but not only for the reasons you may think. Certainly, as someone who has been long gold for many years, it is deeply frustrating to witness -5% of the value of an investment erased in a single trading day. But it was the manner in which gold declined on Friday that raised far greater concerns for me about the near-term outlook for financial markets in general. Perhaps in the end it will just be an episode isolated to the precious metals market. But I fear that Friday's price action in gold may be signaling a major correction in risk assets including stocks starting in the near-term.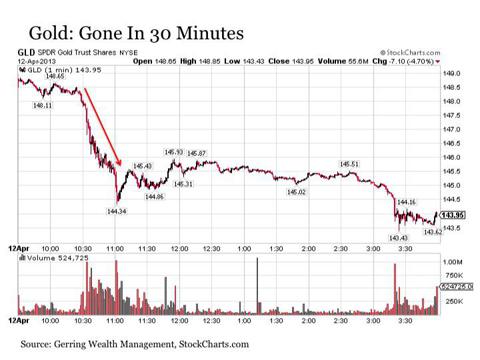 Let's review exactly how the trading day unfolded for gold through the lens of the SPDR Gold Trust (NYSEARCA:GLD). Consistent with a common pattern in recent months, it was flat to higher in the early AM hours when I turned in for the night and was solidly lower by -1% when I awoke in the morning. And while it had drifted further to the downside by the time the U.S. exchanges opened at 9:30AM, it was still holding its ground at down -1.7%. But then the clock flipped to 10:28AM, and over the next half hour gold bled lower in a massive cascade of selling. By just after 11AM, gold was down -4.5% for the day. And after stabilizing for much of the rest of the trading day, it was hit one more time in the final 45 minutes before the close of stock trading. By the time the smoke cleared, gold had lost -4.7% for the day and had cut like a hot knife through several important technical support levels in the process. There are no other words to describe the trading day for gold than absolutely ugly.
The fact that gold was decimated on Friday is no mystery. But what is still very much open for debate is exactly why gold was beaten so badly? A variety of press outlets and financial blogs have offered up their reasoning. Some are flippant and predictable conclusions, while others are more textured and well thought out. It is worth exploring some of the leading explanations to learn more about the implications not only for gold but also for capital markets in general.
Great Rotation
We will begin with the most basic and predictable explanation. This is that investors are selling out of the gold market and moving to stocks. Reasoning for this shift includes the improving economic outlook, diminishing financial crisis concerns, the pursuit of higher returns and investor demand for yield. I will be courteous in stating that these explanations are lacking in depth and should be largely ignored. First, recent economic data including the latest jobs report has been poor. Second, if investors are dismissing the threat of another financial crisis right now, they simply are not paying attention to the various instabilities that are building right now with each passing day. As for the pursuit of higher returns and the investor demand for yield, these are certainly relevant reasons, but the fund flow data does not support these conclusions, as domestic equity mutual funds have experienced net outflows of -$700 million since the beginning of February according to the Investment Company Institute, and net inflows have slowed to a trickle when including ETFs according to Lipper. In short, this is not the reason.
Cyprus
Another reason cited for the sell off in the gold market was the revelation that Cyprus may be forced by the European Central Bank to sell their gold reserves in order to cover the losses associated with any bailout related Emergency Liquidity Assistance. This news also raised the issue that perhaps other at risk European economies such as Slovenia, Portugal, Spain and Italy may be forced to do the same at some point in the future.
These are legitimate concerns that are worth exploring further, but the reasoning raises as many questions as answers.
First, Cyprus has roughly 14 tons of gold in reserve according to the World Gold Council. Even if they were forced to sell it all, it would only amount to a value of just over $500 million, which is a very small amount in the context of the broader gold market. To put this amount into context, emerging economies such as China or India by themselves would easily buy up the entire amount of this potential Cyprus sale in less than a week in their recently typical gold buying activity. So Friday's selling was not likely over Cyprus.
Second, let's suppose that other European nations were induced to sell their gold reserves to cover bailout costs. This is a potentially legitimate reason for the decline, although one stands to wonder why their reaction was confined to a 30 minute block mid morning. But if this is actually the case, it effectively debunks a leading hypothesis in the precious metals marketplace that global central banks including the Fed are actively working in coordination with leading financial institutions to suppress the price of gold. For if central banks were moving toward a program of offsetting bailout losses with the sale of gold reserves, it would instead be in the best interest of central banks to be actively inflating the price of gold in order to maximize its value at the time of sale. Thus, Friday's sell off in gold implies one of the following conclusions. Either the global central banks are not complicit with those institutions that are trading in the precious metals market in suppressing the price of gold, or they are complicit and have no intentions of actually forcing these other countries to sell their gold reserves to cover bailout costs. In either case, these would be positive long-term developments for gold investors once we moved past the impact of Friday's trading action.
Lastly, while it was suggested that Cyprus might be forced to sell their gold to cover bailout costs, nowhere was it mentioned that they would also be forced to sell their silver, platinum, palladium, copper or oil. Yet all of these other commodities were also solidly drubbed in Friday's trading action.
Thus, Cyprus was also not likely the reason for the Friday sell-off in gold.
Liquidation
Friday's sell off in gold and other commodities had the stench of pure institutional liquidation.
To begin with, retail investors had nothing to do with the decline in gold, as they simply lack the size to move the market to this magnitude, particularly over the course of 30 minutes.
Perhaps the big institutions in the precious metals market decided that Friday was the day that they would launch into a full on assault to take out the weak and stale longs in the precious metals market once and for all. But why would they opt to do this on Friday of all days when it was explicitly revealed that the European Central Bank may be forcing Cyprus to sell its gold reserves to cover bailout costs? Once again, this would have the major financial institutions effectively sticking it to the central banks with which they are allegedly in collaboration in managing the gold price. And even if they are not in cahoots with one another, it does not serve these institutions well to launch a frontal attack in direct contradiction to a potential policy initiative of the central banks that oversee them. For as we have seen with the stock market in recent months, the central banks have shown an uncanny way of producing the outcomes they are seeking, at least up to this point. And if central banks need the gold price to go higher to cover bailout costs, they have the firepower to dish out a ton of hurt on the major institutions that are massively short in the gold and other precious metals markets right now. So a coordinated institutional take down was also not likely the reason.
Instead, the fact that so much money came out of the gold market so quickly over the course of 30 minutes on Friday morning suggested that institutions needed to come up with a lot of liquidity and that they needed to do so quickly. And one thing that markets have demonstrated since the early days of the financial crisis is that when major financial institutions need to raise liquidity quickly, the commodities market in general and the gold market in particular is the first place that they will turn. It should be noted that stocks are often the next destination, but more on that shortly.
Therefore, the institutions need to quickly raise liquidity stands as the most likely reason for today's sudden and massive decline in gold.
But why would institutions be liquidating?
The notion that institutional liquidation was behind Friday's cascade lower in gold raises a critically important question. Exactly why would these institutions suddenly need to liquidate assets?
One possibility is that the spillover effects from Cyprus may be spreading through the European banking system far more rapidly than anticipated. It has already been revealed that the amount Cyprus needs to complete its bailout has risen by a staggering 35% from 17 billion euros to 23 billion euros over the last couple of weeks. And rumblings are growing that Slovenia and Portugal may very soon require similar assistance with their own banking systems. Moreover, the problems with the Spanish and Italian banks are well documented. All of this would indicate that major depositors are indeed taking flight from at risk institutions within at risk sovereigns. And the spreading of such a banking contagion may have major global financial institutions getting out in front by raising liquidity in preparation for such an outcome.
Another possibility is the rapidly growing instability in the Japanese bond market. It was just over a week ago on Thursday, April 4 that Bank of Japan governor Haruhiko Kuroda announced a massive quantitative easing program of a size that would leave even the ultra dovish Fed Chairman Ben Bernanke blushing. But since this announcement, the Japanese bond market has been an absolute wreck. Not only has interest rate volatility exploded with 10-Year government bond yields spiking 16 basis points higher, which is a huge deal from a convexity standpoint when effective yields are starting below 50 basis points, but trading in the bond futures market has also been halted on numerous occasions along the way in the last several days.
In short, the Japanese bond market has become radioactive and the potential for a related financial accident has risen considerably. And it is easy to see why. Suppose the Bank of Japan achieves its 2% inflation target. This means that everyone that owns Japanese debt will be left with holdings that all else equal will provide a negative real yield. This assumes, of course, that they will be able to stop the rise in the inflation rate at 2%, which will be a feat in itself. What are investors going to do with their Japanese bonds if they are suddenly an investment that is generating a real loss? They will likely sell these bonds, perhaps aggressively and to a degree that could overwhelm the capacity of the Bank of Japan. And given the fact that the total public debt in Japan is 219% the size of the entire Japanese economy as measured by GDP, achieving the desired 2% inflation target if not much more has the potential of inadvertently collapsing the entire Japanese economy. Thus, it is very possible that major financial institutions have been forced to raise liquidity quickly in response to the events that are now unfolding in the Japanese bond market.
These are just a few of the many conceivable reasons why financial institutions may have needed to liquidate gold today. But this of course leads to the even more important question. What could this potentially mean for financial markets in general going forward?
What happened the last time gold tumbled into a bear market?
Perhaps it will be different this time. Perhaps the recent sell off in gold is an isolated event. But we have seen this script before. And the outcome the last time around was not pretty.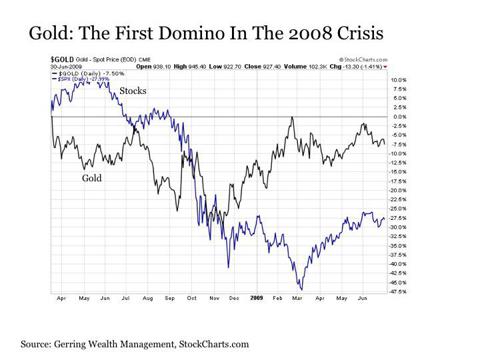 The last time gold tumbled into a bear market was starting in the spring of 2008. This period also marked the last time that gold was trading by as much as a -7% discount to its 50-day moving average and a -10% discount to its 200-day moving average as it is today.
Gold literally peaked on the Monday following the Bear Stearns rescue in mid March 2008. But while stocks went on to rally higher by +10% over the next two months as liquidity flowed freely from the Fed, gold plunged by over -10% during the same time period. And although they briefly reconverged by mid July, stocks managed to hold steady through early September while gold soon entered into full liquidation mode in officially entering bear market territory. Of course, we all remember well what happened to stocks from there. And while gold also thrashed violently into October as equities were being vaporized, it eventually reclaimed its safe haven status and began moving higher as stocks continued to founder into early 2009.
Basically, the liquidation in gold starting in the spring and extending into the summer of 2008 was a key leading indicator for the eventual mass liquidation of stocks that took place in the fall of 2008.
Perhaps it will be different this time. But if Friday's unwind in gold indeed marks the definitive start of a liquidation process by major financial institutions, it will imply two very unsettling things. First, that central banks may have finally lost control of the global financial system that they have been so heavily micromanaging to this point. Also, that it may take much longer for stocks to recover the value lost, as central banks will effectively be neutered from carrying out the same types of policies that rescued these markets the last time around. This does not mean that they will not desperately try, which implies that the next correction if it were to occur may be less of a cascade and more of a long, slow, grueling descent.
Of course, Friday's massacre in gold may turn out to be an event isolated to the gold market. But given the widespread risks facing the global economy at a time when the stock market is trading at an all time high, this is a potential development that should be monitored closely as it develops.
In the meantime, I remain long the stock market, but my emphasis is increasingly on high quality issuance focused on high quality, attractive valuations and current income. This includes allocations to the S&P 500 Low Volatility ETF (NYSEARCA:SPLV) and the Utilities SPDR (NYSEARCA:XLU) as well as individual names including McDonald's (NYSE:MCD), ExxonMobil (NYSE:XOM), Apple (NASDAQ:AAPL), Oracle (NASDAQ:ORCL), Quest Diagnostics (NYSE:DGX), Occidental Petroleum (NYSE:OXY), Verizon (NYSE:VZ) and Time Warner Cable (TWC). I also remain long the precious metals market through the Central GoldTrust (NYSEMKT:GTU), the Central Fund of Canada (NYSEMKT:CEF), the Sprott Physical Silver Trust (NYSEARCA:PSLV), the Sprott Physical Platinum and Palladium Trust (NYSEARCA:SPPP) and Silver Wheaton (NYSE:SLW). And as a hedge to the stock market (and precious metals market on Friday), I also maintain holdings in Long-Term U.S. Treasuries (NYSEARCA:TLT) and Build America Bonds (NYSEARCA:BAB). Lastly, my allocation to cash has also been increasing fairly substantially in recent weeks into the 15-20% range to protect against potential market shocks.
This post is for information purposes only. There are risks involved with investing including loss of principal. Gerring Wealth Management (GWM) makes no explicit or implicit guarantee with respect to performance or the outcome of any investment or projections made by GWM. There is no guarantee that the goals of the strategies discussed by GWM will be met.
Disclosure: I am long AAPL, MCD, XOM, ORCL, VZ, OXY, DGX, TWC, SPLV, XLU, GTU, CEF, PSLV, SPPP, SLW, TLT, BAB. I wrote this article myself, and it expresses my own opinions. I am not receiving compensation for it (other than from Seeking Alpha). I have no business relationship with any company whose stock is mentioned in this article.