Last week, General Electric (NYSE:GE) management announced it was buying Lufkin Industries (NASDAQ:LUFK) for around $3 billion in cash.
Prior to the announcement, Lufkin's stock was down roughly 20% for the past 12 months, while the S&P 500 was up 12%. Even after this announcement, the shares are only up 10% in the past 12 months. This performance differential makes the acquisition look like an opportunistic buy.
This acquisition also fits into GE's strategic plan well. GE has discussed its desire to focus on industrial businesses. It has mentioned it would like the percentage of earnings from industrial areas to make up 60% to 70% of total earnings. Toward this goal, it has agreed to sell off its stake in NBC for $18 billion. Also, Mr. Immelt has discussed making small industrial acquisitions in the $3 billion range.
While this appears to be a well-timed purchase that fits with the stated company goals, the purchase price equates to only 1.25% of GE's market cap. That suggests the purchase may not have much impact on GE's earnings. Also, GE's shares didn't move meaningfully on this news which supports this opinion.
Below I present the percentage of GE's earnings from the various divisions both before and after this acquisition. For GE's numbers, I used information from the 2012 annual report and excluded earnings from NBC. For Lufkin's numbers, I also used information from their 2012 annual report. Based on GE's descriptions of their segments, Lufkin's businesses fit into the Oil & Gas and Energy Management segments.
| | | |
| --- | --- | --- |
| GE Profits (2012 Values) | | |
| | Pre-Merger Profits | Post-Merger Profits |
| Power & Water | 23.69% | 23.56% |
| Oil & Gas | 8.41% | 8.89% |
| Energy Management | 0.57% | 0.59% |
| Aviation | 16.37% | 16.28% |
| Healthcare | 12.76% | 12.69% |
| Transportation | 4.50% | 4.48% |
| Home & Business Solutions | 1.36% | 1.35% |
| GE Capital | 32.34% | 32.16% |
As you would expect, this single acquisition had no significant impact on GE's segment earnings. Also, this acquisition only increases GE's total profit by 0.55%. Thus, the minimal change in share price appears to be the right reaction. Over time, this acquisition may begin to have an impact on GE's earnings as they try to grow the Lufkin business and utilize the scale the company has to lower costs.
Outside of this non-event acquisition, GE has a pretty good fundamental story to tell. As mentioned above, they will soon have $15 billion in additional cash which they plan to return to shareholders in increased dividends and buybacks.
But all of these positive aspects appear to be priced in to the stock at this point. The PEG ratio is 1.23 and the PE ratio is 18.8. The stock is also trading at the highest levels since 2008. The current yield, 3.3%, is the lowest since 2008 as well. Over the past 4 years, each time the PE ratio has reached roughly the 20 level, it has signaled an intermediate-term top. The chart below, from marketwatch.com, illustrates this. All of these factors suggest the stock has limited upside from here.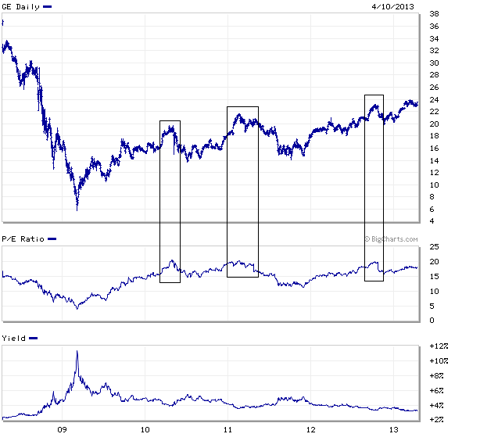 While the Lufkin acquisition is an additional step towards GE's corporate goals, by itself, it doesn't move the needle for such a large company. Also, GE appears to be close to fully-priced at current levels.
Disclosure: I have no positions in any stocks mentioned, and no plans to initiate any positions within the next 72 hours. I wrote this article myself, and it expresses my own opinions. I am not receiving compensation for it (other than from Seeking Alpha). I have no business relationship with any company whose stock is mentioned in this article.