The aim of this article is to value Google (NASDAQ:GOOG), the giant internet company, with the main assumption that Android will remain the leader in the mobile OS space for the coming years. This said, how much is the giant internet company really worth? In this article, I'm going to calculate the fair value of the company thanks to the FCFF (free-cash-flow-to-the-firm) valuation model.
First of all, let's talk about Android. According to this article and Gartner, Android has a market share of 69.7% in Q4 2012, in comparison to a market share of 51.3% in Q4 2011. Android has been increasing its market share, while iOS from Apple (NASDAQ:AAPL) or BlackBerry's (NASDAQ:BBRY) market share has decreased in the same period.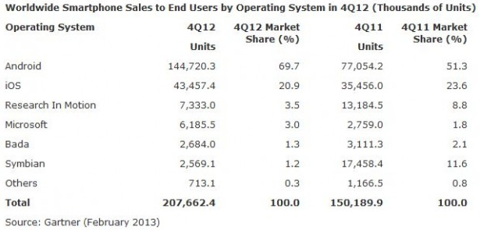 There are also new competitors entering the mobile OS space, such as Firefox, Ubuntu Touch or Tizen, which compete directly with Android. In fact, they are similar to Android because they are "open source", which means they are free of charges. On the contrary, manufacturers such as Nokia (NYSE:NOK) or Samsung (OTC:SSNLF) have to pay for a license to Microsoft (NASDAQ:MSFT), when they use Windows Phone OS to build smartphones. In this article, the author makes an interesting review of the three new mobile OS. In fact, the author points out the low quality level of these new mobile OS (except for Ubuntu Touch) if you compare it to Android OS. It is due to the fact that these OS are relatively new, unlike Android that was created in 2007. Android also builds a deep knowledge of mobile OS thanks to its experience. Android will remain the leader in the forthcoming years according to IDC, and there are reasons to think it will.
Android is free of charges and open: manufacturers can build smartphones at a lower price because they don't need to pay for a license for the OS, which is a serious competitive advantage in the smartphone market.
Android is the leader in the mobile OS market: it will not be easy to dethrone it thanks to its current leadership position.
A lot of manufacturers (Samsung, HTC (OTC:HTCKF), Sony (NYSE:SNE), LG, Motorola, Huawei, ZTE (OTCPK:ZTCOF)) are using Android as mobile OS, which reinforces their leadership position.
Nevertheless, there is a negative point on the horizon. Google faces an antitrust complaint in Europe. The complaint was introduced by a group of companies such as Microsoft, Nokia and Oracle (NASDAQ:ORCL). The group's Brussels-based lawyer said:
Google is using its Android mobile operating system as a Trojan horse to deceive partners, monopolize the mobile marketplace, and control consumer data. (…) Google's predatory distribution of Android at below-cost makes it difficult for other providers of operating systems to recoup investments in competing with Google's dominant mobile platform.
Now, let's talk about the valuation of the company. First of all, I have calculated the WACC (Weighted Average Cost of Capital). Based on the 2012 annual report and cost of capital estimations from NYU Stern, the WACC is at 8.4%. Then, I used the cash flow from operations [CFO] and the capital expenditures to calculate the FCFF. Capital expenditures include acquisition of property, plant & equipment, and business acquisition. Finally, I have discounted the FCFF by the WACC to get the current value of FCFF for the upcoming years.
Note:
My analysis is based on the assumptions that Android will remain the leader in the mobile OS space, and that Google won't face important legal problems with authorities in the years to come.
I have estimated a cash flow from operations of $ 19307.95 million in 2013, $ 22431.98 million in 2014, $ 26061.47 million in 2015 and $ 30278.22 million in 2016 (increased by 16.18% year over year, based on the CAGR (last 5 years). You can think that it's a huge improvement, but don't forget that Google's CFO has increased by 18.63% during the subprime crisis.
Acquisition of property, plant & equipment: I have assumed a continuous increase of 6.77 % for the next four years, based on the CAGR (last 5 years).
Business acquisition: I have assumed a stable spending of $ 2000 million for the next four years, because the company will have to buy other companies to improve its business, and to become a stronger competitor in the market. In 2012, the company bought Motorola.
Infinity (∞): I have assumed a constant growth rate of 2% as the US GDP.
Based on 2012 data and Damodaran Research, the WACC is at 8.40%.

To improve the quality of this analysis, I built a matrix to understand how the firm value per share is affected by changing the WACC or the % of increase in CFO, in the years of 2015 and 2016.
On the x-axis: WACC.
On the y-axis: % of increase in CFO for the following years.

When I apply the FCFF valuation model to Google, I get a fair value per share of $ 1031.21, which represents a potential increase of 30.52%, based on a price per share of $ 790.05.
Conclusion
According to the FCFF valuation model, the company is undervalued by 30.52%, which shows that it's a great opportunity to invest in right now, in order to take advantage of this market mispricing. Moreover, the company still has a treasury of $48088 million (composed by cash and equivalents of $14778 million, and marketable securities of $33310 million), which represents a Price-to-cash ratio around 5.4. My personal advice is to buy the stock at this price, because the risk/reward is attractive.
Personally, I don't think Google will be fined after the recent complaint in Europe, because the company has already faced similar complaints with the FTC in the U.S. If you believe in the strength of Android in the years to come, Google definitely is a company to have in your portfolio.
Disclaimer: This analysis is based on current market conditions which include a positive U.S. GDP growth for the upcoming years, and a non-deteriorating situation in the Euro Zone. Moreover, this valuation analysis assumes that Android will remain in its leadership position in the mobile OS space, and that the company won't face legal problems in Europe after the recent complaint.
Disclosure: I have no positions in any stocks mentioned, and no plans to initiate any positions within the next 72 hours. I wrote this article myself, and it expresses my own opinions. I am not receiving compensation for it (other than from Seeking Alpha). I have no business relationship with any company whose stock is mentioned in this article.