South Africa is an attractive emerging market from a structural and geographic standpoint.
Exposed to domestic demand
Aside from exposure to mining companies, currently 14% of ETF portfolios, South Africa's equity market is composed primarily of companies positioned to benefit from growth in domestic demand. South African companies are also skilled operators in Africa and have been expanding into sub-Sahara Africa and other developing markets for some time.
Businesses are diversified, relatively well governed and free of state control (but not policy). The equity market also benefits from an established domestic investor base.
But not getting it
Unfortunately South African equities are facing a slowing domestic economy that has been compounded by the weak global economy and sluggish commodity prices.
One-year total return: iShares MSCI South Africa (NYSEARCA:EZA) and iShares MSCI Emerging Markets (NYSEARCA:EEM)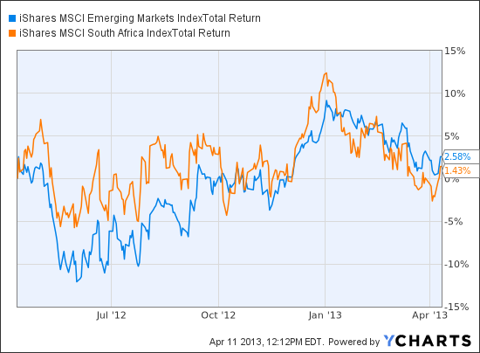 South Africa has a twin deficit problem. Its current account deficit is structurally high running above 6% of GDP. The government also runs high budget deficits that are estimated to be around 4-5% of GDP. Deficit financing can be fickle and the Rand had been among the worst performing emerging market currencies.
Slowing growth
Slowing growth is another problem. GDP growth was a mere 2.3% in 2012 and little improvement is forecast for 2013. South Africa is a major exporter of resources, particularly precious metals. This sector has been hard hit by declining output and rising costs. Manufacturing output has also been disappointing, most recently declining by 2.9% in February 2013 despite recent currency weakness.
Inflation is another challenge limiting the scope for rate cuts to help stimulate the economy. February inflation rose to a 10-month high of 5.9%. Unemployment is structurally high and approaching 25% on the Economist's current estimates. Many consumers are also highly leveraged and banks are reducing unsecured lending.
Labor disputes heighten risks
Recent labor disputes in the mining sector (and elsewhere) risk depressing output and increasing costs for companies. Electricity price increases are another negative for industry. Metal miners in the past have provided a market hedge against currency weakness, however, operational pressures and weak prices have resulted in a de-rating for the sector.
Government policies designed to grow the country's middle class have disappointed and basic education is weak. The World Economic Forum ranked South Africa 132 out of 142 countries based on the quality of its education system.
All is not gloomy. South Africa is not a highly indebted country on a sovereign level. According to the IMF, government debt/GDP was 41% in 2012/13, offering some leeway to increase borrowing. The country is also large (50m) and young with over 60% of the population 30 years old or younger.
There are two ETFs investors can consider for concentrated South Africa exposure.
South Africa ETFs

iShares MSCI South Africa is the largest, most liquid ETF dedicated to South Africa. EZA is diverse from a sector standpoint with primary exposure to financial services, industrial holdings, consumer goods and services, telecoms and other domestic growth led sectors. Resource exposure comes from the mining (14%) and energy (10%) sectors. EZA is a fairly deep fund with around 50 holdings.
Top 15 South Africa ETF holdings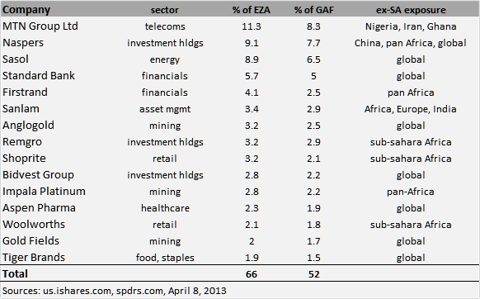 Global companies
Although South Africa is a relatively mature economy and equity market in an African context, many South African companies are growing their presence in other emerging markets across sub-Sahara Africa, the Middle East and elsewhere. EZA's largest holding is wireless telecom operator MTN, a company with a large wireless operation in Nigeria, Ghana and Iran along with its core South African business. Naspers, a global multimedia holding company, owns a 34% stake in Tencent (SEHK 700) one of China's most popular internet service portals, on top of its media businesses in South Africa and sub-Sahara Africa and other global investments. Sasol (NYSE:SSL), the world's leading coal-to-liquids producer represents most of the fund's energy exposure. Sasol is also involved in gas-to-liquids production in Qatar.
SPDRS S&P Emerging Middle East & Africa (NYSEARCA:GAF) is a strangely named fund. Almost 93% of GAF's holdings are South African companies with some additional small holdings in Egypt and Morocco. This diversification outside of South Africa as well as the fund's significant depth (it has around 130 holdings compared to EZA) are the main differences between GAF and EZA. GAF's top 15 holdings are the same as EZA but with a lower concentration.
Better longer term performance
Two year total return: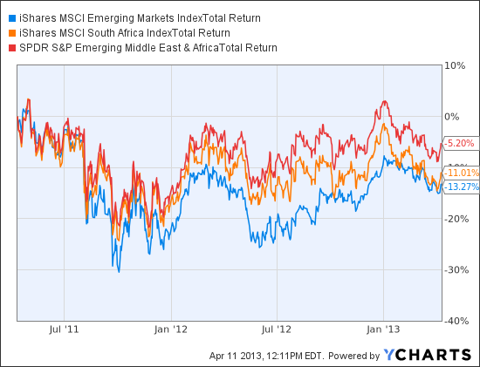 GAF, with is deeper portfolio, has outperformed EZA and the benchmark EEM. This is despite Egypt's relative underperformance during the period which GAF has a small amount of exposure to. On a liquidity basis there is no comparison with EZA trading around $20m/day compared to GAF trading closer to $200k/day.
No easy solution
South Africa faces a tricky economic picture with no easy solutions. Tackling the country's twin deficits, growing the economy, improving education and resolving current labor dissent are not easy tasks.
From a valuation standpoint the market's current trailing dividend yield (3.3%) offers an above average return for an emerging market. However, recent earnings trends and another year of slow growth do not portend to improving shareholder returns. Labor demands are likely to add pressure to margins and output. Some of the risks investors face can be partially mitigated by the equity market's geographic diversification but most companies still derive a solid majority of their profits from home.
Be patient
South Africa ETFs offer appealing aspects from a market structure and geographic standpoint but the macro economy needs to turn the corner first. Opportunities may present themselves - be patient.
Disclosure: I have no positions in any stocks mentioned, and no plans to initiate any positions within the next 72 hours. I wrote this article myself, and it expresses my own opinions. I am not receiving compensation for it (other than from Seeking Alpha). I have no business relationship with any company whose stock is mentioned in this article.