Dr. Marc Faber, author and editor of the Gloom Boom and Doom report discussed gold, deflation and corporate earnings in his most recent interview with Bloomberg. This article discusses his views and I add on my views to conclude on the near-term trend for the precious metal and in equities.
Faber's opinion on gold, deflation and corporate profits -
Well, I love the markets. I love the fact that gold is finally breaking down. That will offer an excellent buying opportunity. I would just like to make one comment. At the moment, a lot of people are knocking gold down. But if we look at the records, we are now down 21% from the September 2011 high. Apple is down 39% from last year's high. At the same time, the S&P is at about not even up 1% from the peak in October 2007. Over the same period of time, even after today's correction gold is up 100%. The S&P is up 2% over the March 2000 high. Gold is up 442%. So I am happy we have a sell-off that will lead to a major low. It could be at $1400, it could be today at $1300, but I think that the bull market in gold is not completed.
All I'm saying is that I think we're going to have a major low in gold in within the next couple of weeks. Gold, as of today, you should actually buy as a trade. I think it can rebound in the next two days by $40...Because we are about in gold as oversold and we were essentially during the crash in 1987. From there we have a strong rebound. All I am saying as a trader I would probably enter the market quickly for a rebound of $20 or $40. From a longer term perspective, I would give it some time. We may go lower. I am not worried. I am happy gold is finally coming down, which will provide a very good entry point.
Yes, I agree. That's why I said if the gold market collapse is saying something about deflation and at the same time we have this sharp rise in bond prices and the signals are correct that we have deflation, I wouldn't buy stocks because in a deflationary environment, corporate profits will disappoint very badly.
My opinion on gold -
I have maintained my bullish outlook on gold for long-term in several of my articles. Most recently, I penned down an article - Why I am not selling gold?
Considering the arguments presented in the article, there is no doubt in my mind that the bull market for gold is far from over. Asset classes, which are in a long-term secular bull market, do experience sharp corrections. Any such correction is a buying opportunity than a time for panic selling. I would therefore look at considering exposure to physical gold at these levels.
Investors also need to understand that gold is more than just an investment. Gold is the only honest currency in the universe of fiat currencies. Investors therefore need to remain invested in gold as a protection from currency debasement.
As Faber pointed out in his interview, deflation will be negative for equities and other risky asset classes. In such a scenario, it is always advisable to remain diversified and gold looks attractive at a time when the precious metal has corrected by 21% from its highs and S&P 500 is at an all time high.
I would not comment on Faber's call for gold as a short-term trading bet. I would however completely agree with the long-term perspective and the point that this might be the last major low for gold. Again, it is not easy to answer if the precious metal will decline another 10-15% from these levels. I would rather focus on the gradual accumulation betting on the long-term fundamentals.
My opinion on Deflation -
Interesting enough, I also discussed the near-term prospects of deflation in another of my recent articles focusing on a rally for Treasuries and cash. I am not sure if we are moving towards a sustained deflationary environment. I am however reasonably sure that the remainder of 2013 will be dominated by deflation fears and deflation trade than inflation fears or trade.
In general, a stronger dollar is a symptom of deflation and a weaker dollar that of inflation. In the last few weeks, the dollar has gained strength indicating a relative tightening of global liquidity. At the same time, money has been flowing into Treasuries, as indicated by a decline in yields. Both these factors do point to a gradual shift to "risk off" trade and the prospects of risky asset deflation in the foreseeable future.
As a natural follow-up to the above events, commodities, energy and precious metals have seen a decline in the recent past. This trend is most likely to continue for the remainder of 2013.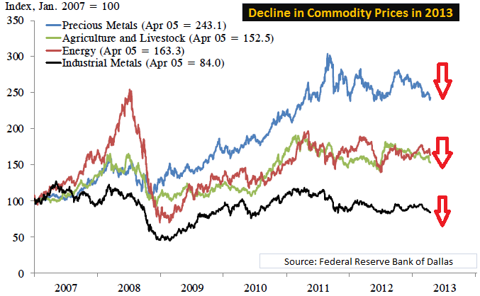 Also, disappointing retail sales data in the US do point to a gradual weakening economy. On the other hand, the Euro zone is already in a recession. Things are not rosy for the emerging economies with China and India expected to exhibit sluggish growth. A weak global economy also supports the deflation argument and any further weakening of economic data from the US can lead to a relatively sharper asset deflationary spiral.
My opinion on Corporate Profits -
My article on April 6, 2013 discussed the near-term peak in S&P 500 earnings. I did conclude in the article that S&P 500 earnings will decline over the next few quarters due to a weak global economy. Besides the equity market, which is experiencing a liquidity driven rally, all other indicators do point to weakening corporate profits. The primary ones include weak retail sales in the US, recession and renewed sovereign debt problems in Europe and a slowdown in Asia.
The chart below gives the operating level profit for the S&P 500 companies. Going forward, the profits will decline in all probability resulting in a serious equity market correction.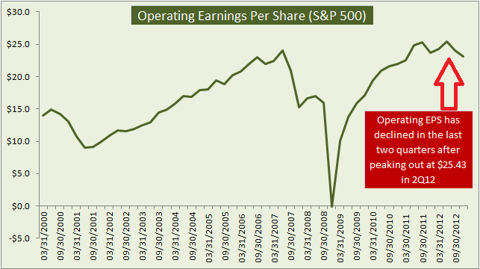 Conclusion -
Faber is right in all probability that we are headed for a correction in equities and we are close to a bottom in gold prices. Also, the next few months might be better for Treasuries and cash than equities or commodities. In line with this, investors can consider exposure to government bonds in the near-term through the Vanguard Short-Term Government Bond ETF (NASDAQ:VGSH). The ETF seeks to provide current income with modest price fluctuation with investments in high-quality (investment-grade) U.S. government bonds (maintains a dollar-weighted average maturity of 1 to 3 years). Considering the point that the dollar might be in for more rally along with bonds, the US dollar (USG) and US Treasuries (NYSEARCA:BND) also looks interesting.
For investors considering exposure to gold on this sharp correction, exposure to physical gold is the best option. Investors can also consider -
SPDR Gold Shares (NYSEARCA:GLD) ETF. The investment seeks to replicate the performance, net of expenses, of the price of gold bullion.
Investment in gold mining companies is also a good option when gold prices are expected to trend higher in the long-term and gold mining companies will make significant operating level profits.
The Market Vectors Gold Miners ETF (NYSEARCA:GDX) is a good investment option for long-term. The ETF seeks to replicate as closely as possible, before fees and expenses, the price and yield performance of the NYSE Arca Gold Miners Index.
The Market Vectors Junior Gold Miners ETF (NYSEARCA:GDXJ) is another excellent long-term investment option in my opinion. The ETF seeks to replicate, net of expenses, the Market Vectors Junior Gold Miners index. The index tracks the overall performance of foreign and domestic publicly traded companies of small- and medium-capitalization that are involved primarily in the mining for gold and/or silver. Therefore, the risk related to exposure to GDXJ would be relatively higher as compared to GDX.
I am certainly not suggesting a total avoid for equities in the near-term or long-term. Investors can certainly consider exposure to the following stocks and ETF's on a highly probable market correction over the next 3-6 months -
SPDR S&P 500 ETF (NYSEARCA:SPY) - It has been proven that beating the index is not an easy task. Therefore, the strategy should be simple -- beat the index or invest in the index. From this perspective, SPY looks interesting. Also, with excess money flowing into risky asset classes, the S&P should trend higher over the next 3-5 years. Therefore, the expected correction can be used to consider fresh exposure to the ETF. The ETF provides investment results that, before expenses, generally correspond to the price and yield performance of the S&P 500 Index.
Johnson & Johnson (NYSE:JNJ) - is a good investment option. I like this highly diversified healthcare company, with products as well as regional diversification. Further, the sector catered to by JNJ is not very prone to economic shocks. JNJ has been a good dividend payer in the past, with a dividend yield of 3.4%. In my opinion, the stock is excellent for a long-term portfolio. It also commands a higher rating than the U.S. sovereign rating.
Disclosure: I have no positions in any stocks mentioned, and no plans to initiate any positions within the next 72 hours. I wrote this article myself, and it expresses my own opinions. I am not receiving compensation for it (other than from Seeking Alpha). I have no business relationship with any company whose stock is mentioned in this article.