With the final scheduling decision of Arena Pharmaceuticals' (NASDAQ:ARNA) lead drug Belviq coming any day, I would like to address both the upcoming launch and why I believe that investors that have taken a bearish view of the equity are likely on the wrong side of the trade. The question Wall Street is waiting to have answered is: "Will Arena and Eisai Pharmaceuticals, Arena's US marketing partner, succeed where Vivus (NASDAQ:VVUS) failed with its obesity drug Qsymia?" Since Vivus' Qsymia has far better weight loss results, why will Belviq do any better? In this article, I'll discuss why Qsymia was destined to fail from the beginning and why Belviq will be a market success.
I have closely followed the obesity space for many years, and I don't believe there are many Wall Street analysts that have a better understanding of this space than I do. In the summer of 2011, I re-initiated my position and coverage of Arena, releasing an article on Seeking Alpha recommending a speculative buy when Arena was at a low of $1.25, calling it a "never-expiring call option."
Retail investors who shared my sentiment and bought at the lows have been richly rewarded with a gain of over 500%, even as the stock retreated to the $7s. I continue to hold an overweight long position with a multi-year investment horizon, despite being up several hundred percent, because I believe the market is under-estimating the potential for the Belviq franchise. With the imminent launch of Belviq to the market, there continues to be great uncertainty on Arena's future due to the launch failure of Qsymia. In my view, the failure of Qsymia is not reflective of an overall obesity category problem, but rather one that is drug-specific and should have been expected by investors who fully researched this space.
Why Qsymia was Dead on Arrival
The most widely prescribed weight loss drug continues to be the 50-year old generic phentermine. It is relatively safe, very effective and cheap. A new phentermine script is written at a rate averaging 150,000 scripts per week or 7M annually. Interestingly, the weekly phentermine scripts have grown after Qsymia has been on the market. The vast majority of the phentermine prescriptions come from high-prescribers who have a focus on bariatrics. There are 1,600 members in the American Society of Bariatric Physicians [ASBP]. The ASBP recently released a member survey where they found:
The majority of obesity medicine specialist respondents indicated that they employ medications in conjunction with lifestyle intervention to promote weight loss in their patients. The most frequently prescribed medications were reported as phentermine, metformin, and diethylpropion. The drug combinations of either phentermine and metformin or phentermine and topiramate were noted as the most commonly prescribed, and most physicians prescribed medications for as long as themselves and their patients felt it was effective.
One of the leading authorities on obesity treatment, Dr. Ed Hendricks, published an article in 2009 on prescribing habits of bariatricians. The highlights of his paper include:
98% of obesity specialists prescribe weight loss drugs and 97% of those prescribe phentermine.
83% of obesity specialists write combo-therapies.
65% write unapproved combos.
56% will prescribe phentermine for long-term use against the label (only 32% prescribe orlistat long-term even though it is approved for long-term use.)
Only 7% of these obesity specialists have been questioned by DEA, Medical Board or Attorneys on their prescribing habits
What most investors don't realize, is that a vast majority of the weight loss clinics distribute phentermine and other drugs such as topiramate right from their office. This practice is allowed in every state except five (not allowed in NY, NJ,) and the requirements for distribution are generally not very restrictive. Most weight loss clinics run by bariatricians will include the price of the drugs in the overall cost of their weight loss plan. It is convenient for the patient and provides the weight loss clinic with an additional source of revenue, one that can be quite profitable. It is not uncommon for a higher-volume weight loss clinic to generate over $100K in profit a year from distributing phentermine directly out of their office. I recently spoke with the CEO of CalvinScott Inc., the largest re-packager and distributor of phentermine to the bariatric community. He estimates that they supply 75% of the high-volume bariatric practices with private-labeled phentermine, topiramate, metformin and a number of other supplements commonly used by bariatricians. Registration is simple and CalvinScott supplies the software needed to track distribution and adhere to Federal regulations.
Bariatric physicians have been prescribing phentermine with topiramate for well over 10 years and are comfortable with the combination given it results in an average weight loss of over 10%. It was this success after all that led Vivus to combine these two generics into one pill and seek approval for it. Qsymia is available in 3 fixed dose formulations of the combination with the benefit of being in a single pill and then charge 4X the cost of the generic components. Vivus's vision was to market this combination to the bariatric community, endocrinologists, cardiologists and a subset of the primary care market - 25,000 targeted physicians. Yet after 6 months on the market, sales have basically flat-lined at an abysmal rate of 3-4K scripts a week.
Investors should have asked themselves: "Why in the world would a high-volume phentermine prescriber who is making a lot of profit from distributing phentermine and topiramate directly from their office and who built the cost of those drugs into their patient pricing, just stop what they have done for years and start prescribing Qsymia?" This is the root cause of why Qsymia sales have never and will never be robust among the bariatric community, the most important segment of early adopters for obesity drugs. I believe researchers providing advice to funds short Arena missed this fundamental data point in their analysis and underestimated the impact this would have on Qsymia acceptance by the bariatric specialists.
The second key ingredient for long-term success of Qsymia, or any weight loss drug, is gaining the mind-share of physicians who haven't historically prescribed weight loss agents. These include endocrinologists, gastroenterologists, cardiologists and primary care physicians that generate very few weight loss prescriptions today, but represent a majority of the prescriptions to treat cardiometabolic health such as lipid lowering medications, blood pressure medications and diabetes drugs. I have spoken to many physicians in a variety of fields and they rarely prescribe phentermine, if ever. None (outside of bariatricians) have prescribed Qsymia for the same reason they don't prescribe phentermine - it increases a patient's heart rate and are concerned about the topiramate components side effects, especially birth defects. Most specialists, especially endocrinologists and cardiologists, will not prescribe a weight loss drug that increases heart rate or blood pressure.
I believe that it is unlikely any amount of sales, marketing or "education" from a drug marketer would ever convince more conservative physicians to ever prescribe Qsymia. It is now clear that not only has the bariatric community not embraced Qsymia but a majority of the 25,000 targeted physicians haven't either. If Qsymia distribution was allowed in the retail channels, it could help but it will never become a 1st line therapy because of the impact to heart rate and associated side effects. In my opinion, the underlying problems with Qsymia have also kept a Big Pharma partner away from Vivus.
Historically speaking, Qsymia will never be a blockbuster. According to IMS Health in their Global Launch Excellence report:
FIRST SIX MONTHS STILL CRITICAL: A key learning from our previous two studies was that the vast majority of launches have only a short window of six months to make their mark. Those that do well in that timeframe continue to do so and vice versa. Rarely do those that start poorly dramatically improve after six months. Our latest study shows this is still the case: fewer than 20% of launches significantly improve their uptake trajectory between six and 18 months on the market.
Vivus is responsible for post-marketing studies that will cost over $250M to complete, and they are funding their own sales and marketing efforts. With just $2M worth of Qsymia sold in Q4 2012, probably no more than $3M in Q1, weekly scripts flat at 3,500 and quarterly burn now over $50M, the Vivus investment is a losing proposition. Vivus shares will continue to be under pressure barring an unexpected uptick in scripts, which we know is very unlikely, given that Qsymia has now been on the market for 7 months and sales week over week are flat to slightly down - a trend that should continue based on the research from IMS Health.
One has to wonder why Vivus spent so much money and time trying to bring Qsymia to the market in the first place. The challenges it would face with marketing this combination of two generics should have been widely known. I noted red flags last year after Vivus's CEO and President once again sold shares worth over $15M, including large tranches at post-approval highs. It turns out that money executives took off the table is 7X the revenue that Qsymia generated in 2012 for the company. Perhaps Vivus executives understood better than anyone that sales expectations for Qsymia were blown way out of proportion by the market?
Why will Belviq be Different?
Before I discuss in detail why the launch of Belviq will be a contrast to that of Qsymia, let me highlight the key areas of the short thesis for Arena, at least from my perspective. There are many long / short funds who have put on a paired trade with Vivus and Arena based on their hypothesis that the excellent efficacy results of Qsymia would drive sales and the mediocre mean weight-loss of Belviq will spell disaster. Based on this thesis, the trade that made sense was to go long Vivus and short Arena. Now that sales of Qysmia have severely disappointed, some hedge funds appear to have even more conviction to short Arena ahead of their launch of Belviq. Arena shares have recently been on the hard to borrow list, brokers are raising margin requirements, there have been numerous reverse conversions performed and the latest short interest shows an increase at all-time highs. It is now an arbitrage play for shorts in that the market value of Arena should retreat to closer to the valuation of Vivus once Belviq sales disappoint.
The short-thesis is based on the following key points:
Early sales of Belviq will be poor because Belviq's efficacy is less than Qsymia's, so it should sell at a rate less than Qsymia.
Insurance coverage at launch isn't enough to drive early sales.
The price is too high and will prevent patients from wanting to pay out of pocket.
There is a high-likelihood that Arena will not receive a positive opinion from the Committee for Human Medicinal Products [CHMP] for European marketing authorization.
The short thesis, in my opinion, is fundamentally flawed and for several reasons I will explain in detail. The market has believed for many years that Qsymia and Belviq are competitive but the drugs are so different, that just isn't the case. Qsymia's lackluster market acceptance does not foreshadow the future of Belviq or the obesity drug segment and this will become readily apparent over the next 6-12 months.
Investors who have followed the obesity space will understand that Belviq is the only novel, new molecular entity approved for this indication in the last 14 years. Since it is a novel, single-compound, it has the benefit of being able to be readily combined with other agents. Unlike Qsymia, Belviq does not raise heart rate. It is free of unpleasant side effects that have plagued other drugs such as Orlistat or Qsymia and importantly, positively impacts every major indicator of cardiometabolic health, such as blood pressure, heart rate, lipids, waist circumference, HbA1c and fasting glucose.
Like most drugs, not everyone will respond to it, and the label is clear in this regard with the recommendation to discontinue use if 5% weight loss isn't achieved at 12 weeks. A meta-analysis of Belviq patients demonstrated that 42% of patients fall into this "responder" class and if they lose 5% at 12 weeks, they will go on to lose 11-12% of their body weight in one year. Among diabetics with a baseline HbA1c of 8.0, patients experienced an average HbA1c reduction of 0.9 and lowered fasting glucose by 27, better than many blockbuster diabetes drugs. It is unknown if payors will continue to cover Belviq if a patient has great HbA1c reductions but doesn't achieve 5% weight loss, but they may. Eisai estimates that 40% of commercial payors will cover Belviq by the end of 2013 and this will grow to 70% with government coverage by the end of Year 3.
I believe the safety and efficacy profile of Belviq makes it a perfect drug to become a 1st line therapy for this space. It is a safe, mild agent that improves cardiometabolic health and as such, could become a go-to drug for tens of thousands of prescribers. As was key for Qsymia, near-term success is heavily dependent on early acceptance of Belviq by the bariatric community. So will bariatricians readily embrace Belviq where they shunned Qsymia?
Based on my research, I don't think there is any question that the bariatric community is anxiously awaiting the release of Belviq. The CEO of CalvinScott Inc. confirmed that they are planning on repackaging Belviq for the bariatric community. He stated that they have already received inquiries from many of their customers on availability. They are concerned about the price and how many patients will be willing to pay out of pocket for it, so demand will be market driven. It is important to note that Topamax was on-patent until 2009 and cost a similar amount to Belviq. It reached peak sales of $2.7B in 2008 and a significant segment of that revenue came from off-label combination with phentermine, how much, we will never know.
BelPhen
There is a misconception by Wall Street that physicians, particularly bariatricians, will be hesitant to use Belviq in combination with phentermine early-on. This just isn't the case at all, at least not for bariatricians as noted by Dr. Ed Hendricks, and this is a dangerous assumption made by those short Arena. Certainly safety studies will need to be completed before your local primary care physician would be willing to prescribe the combination and these studies should start sometime in 2013. However, many bariatricians are anxiously awaiting Belviq specifically to prescribe it alongside phentermine. As Dr. Hendricks stated at Arena's Advisory Committee last year:
You have to remember the motivation behind developing this drug in the first place was to find a replacement for fenfluramine that was safe, and the reason for that was that patients, many of our patients that took the fen-phen combination told us things like the patient -- not the patient, but the person who was in the clinical trial and got such a good result with lorcaserin, she said, "I was normal again." That's what many of the patients that took fen-phen would tell us. "I'm a normal person again. I get up in the morning and I eat what you tell me and then I'm satisfied until noon. I don't start thinking about lunch as soon as I've eaten breakfast. I don't obsess about food all day long." So the vast majority of patients on fen-phen actually got real clinical benefit. So I'm pretty sure that if it's approved some of the clinicians will begin to combine it with phentermine. I'm sure clinical trials will be mounted very quickly to find out if that's really effective. They won't be necessarily funded by the drug companies, but funded by other ways. I'm sure if Qnexa is approved, this will be considered a de facto approval of long-term phentermine and of combination therapy. So that will give further impetus to clinical trials with the combination.
I recently interviewed a bariatrician and board-certified addiction specialist whose clinic is a high-prescriber of phentermine with topiramate (for over 10 years) and hasn't written a script for Qsymia. His clinic in a mid-size city distributed 10,000 bottles of phentermine just last year, and there are several other clinics in this town. He plans on prescribing Belviq with phentermine as soon as it is available and will start with a 10-week cycle of BelPhen followed by 6-10 weeks of just Belviq. Since the cost of Belviq is so high, he plans on allowing some patients to take it once a day instead of twice a day for those who don't have insurance - which cuts the cost to the patient in half.
This was the same process he used with Topamax when it was on label with a similar price-point ,and at one point, he was one of the highest prescribers of Topamax in his state, out-prescribing a neurology practice with almost 20 doctors. Patients would continue to receive their phentermine from his clinic as part of their program costs and then get Belviq directly from the pharmacy. Some weight loss clinics may choose to also distribute Belviq from their clinic, and CalvinScott believes about 25% of their customers may do so. Most weight loss clinics don't take insurance so the patient would need to request reimbursement if they have coverage. At a recent investor's conference, Arena's CEO Jack Lief indicated that several "thought-leaders" in the obesity space will be combining phentermine with Belviq immediately upon launch, so this bariatrician is not alone.
By the professional Obesity conferences in October and November, clinicians should have enough early success with BelPhen that I expect to see a poster presentation to share these results with the bariatric community. Success breeds more success, and it is a matter of time before patient success on "BelPhen" finds its way into Social Media. Unlike the FenPhen craze of the 90s, we now have Facebook, Twitter and YouTube to spread success stories of a "safe" and effective BelPhen. In 1996, there were an estimated 18M scripts written for FenPhen and around 6M people tried it. Fast forward to 2013 where it is estimated that 2.1M patients a year are currently taking weight loss drugs, driving the 7M a year scripts for phentermine, half of the scripts written for it 17 years ago. Although we will just have to wait and see what kind of success clinicians see with this combination, the pre-clinical data demonstrates a powerful, synergistic effect when the two drugs are used together and given that Belviq is both 100X more selective at the 5-HT2c receptor than 2b and generates better weight loss than fenflurimine did, it isn't a stretch to expect BelPhen to be as effective if not more potent than PhenFen.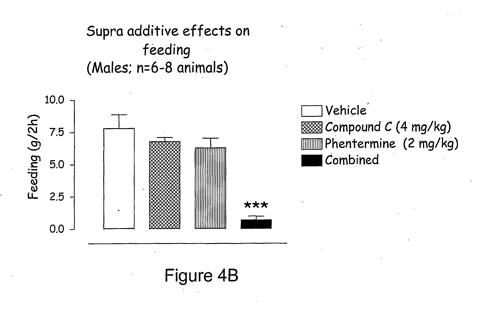 Although the graphic above depicts the impact to rat feeding behavior when Belviq and phentermine is combined, the effect should be similar in humans. Unlike other studies done using rats, feeding behavior is managed through a very primitive pathway shared by all animals. If it is highly effective for rats, it will also be highly effective for humans. An important point to consider as well is if a patient is one of the 40% who will have insurance coverage for Belviq and they are also taking phentermine with it, they will most certainly meet the 5% weight loss threshold at 12 weeks likely required for insurance coverage to continue.
I believe the market, especially the shorts, have mis-judged the potential acceptance of Belviq by the bariatric community. It is this early acceptance that will drive the first phase of growth, delivering revenue that exceeds the lowered expectations from Qsymia's poor launch - a recipe for disaster for the shorts. Eisai hasn't officially released revenue guidance for their new Fiscal year beginning April 1, but they likely will in May. However, they recently hosted an investor presentation where they indicated a "Near-Term" goal of more than 600K patients: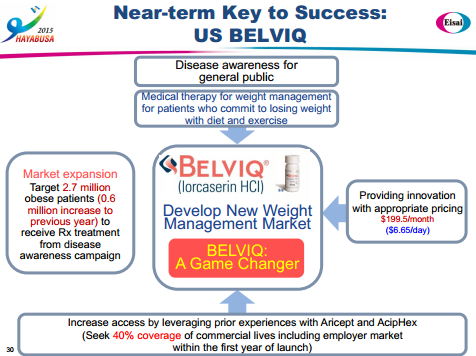 The near-term goal is to capture market share from the existing 2.1M people who already take weight loss drugs, primarily phentermine, and increase the market by another 600,000 patients. About 800,000 of the existing users of phentermine, should have insurance coverage for Belviq this year (2.1M x 40%.) At $199.50 mo. wholesale, every 100,000 chronic users of Belviq will be worth $240M a year. Of course, early on there will be significant incentive for patients such as coupons, which will lower the net revenue but you can clearly see that even modest use of Belviq among the existing phentermine base plus an additional 600,000 patients would result in the first obesity blockbuster.
Prescriber Expansion and BelMet
It is the early acceptance of Belviq among the existing high prescribers of phentermine that will start the first leg of market success but it is the market expansion to endocrinologists, cardiologists and primary care physicians that will bring in the bulk of the revenue long term. Eisai will leverage published peer-reviewed studies to highlight the holistic profile of Belviq for the chronic treatment of obesity and as an effective tool to improve overall cardiometabolic health. The peer-review of Arena's pivotal BLOOM study was published in the New England Journal of Medicine and covers the overall benefits of the drug:
Waist Circumference and Insulin Level

Lorcaserin was associated with significant decreases in waist circumference and BMI during year 1 as compared with placebo (Table 2). Fasting glucose, insulin, and glycated hemoglobin levels and the homeostasis model assessment of insulin resistance decreased significantly more during year 1 in the lorcaserin group than in the placebo group (Table 2). Glucose and insulin levels tended to increase with body weight during year 2 (see the table in the Supplementary Appendix).

Total cholesterol, LDL cholesterol, and triglyceride levels at year 1 were significantly lower in the lorcaserin group than in the placebo group but had increased by year 2 in both groups. In patients who received lorcaserin during year 1 and placebo during year 2, levels of total cholesterol, LDL cholesterol, and triglycerides tended to increase to the levels seen in the placebo group by year 2 (see the table in the Supplementary Appendix).

Markers of Cardiovascular Risk

High-sensitivity C-reactive protein levels decreased significantly between baseline and year 1 in the lorcaserin group, from 5.5±0.19 mg per liter at baseline to 4.3±0.15 mg per liter, but not in the placebo group. Fibrinogen levels decreased significantly with lorcaserin as compared with placebo (Table 2). Systolic and diastolic blood pressures decreased slightly but significantly between baseline and the end of year 1, and between baseline and the end of year 2, with lorcaserin as compared with placebo - as did the heart rate. Quality-of-life scores improved (as measured by an increased score on the 100-point scale of the Impact of Weight on Quality of Life-Lite questionnaire) in both study groups, with a greater improvement in the lorcaserin group than in the placebo group (Table 2).
It is this future acceptance of Belviq as a drug to improve overall cardiometabolic health that will drive it to be a multi-billion a year drug. The epidemic of diabetes and pre-diabetes in this country is truly staggering, and this is the population where Belviq should be liberally prescribed. Some of the biggest selling drugs in the country are for treating diabetes. Belviq, with its combination of weight loss and impact to glycemic control without increasing cardiovascular risk, will be used by both existing Type II diabetics but also as a drug targeting those with pre-diabetes, a market 4X the diabetes space.
Prescribers have dozens of tools to choose from to treat diabetes and other obesity-related complications such has high blood pressure and high cholesterol, but there are just no tools to treat the root cause in play that isn't awash in side effects or doesn't increase cardiovascular risk by raising heart rate or blood pressure. As the reviewers in the NEJM noted, this is where Belviq shines and why I believe, it will become a favorite 1st line therapy for improving cardiometabolic health.
To demonstrate the potential for Belviq to be used as a 1st line therapy for metabolic syndrome and pre-diabetes, we can look to the mega-blockbuster Januvia / Janumet from Merck (NYSE:MRK). I wrote an article comparing Belviq to Januvia in the diabetic patient population a few months ago. Below are the highlights of the impact to glycemic control in their respective diabetes trials, with a similar baseline of HbA1c: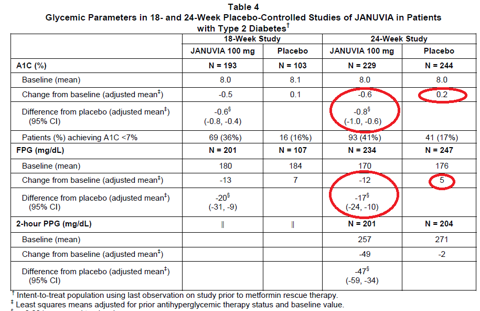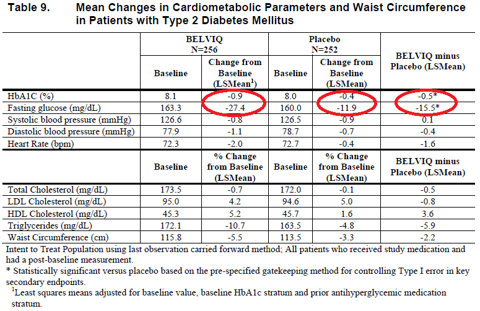 One of Eisai's main objectives is to expand the existing weight loss market through education. This is key as many prescribers are mis-informed about Belviq, believing it is a drug with minimal benefit. Many of the physicians I have spoken with were poorly educated on the benefits of the drug, and once I described its overall profile including the responder statistics and glycemic benefit for diabetics, everyone became excited about it. Once endocrinologists, cardiologists and the primary care market understand the complete picture with Belviq, there is a good chance it could become the go-to prescription for a significant number of doctors. This will take time but it is the 2nd main ingredient to Belviq becoming a huge seller. A novel, single agent that not only helps you lose weight but it improves every co-morbidity factor, reduces HbA1c and fasting glucose better than the $5B a year Januvia.
Future Indications
In addition to obesity, there is exciting pre-clinical data that demonstrates Belviq's potential to achieve additional indications such as for smoking cessation. In 2011, a study was published by researchers at Duke University Medical Center that demonstrated Belviq could be an important drug used to treat nicotine addiction. This study was supported by the National Institute of Drug Addiction [NIDA]. Researchers found that the chronic effect of lorcaserin (Belviq) on nicotine self-administration showed a "significant impact" and that "these studies support development of the 5-HT2c agonist lorcaserin to aid in tobacco smoking cessation." I had a discussion with two people from NIDA at the 2012 Arena Advisory Committee and they stated that they were excited about Belviq's potential for a number of addictions, including smoking cessation.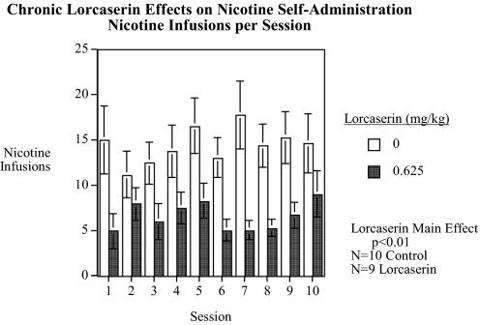 Smoking cessation could be an off-label use for Belviq after approval. Eisai and Arena are planning studies for smoking cessation, and I expect these to begin in 2014. The best-selling drug for smoking cessation is Pfizer's Chantix, which was on track to do $1B a year before being associated with increased CV risk. It has far more side effects than Belviq, including a black box warning for serious neuropsychiatric events. A common theme with smoking cessation is that it often results in weight gain, which discourages many smokers from quitting. In a recent Italian study of smoking cessation, the authors found:
The relevance of weight gain following smoking cessation suggests that health benefits associated with smoking cessation may to some extent be negated by the detrimental effects on health of associated weight gain. Smoking cessation programmes should therefore consider incorporating follow-up support to prevent weight gain; regular measurements of body weight together with dietary indications and increase of physical activity are basic factors to implement in the intervention of smoking cessation.
If Belviq receives approval for this smoking cessation in 2018 as Eisai is forecasting, then it could become a blockbuster for just this indication. Keep in mind; it isn't just smoking cessation, but probably many addictions that Belviq can help with. In fact, one of the patients in Belviq's Phase III trials not only lost over 50lbs but also quit his nail-biting habit:
Lorcaserin targets receptors in the brain as a way to boost a person's will power to change eating habits. In my case, it spilled over to other habits as well -- I stopped biting my nails -- a compulsive behavior I had for about 60 years.
Belviq's ability to help with "will power" to lose weight, stop smoking or even quit biting your nails demonstrates the flexibility of this agent and why it should be attractive to physicians of many disciplines. Belviq has the potential to become a franchise for multiple treatment indications, but also as a compound to combine with other drugs. In addition to combining Belviq with phentermine and metformin, you will also see psychiatrists combine it with antipsychotics.
One of the challenges psychiatrists face when prescribing drugs to their patients is that antipsychotics are long associated with weight gain. It is a major problem related to compliance, often discouraging patients from staying on meds vitally important to their well-being. Belviq provides a viable option for taking in combination with antipsychotic blockbusters such as Eli Lilly's (NYSE:LLY) Zyprexa, a $5B a year drug in 2010 before going over the patent cliff.
Upcoming European Approval
There continues to be tremendous uncertainty around the European Medical Agency's review of Belviq for marketing in the EU, and this is another key point of the short thesis for Arena. In January, Arena received a Day 180 List of Outstanding Issues (LoOI,) from the Committee on Human Medicinal Products [CHMP] stating there were "major objections" needed to be addressed prior to receiving a recommendation for approval. According to Arena, these outstanding issues are similar to those expressed by the FDA in their review of Belviq including cardiovascular impact and pre-clinical data on cancer risk.
Because of these major obstacles, nobody expects Arena to receive a positive opinion from the CHMP when Day 210 is reached in the review process. However, I believe there is a good chance Arena is able to address these major objections and obtain at least a conditional positive opinion from the CHMP. The CHMP has enlisted the help of outside experts which will help to influence the committee's recommendation. We don't know who these experts are, but if they are experts in the fields of pre-clinical research, statistics and obesity; then Arena has a good chance to address the concerns.
The next meeting of the CHMP is April 22-25, where I expect Belviq to be on the Agenda. If the outside experts view mirror the responses Arena has provided to the major objections, then we could see a 2nd Day 180 LoOI that is free of objections and leading to a positive opinion at the end of May at Day 210. This is a similar process that Alexza Pharmaceuticals [ALXA] went through with the CHMP last year after receiving an initial Day 180 LoOI with two "major objections" for their drug Adasuve.
In the CHMP's review of Qsiva (phentermine / topiramate,) they unequivocally denied it for many of the same reasons it hasn't found mainstream success in the US - it raises heart rate, cognitive impact and increases risk of birth defects. Phentermine is already illegal in most of the EU, which I don't agree with, but since that is the underlying drug in Qsymia for its efficacy, it should come as no surprise that the CHMP would deny approval.
On the flip-side, Belviq is a new molecular entity. The only approved drug in the EU for long-term use is the unpleasant, side-effect rich Orlistat. EU's obesity epidemic closely mirrors that of the US with many countries facing similar rates of obesity and related disease complications such as diabetes. Given the FDA's approval of Belviq and the lack of new tools in the EU, I believe there is a good chance that the CHMP provides at least a conditional approval. That approval could be for a subset of population such as for people overweight and diagnosed with metabolic syndrome or pre-diabetes and require a post-approval cardiovascular outcomes trial, which will be completed in 2018.
The market in the EU would be free of any competition and could drive significant demand. Unlike in the US, there will not be a BelPhen craze, except in potentially the few countries where phentermine is still available, even if its use is frowned upon by most in Europe. I believe that Belviq represents an attractive drug for a large European-based Big Pharma. Once there is an opinion out of the CHMP, this should be what is required to finalize a partnership for the EU or potentially the Rest of the World [ROW].
A ROW partnership could take on many forms that may even include a restructured contract with Eisai and a global joint-venture with Eisai and a Top 5 Big Pharma. If Belviq can obtain approval for the EU, then I forecast either an EU partnership or a full ROW partnership to be completed with Arena by the end of the summer, if not sooner. I will not speculate on the structure of that deal or who the partner may be, but it will certainly force a re-evaluation by Wall Street for the market capitalization of Arena based on global expectations for Belviq.
Revenue, Profitability and Volatility
Now that Belviq will be hitting pharmacy shelves soon, a shift will begin to value Arena based on actual sales and growth. As I discussed earlier, it is the first 6 months that will show us the long-term potential for Belviq and Arena. If, unlike Qsymia, we see continued monthly script growth in September and October, we will be able to forecast the linear growth in the years ahead and more accurately come up with earnings models to base a valuation on.
Until we have actual sales data to base valuation models on, it is still a bit of an exercise in futility. What we can do is look at the profitability of this drug if it can reach Eisai's near-term goal of expanding the weight loss drug market by 600,000 new patients and garner market-share from some of the existing 2.1M phentermine users. The following chart shows what Arena's revenue and earnings potential could be over the next couple of years if Eisai delivers on its near-term goals:


As you can see, the structure between Arena and Eisai is structured to quickly lead to significant earnings for Arena with even modest market acceptance. The potential for this drug is compelling and over the coming years, we could see Belviq outperform other major blockbusters like Januvia which would create enormous earnings potential for Arena.
Arena is trading near the bottom of the consolidation channel it has been stuck in since shortly after approval. Volatility is now at its lows with the stock resting ahead of launch. That will soon change as the first sets of weekly scripts come in and we approach a decision out of Europe. Institutional ownership has grown from 20% ownership this time last year to over 45% today, a trend I expect to continue in 2013. Even at 45%, this is still far below Arena's peers as most biotechs with approved drugs at valuations over $1B will have institutional ownership over 70%.
During this same period of consolidation and growth in institutional ownership, the short interest has risen to historical highs. This combination of a high short position and growing institutional ownership will fuel the next wave of stock appreciation if the launch is strong, and the CHMP does in fact issue a positive opinion in April or May. There could be shorts that realize their mistake and need to cover tens of millions of shares and at the same time, institutions on the sidelines are also left to scramble for those same shares. Of course, if Belviq sales are as weak as Qsymia's and the CHMP rejects the drug, then the shorts will be in for a profitable 2013. However, given all of the reasons I have outlined in this paper, we should see sales far above Qsymia shortly after launch and at a growth rate that demonstrates that Belviq will become a blockbuster. When this happens, the market cap will be going much higher than it is today, and we should see a dramatic rise over the next 3+ years for investors with a longer investment horizon.
In conclusion, I believe that those in the professional investment community that have taken a short position in Arena based on the expectations that Belviq sales will mirror Qsymia's have made a fundamental mistake in their analysis of the market. Qsymia's sales were weak not because there isn't a market demand for a new weight loss drug; it was because it was not accepted by the bariatric community, specialists or primary care physicians. Insurance coverage is quickly growing, and will be 70% plus government covered over the next 3 years. Belviq approval in the European market is more probable than the shorts have forecasted, and there should be an attractive EU/ROW partnership if that positive recommendation comes. The next 6 months after the Belviq launch should clearly demonstrate that there is a strong path to achieve blockbuster status as sales are many multiples of what Qsymia has achieved. For investors with a multi-year horizon, the existing Arena valuation continues to represent a compelling risk-to-reward profile.
Disclosure: I am long ARNA. I wrote this article myself, and it expresses my own opinions. I am not receiving compensation for it. I have no business relationship with any company whose stock is mentioned in this article.