Growth Trumped Value:
Companies have a human like lifecycle. The IPO newborn birth, a fragile microcap infancy followed by the awkward small cap tween years, and then the strapping late teenage to early twenty-something glowing midcap.
In stock market investing, midcap sized companies can furthermore be described in human attributes; as those healthy, strong teenagers to young twenty-something adults. These years coincide when strength, flexibility, and adaptability often peak into our finest athletic human form.
Most investors when asked to quickly name a mid cap ETF would typically respond with the most popular ETF for the midcap space and blurt out the SPDR S&P MidCap 400 (NYSEARCA:MDY).
But is that the best performing mid cap ETF over several years or more? The short answer is no. The MDY and its index it tracks is a terrific performer. But the real long term outperformance belongs to this off the beaten track ETF and its tracking index:
Guggenheim S&P Midcap 400 Pure Growth ETF (NYSEARCA:RFG): This fund seeks to closely track before fees and expenses the performance of the S&P MidCap 400/Citigroup Pure Growth Index. The index ticker is SPTRMPG. The inception date for RFG ETF was March 1, 2006 and has delivered some very nice returns. These returns have been noticed by investors as the fund has racked up a healthy 605 million in assets. The expense ratio is a very reasonable 0.35%. The RFG ETF has 91 holdings.
More about the S&P MidCap 400/Citigroup Pure Growth Index:
According to the fact sheet the pure growth and pure value styles attempt to remove overlap:
"Guggenheim S&P Pure Style exchange traded funds (ETFs) are benchmarked to the S&P Pure Style indices. Unlike traditional style indices, these pure style indices seek to remove overlap between growth and value. Each index is weighted by style scores, as opposed to market cap. The index methodology seeks to include only pure growth and pure value stocks and the stocks with similar growth and value characteristics are eliminated. Therefore, these products deliver pure style-based exposure to only those stocks with the strongest style attributes."
This contrasts with traditional growth style funds such as IJK the iShares S&P MidCap 400 Growth Index Fund or the IWP iShares Russell MidCap Growth Index ETF by removing any companies with too many value style metrics.
This approach has evidently worked quite well - even through two bear markets for the tracking index.
According to the Journal of Indexes the 15 year average annual performance of the S&P MidCap 400/Citigroup Pure Growth Index (as of December 31, 2012) is 12.41%. Compare to the standard MidCap 400 MDY Index 15 year return of 9.14%.
Performance Chart (Yahoo) of RFG ETF since inception:
Below is a chart of the RFG ETF since inception versus IJK, IWP, and the MDY ETFs.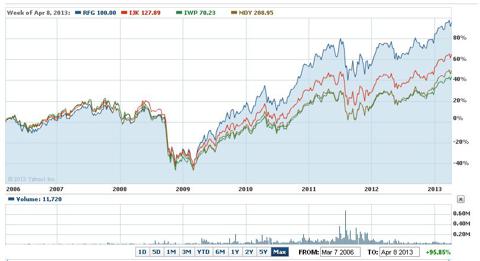 Trailing Total Returns (Morningstar as of 4/12/2013) of RFG versus other pertinent ETFs:
| | | | |
| --- | --- | --- | --- |
| Ticker | 1 Year | 3 Year | 5 Year |
| RFG | 13.85 | 15 | 13.84 |
| IJK | 16.59 | 14.33 | 9.57 |
| IWP | 14.42 | 13.18 | 7.41 |
| MDY | 18.98 | 13.38 | 8.88 |
Performance Chart Jan 2007 to present with Drawdown and Volatility (etf replay.com)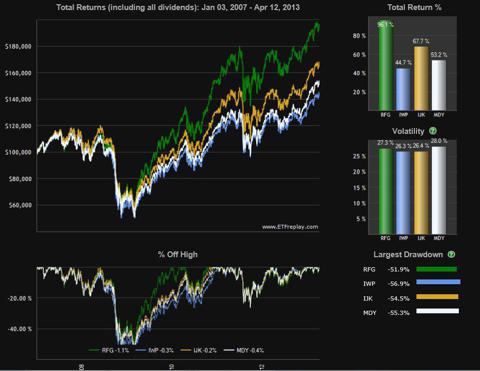 Conclusion and Opinion:
There is no denying the historical strength of the mid cap indexes coupled with the pure growth style. However one must consider going forward - will value gain favor for investors? Consider that last year the top performing style investment allocations were the value counterparts. I.e. the S&P 500/Citigroup Pure Value delivered 25.59% and the S&P SmallCap 600/Citigroup Pure Value delivered 21.64%. Most size categories for value styles outperforming the growth indices.
Disclosure: I have no positions in any stocks mentioned, and no plans to initiate any positions within the next 72 hours. I wrote this article myself, and it expresses my own opinions. I am not receiving compensation for it (other than from Seeking Alpha). I have no business relationship with any company whose stock is mentioned in this article.