This is a simple observation (I'm sure all of the anti-Intel crowd will take the opportunity to flame me), but I would like to point out just how far-fetched the claims that Intel's (NASDAQ:INTC) process lead will somehow evaporate as Taiwan Semiconductor (NYSE:TSM) and others present their road maps that try to mislead investors/industry analysts into thinking they are going to swiftly catch up. Now, on a technicality, these companies are not lying, but they make statements that can lead less informed investors into rushing to very hasty conclusions.
Taiwan Semiconductor's 16nm: Not What You Think It Is
There was an article from the renowned publication EETimes that essentially took a deep look at Taiwan Semiconductor's plans going forward. The headline claim is that TSMC will start "initial production" of FinFETs in 2013. Now, TSMC's 16nm is actually using the same backend as its 20nm process, but with 16nm FinFETs on the front end. What this means, in a nutshell, is that while performance and power will improve from the 20nm process, the scaling benefits won't be there. This is in contrast to Intel's upcoming 14nm process (which goes into high volume production this year) that will scale both the front end as well as the back-end to achieve the traditional scaling benefits (primarily cost/die reduction).
So while TSMC (and the headline of the article) claims that FinFETs "go into production" during 2013, this doesn't mean "high volume and ready to ship to customers worldwide." What it actually means is that the company is probably beginning to run initial wafers to begin trying to debug the process. For example, Intel demoed its initial 22nm FinFET wafers all the way back at IDF 2009 (both high performance as well as SoC transistors), but it didn't go into high volume manufacturing until 2011 (and we didn't see products on the shelves until 2012). According to TSMC's latest conference call, there will be minimal 16nm volume during 2015, and it is really 2016 when we will see a high volume ramp up of products on the process.
TSMC's 20nm: Just Now Testing Cortex A15?
There was an interesting nugget in that article that also confirms the claim in the aforementioned conference call that 20nm (planar) won't go into (high volume) production until 2014:
TSMC expects silicon back in May on a 20-nm test device based on an ARM Cortex A15 core, Hou said.
So, TSMC is still waiting to get silicon back on a 20nm test device based on ARM's (NASDAQ:ARMH) Cortex A15? This means that high volume production on next generation designs from Qualcomm (NASDAQ:QCOM), Nvidia (NASDAQ:NVDA), and others based on the 20nm process are not likely to hit the market until mid- to late 2014, roughly in line with TSMC's statements that 2014 is when the first 20nm chips will ship.
Intel's Lead Will Be Maintained
Intel has been shipping 22nm FinFET silicon based on its high performance process since 2011, and recently demonstrated fully functional versions of its "Bay Trail" (22nm tablet SoC) at CES back in January. Furthermore, it was disclosed at IDF that 22nm micro-server chips were also sampling to partners. It is very clear that Intel's 22nm phone/tablet SoCs will go head to head with the industry's 28nm chips, and if Intel's road maps are to be believed, it is likely that the first TSMC 20nm planar chips will arrive at the end of the 22nm Atom product life cycle and have to face Intel's 14nm products.
Now, does having the best process technology guarantee success? No, but given Intel's chip design expertise, it pretty much guarantees that Intel will have the highest performing/lowest power solutions for the tablet/cheap notebook/micro-server markets for the foreseeable future. Intel's 22nm phone chips won't hit the market until Q1 2014, according to the recent IDF presentations, so the lead in phones may not be as pronounced (although for idle power FinFETs reduce leakage significantly, thus leading to much better battery life):
Click to enlarge images.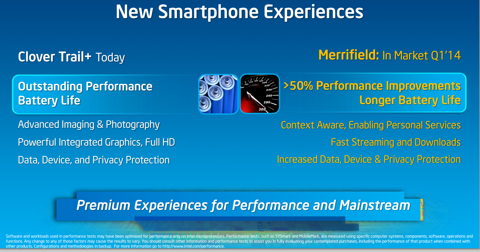 To put the ">50%" performance in context, here is a recent benchmark of the "Clover Trail+" chip in the recently announced ZTE Geek phone (gosh, what a terrible name!) relative to the competing solutions in the market today (Exynos 5 Octa in the international SGS IV, Snapdragon 800, etc.), courtesy of VR-Zone: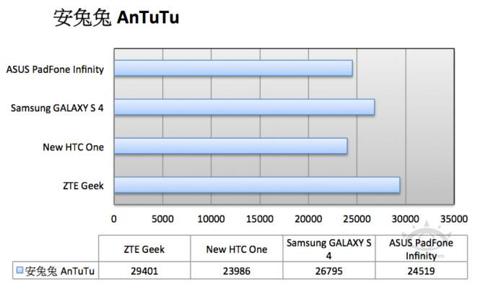 Conclusion
I'm not saying that Intel crushing its competitors is a sure thing, but to count it out of the race is borderline foolish. Don't believe the claims from TSMC or Global Foundries (the latter should not be trusted -- it took advantage of AMD (NYSE:AMD) with its 32nm process, which came much later and did much worse than anticipated) that they will magically catch up with Intel in process tech in 2014 -- it is just not likely that they will.
Process tech isn't everything, but Intel has world class architecture guys and the best process technology in the world. Sure, the upcoming earnings report might stink and there could be a short-term short sale opportunity, but long term -- and at these levels -- shorting Intel would be like picking up pennies in front of a steamroller.
Disclosure: I am long INTC, NVDA, AMD. I am short ARMH. I wrote this article myself, and it expresses my own opinions. I am not receiving compensation for it (other than from Seeking Alpha). I have no business relationship with any company whose stock is mentioned in this article.