I don't know about you, but I have had a heck of a ride trading BlackBerry (NASDAQ:BBRY). While many individuals believe that a stock like BlackBerry is a "buy and hold" investment, even more see this as a trading vehicle. It is, by all measures, still a speculative turnaround play -- albeit a business that is certainly trending in the right direction. As I mentioned in my recent article about Nokia (NYSE:NOK), the "hot money" was probably going to flow out of this stock from BlackBerry in the near term. Short sellers, probably quite aware of this, have also taken the opportunity to ride the hot money outflow wave, as short interest in the name hit a 52-week high: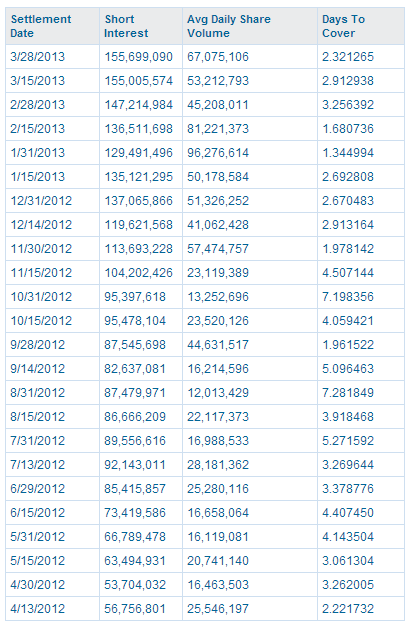 The trend that we're seeing is that the short sellers are actually ramping up their conviction significantly, with short interest having tripled over the last year. How has the price action been over this time period?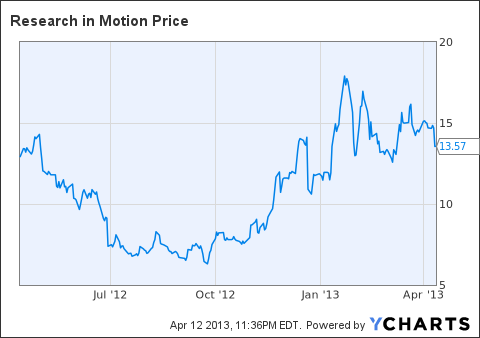 The price remains unchanged over the last 12 months despite a continued ramp up in short interest. If I was long the stock for the long haul, this is something that would have me quite on edge. So the question is: "Why aren't the shorts scared?"
The Long Term, According to Them, Is Hopeless
When you see a gigantic short interest that only tends to go up as the share price moves up, it generally means that the shorts have conviction and fully expect the company to eventually go under. It also requires that if you are going to take a (conviction) long position, then you have to really dig deep into the minds of the short sellers and make sure that your thesis is airtight. Luckily, the smartphone industry is actually pretty simple to understand, and the major points for the short thesis are equally easy to understand:
Android Is Taking Over the World: The main tenet to the BlackBerry short thesis is that Android is going to take over the world, from the highest end smartphones to the lowest end devices in emerging markets. While my fellow author J.M. Manness seems to believe that Android is in its death throes, I find this is an exaggeration given the amazing pace of quality, feature, and usability improvements in this space. It will be tough for Apple's (NASDAQ:AAPL) iOS devices to compete long term, let alone niche alternatives such as Microsoft's (NASDAQ:MSFT) Windows Phone and BlackBerry's BB10. It's not impossible, but mass adoption is by no means guaranteed.
Long-Term Cash Burn Concerns: While BlackBerry's balance sheet is cash rich, debt free, and clean, the short sellers expect cash burn to eventually kick in and erode the valuation support afforded to the stock by the cash. This hasn't really played out yet, as BlackBerry's strong discipline in managing its cash has been quite remarkable.
Bad Management?: Short sellers are basically real-time BS detectors. Sometimes a large short interest isn't just about competitive concerns, but is instead about distrust in management, accounting methods, and so forth. That said, it appears as if everything is clean at BlackBerry, and the new CEO seems to be doing a great job given what he's got.
But Do We Care About Long Term?
Long term, it's a crap-shoot. BlackBerry could be the next big hit (again), or it could end up fizzling and dying. It really depends on customers' tastes and preferences, as well as BlackBerry's roadmap of products and its ability to market them. I don't know -- and most investors certainly don't know -- with any degree of certainty how this is going to play out (there's not exactly a historical precedent to work off of), but that doesn't mean there isn't a lot of money to be made here.
Let me let you in on a little secret: Have you noticed the increased interest in activity in BlackBerry's shares over the last six or so months? Have you also noticed that the sell side is spending nearly as much time talking about this particular stock as it does about Apple? You have the ultra-bulls and the ultra-bears, without too many analysts in the middle. Why is this? Well, BlackBerry has the interest of retail investors simply judging from the number of Seeking Alpha articles and StockTalks I see about the stock. Heightened activity, fueled by the sell side, is generating mountains of trading revenues for the brokerage firms. The day traders and swing traders are having a field day with this one as the battle between short sellers and longs generates a mountain of commissions. These brokerages/sell-side analysts don't really care which direction the stock goes as long as it goes somewhere.
This is why when the stock gets massively oversold, traders should hop in on the long side, and why when the stock gets ridiculously overbought, selling into strength or even -- gasp! -- shorting is a pretty legitimate strategy. Shares have shown pretty repeatedly that $18 is the ceiling and $13 is the floor for now, and without a major fundamental change (that is, dollars and cents on the top and bottom lines), this will be a news-driven battle between shorts and longs roughly within this range.
Conclusion
If you truly believe the BlackBerry story, then buying here and holding might be a solid plan, but for most people this isn't a buy-and-hold stock -- it's a swing trading stock. Nothing wrong with making money (that's why we invest), but understand that you really have to be about making money and being careful not to fall too in love with this particular company. The long-term future is far from certain and there's no dividend, but there's plenty of volatility. I was criticized for unloading half of my stake (purchased at $13.05) in the $14.50 range and the rest of it near $16, but at the end of the day I made money.
Near $13, with the news flow probably being the worst it's going to be in a while (barring some terrible real announcement) it may be time to start thinking about becoming bullish on the name. I don't have a crystal ball, but BlackBerry is arguably hottest name in the tech stock world right now, and I wouldn't be surprised if there isn't a reason that people suddenly want to "load the boat" over the next few weeks. My guess is that the Q10 launch and subsequent sales numbers could be that reason.
Disclosure: I am long MSFT. I may go long BBRY at any time. I wrote this article myself, and it expresses my own opinions. I am not receiving compensation for it (other than from Seeking Alpha). I have no business relationship with any company whose stock is mentioned in this article.