Weekly Outlook: This past week, the market rebounded from some weak unemployment data two weeks ago. The market charged higher on a string of Permanent Open Market Operations from the Federal Reserve as well as Fed Minutes that showed that the market was not going to stop their buying of treasury bonds any time soon. That news was a major positive for the market that was searching for reasons to continue its bull run after correcting on weak employment data. The market ended on a weak note on Friday as more data about March was weak.
That leads us to this coming week with its focus on EARNINGS. With a good week and bad finish, the market seems to need good data and a reason to buy. This week, if earnings are weak, we may see some correcting. What are companies seeing as far as sequestration and increased taxes? Is March spending as weak as data shows? It should be a very interesting weak as we finally get the earnings data. The S&P 500 (NYSEARCA:SPY) and Dow Jones (NYSEARCA:DIA) are at historical highs, so it will take a slew of good news to keep this euphoria going forward.
Economic data will not be as key to the week as earnings, but it should be influential. We do have a healthy slate of data though. On Monday, the market will receive Empire Manufacturing Data and NAHB Housing Market Index. On Tuesday, the market will get CPI, Housing Starts, Building Permits, and Industrial Production. Housing Starts and Industrial Production will be very key to the market on Tuesday as they both show results for March, which has not seen very strong data so far this year. For Wednesday, we get the Fed's Beige Book and Crude Inventories. Thursday will be Jobless Claims and Philly Fed Index. These two reports will also be important as jobless claims did decline last week, but there is still fear about employment. There is some important data in the market this week, and any signs of more weakness in March could be damaging.
Outside of the USA, we have some important data to watch this week. Monday, Chinese GDP, Industrial Production, and Retail Sales will be very crucial to the market on Monday. China data has been pretty good to start the year, and GDP is expected to show 8% growth year/year. A weak report there could cause the market to correct some to start the week. A strong report, though, would go a long way to helping bring some confidence into Chinese companies and companies that work there. On Tuesday, we get the important German ZEW Survey that shows economic confidence for the sector. The end of the week is fairly uneventful for European markets. The start of the week will be helpful to American markets if solid and can easily cause weakness, so be sure to watch what happens here.
Earnings, though, are the key to the week. Just to give you an idea of how many important earnings there are this week - there are thirteen companies reporting this week with over $100B market capitalization. The companies are Google (NASDAQ:GOOG), General Electric (NYSE:GE), Microsoft (NASDAQ:MSFT), International Business Machines (NYSE:IBM), Johnson & Johnson (NYSE:JNJ), Coca-Cola (NYSE:KO), Phillip Morris (NYSE:PM), Verizon (NYSE:VZ), Citigroup (NYSE:C), Bank of America (NYSE:BAC), Intel (NASDAQ:INTC), PepsiCo (NYSE:PEP), and McDonald's (NYSE:MCD). A lot of big names that can and will move the market are reporting this week. With such a large number of important companies reporting this week, it should make for an interesting week. The keys to watch will be, what do these companies expect for the rest of the year? How did they do with the payroll tax increase and potential spending cuts in March? How are they seeing global markets developing?
The Federal Reserve will take a step back this week after a big week last week. The Fed did four POMO days last week, which helped keep a floor on the market. Additionally, the market announced its Fed Minutes, which were a catalyst for the market last week. This week, though, the Fed is a bit quieter. They have their Beige Book on Wednesday, which tends to be a smaller impact moment for the market. Other than that, there are quite a few speeches from Fed presidents that will be combed for interesting commentary to signal any change to QE. Finally, the Fed has four more POMO days this week, which will be pretty important to the market this week.
So where are we headed this week?
The market had a great week this past one, and we would expect that the market would likely be looking at continuing higher unless earnings and data unravel the market. We are not as scared of earnings as some seem to be because we believe China has been strong in the first three months of the year, Europe is showing some green shoots in its important markets, and January/February data was strong. At the same time, the market will unlikely be able to break out much without solid reports. We'll likely see a mixed bag of reports that will lead to some volatility for the market this week overall.
Stocks To Trade:
The three stocks we are watching this week are Costco (NASDAQ:COST), United Health (NYSE:UNH), and Yamana Gold (NYSE:AUY).
COST looks pretty solid right now, and we believe its downside potential is not very strong. COST has a low beta at 0.67, which means it will move at 2/3 of the rate of the market. If the market drops down a lot, COST will move at a much slower rate. The reason for this is that COST has a very solid business line that does not lose much business even in weak market periods. The company, for example, in 2009 only saw a 1.2% decrease in revenue that year. Most companies dropped off much more. We believe that the late April/early May period could potentially be a time of weakness, and we want to look for strong plays for this timeframe.
Additionally, what will be helpful is the company's latest earnings report along with the company's upcoming earnings report. In its latest earnings report, COST reported a nearly 40% increase in earnings along with an 8% growth in revenue and 5% growth in same-store sales. The report was very strong and has given COST a lot of support over the last several weeks. Moving into the next quarter, expectations are still quite solid. The company is expected to see another 9% growth in revenue and 17% growth in earnings. Why such a big tick up for the company? COST has done very well as they are opening new stores and have seen very solid same-store sale increases. The company's increase in fees is leading to a lot of the growth along with solid membership increases. Things look very solid for COST, and we believe that the company has very solid potential heading into its next report.
The best way to play COST is to do a bull put spread through May to complement a long position to help secure COST at a lower price if the stock were to decline with a strong market correction.
Trade: COST, May18, 100/97.50 Bull Put Spread
Max Gain: 8%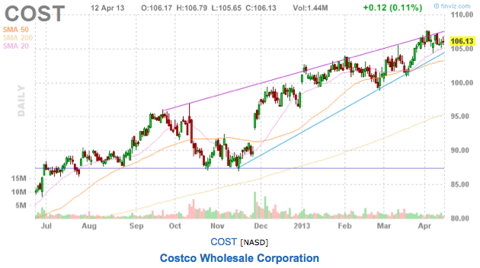 Another stock looking very solid and which could be another outperformer if the market experiences any weakness is United Health. UNH popped up at the beginning of the month on the back of the reversal of the government's decision that would bring about higher prices for payments to health insurers to Medicare Advantage program. This news was a major positive for the company as it means higher premiums for Medicare recipients. Higher premiums mean better margins, better earnings, and better revenue. The stock jumped tremendously on the news, and it has not backed off since. The stock has some decent resistance at $64, and if it can break that level, we would believe it has more near-term upside.
Moving forward, though, the long-term outlook looks promising as well. The stock trades at a future P/E of 10.5, which shows a lot of value. The company is expected to see 10-12% revenue increases for both of the next two years, and we believe that the company will continue to be a really solid option moving forward with low beta. The stock has a 0.9 beta, and the company is another that can do quite well during corrective periods. The company saw an 8% increase in revenue in the Great Recession year of 2009. The reason? Health care doesn't stop during a Recession, and companies do not tend to cut health care insurance offerings. Unemployed persons tend to take on health care on their own as well. Therefore, we like UNH a lot right now as well.
Earnings are this week, and we believe that the volatility from earnings give some opportunity to May options as a hedge to a long into earnings. 60/57.50 is very safe as it's the level from where UNH broke out. That spread is offering 17%.
Trade: UNH, May18, 60/57.50 Bull Put Spread
Max Gain: 17%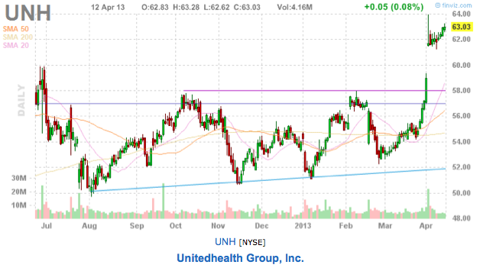 One stock we are bearish on moving forward is Yamana Gold. It's obvious there has been a breakdown in gold, and the question now is, is a bottom near or is more downside potential there for gold and gold companies? We are leaning towards the latter. We have been very bearish on gold for several months, and we remain bearish. The reason is that we believe that the Fed's inevitable closure of QE has pulled the plug on gold. That plug is not coming back. Treasuries are much more attractive now as issues in Europe flare up, and the commodity has lost its safe haven appeal if bonds become attractive again. Why is that? Cash flow for safety will move to bonds due to the fact that QE will end this year it appears. Additionally, gold is getting diced because of strength in the dollar. We do not see that strength changing.
With European markets weak and Japan now starting a new quantitative easing plan, the ability for the dollar to maintain its strength seems quite likely. A strong dollar weakens the appeal of gold as well, and that macro-issue will continue to exist for some time. Beyond that, gold still has very large ETF and physical holdings as we note here, and we believe that a lot of those issues still have to work themselves out. What does all of this have to do with Yamana?
Gold companies over probably any other industry are very directly affected by changes in gold prices. We see weakness for AUY this year for demand as those prices decline, and we believe that it's not a value play, as many believe that weakness will exist for some time longer. Currently, AUY trades at a P/E of 23, which is a strong P/E. To maintain a plus-20 P/E, the company will need to have people believing growth is possible. Right now, expectations are for AUY to see a 20% increase in revenue over the next two years and a big increase in earnings along with that. A lot of those expectations were based upon gold being attractive, which is no longer as attractive. Further, we believe the company does offer quite a bit of risk moving forward as it has a lot of exposure to Argentina. With too much risk in this industry and extreme volatility, AUY is a stock to AVOID.
Trade: Avoid AUY
Disclosure: I have no positions in any stocks mentioned, and no plans to initiate any positions within the next 72 hours.
Business relationship disclosure: The Oxen Group is a team of analysts. This article was written by David Ristau, one of our writers. We did not receive compensation for this article (other than from Seeking Alpha), and we have no business relationship with any company whose stock is mentioned in this article.