Introduction:
Fuel Tech (NASDAQ:FTEK) is a leading technology company engaged in the worldwide development, commercialization and application of state-of-the-art proprietary technologies for air pollution control, process optimization, combustion efficiency, and advanced engineering services. These technologies enable customers to operate efficiently in a cost-effective and environmentally sustainable manner.
Fuel Tech operates as a fully integrated company with a capital projects business to leverage its Air Pollution Control [APC] technologies, and a specialty chemicals business which builds upon its proprietary Fuel Chem processes. Both segments rely heavily on the company's unique ability to inject chemicals in combustion units, in precise concentrations and locations, to achieve a desired outcome.
Source: Company Filings
Technological Segments:
The company's nitrogen oxide (NOx) reduction technologies include advanced combustion modification techniques including low NOx burners and overfire air systems, along with post-combustion NOx control approaches, including NOxOUT and HERT Selective Non-Catalytic Reduction [SNCR] and Rich Reagent Injection (RRI) systems. Fuel Tech's Advanced Selective Catalytic Reduction (ASCR) system utilizes the combination of combustion systems and SNCR to provide a cost effective alternative to high capital cost, stand alone conventional SCR systems while providing similar NOx reductions. The ULTRA™ system generates ammonia on-site for SCR systems using safe urea reagent. These technologies have established Fuel Tech as a leader in NOxreduction, with installations on over 700 units worldwide, where coal, fuel oil, natural gas, municipal waste, biomass, and other fuels are utilized.
The company's Fuel Chem technology revolves around the unique application of chemical injection programs improve the efficiency, reliability, fuel flexibility and environmental status of combustion units by controlling slagging, fouling, corrosion, opacity and acid plume, as well as the formation of sulfur trioxide, ammonium bisulfate, particulate matter (PM2.5), sulfur dioxide (SO2), and carbon dioxide (CO2). Fuel Tech uses its patented Targeted In-Furnace Injection [TIFI] processes to apply specialty chemical programs to units burning a wide variety of fuels including coal, heavy oil, biomass, and municipal waste. These TIFI programs incorporate design, modeling, equipment, reagent, and service to provide a complete customized on-site programs designed to improve plant operations and provide a return on investment beyond helping meet and emission regulatory requirements.
Many of Fuel Tech's products and services rely heavily on the company's exceptional Computational Fluid Dynamics modeling capabilities, which are enhanced by internally developed, high-end visualization software. These capabilities, coupled with the company's innovative technologies and multi-disciplined team approach, enable Fuel Tech to provide practical solutions to some of their customers' most challenging problems.
Source: Company Filings
What Led To The Massive Decline In Share Prices?
Fuel Tech 10 Year, 2003-2012 Monthly Candlestick:

Click to enlarge
Source: TD Ameritrade
Fuel Tech was killed back in 2008 just like most of the Street, but never managed to recover. It has recently reached multi-year lows, and now the question in theory is whether or not the company could make a pompous turnaround play. It can be argued that Fuel Tech is a micro-cap speculative stock; however, unlike most small stocks with big upside, Fuel Tech is profitable, debt-free, cash-rich, and has an intellectual property moat. Unfortunately, eratic earnings ultimately led to severe declines in share prices, but earnings have already begun to recover, indicating stability.
Annual Earnings, 2008A-2014E:
(click to enlarge)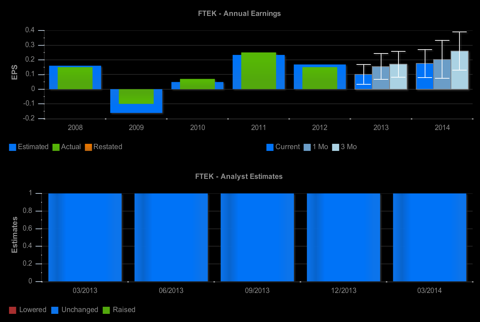 Click to enlarge
Quarter Earnings, 2011A-2013E: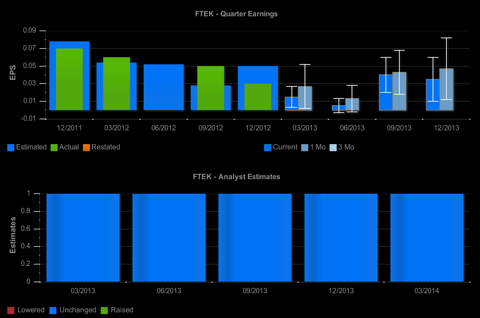 Click to enlarge
Source: TD Ameritrade
Market Opportunities:
1. An Expanding APC Segment
Fuel Tech develops, licenses and markets technologies and systems tailored to meet regulatory requirements mandated by the U.S. Environmental Protection Agency [EPA], along with state and local agencies, as well as foreign governmental authorities. Other NOx removal systems can have much higher capital costs, thereby improving the economic attractiveness of the company's suite of low capital cost NOx removal technologies, in particular the ASCR Advanced SCR process. Existing coal-fired units are focused on cost-efficient operations, and flexible, low capital cost emission control solutions are critical to future operation. Beyond regulatory emissions requirements, Fuel Tech's ULTRA technology offers the company new domestic and international opportunities. This process, which converts urea, a non-hazardous material, to ammonia for on-site use in Selective Catalytic Reduction [SCR] systems, permits a lower risk approach to NOx reduction for utility and industrial customers worldwide.
2. Increased International Demand, Especially From China
Internationally, conditions exist for robust growth in the People's Republic of China (PRC). The PRC is the world's largest producer and consumer of coal, with approximately 70% of its electricity generation provided by coal-fired power plants. China's recent stimulus plan has actually shown signs of China taking a step toward cleaner energy, nevertheless a cleaner environment. Moreover, the anticipated growth in electricity demand will require the construction of hundreds of new coal-fired power plants by 2020. Due, in part, to its heavy reliance on coal, severe air pollution problems continue to plague many regions of the PRC. In addition to Fuel Tech's established presence in Europe, growing markets in India and South America add to the areas of opportunity. For all international markets, Fuel Tech can provide emission control solutions such as Fuel Gas Conditioning technology to help improve particulate capture, along with the suite of NOx reduction and combustion system technologies.
3. Increasing EPA Regulations Lead To New Opportunities
China and Europe aren't the only ones pressing for a cleaner environment. It has recently become a global mission, and the United States has joined the bandwagon. The Environmental Protection Agency [EPA] has proposed another law that could have a positive impact on Fuel Tech's unit volumes. In the likely event that the Mercury and Air Toxics Standards [MATS] measure is approved, Fuel Tech will begin to gain traction in recovering unit volumes. But surely the EPA doesn't stop there. In fact, a new report released by the U.S. Senate Committee on Environment and Public Works Minority Committee enumerates a slew of planned EPA regulations that have been delayed for after the election (which is supported by the Obama admninistration being regulation happy). The regulations proposed that affect Fuel Tech positively include regulations in greenhouse gases and ozone quality, both of which can provide robust growth for Fuel Tech.
4. Fuel Tech Is Debt Free
Unlike many other micro-cap fast growers, Fuel Tech is not burdened by heavy levels of debt. In fact, heavy debt is commonly one of the biggest red flags experienced by micro-caps. At Fuel Tech's current valuation of around $90 million, I argue that a debt free balance sheet could really be what the company needs to maintain growth for the years ahead. It also truly distinguishes the company from its categorization, as the firm shares characteristics with many other large cap growth companies, having a strong balance sheet and consistent revenue growth. Another advantage of being debt free is that Fuel Tech can utilize free cash flow more efficiently, allowing the company to reinvest capital into other segments of its business, such as the APC segment perhaps. The company may also eventually move toward paying a dividend, making it more appealing to value investors, as its current multiple of 21 isn't overly expensive (especially considering the company's growth potential). Ultimately, Fuel Tech can allocate capital to share repurchases, enhancing shareholder value over a long-term perspective.
5. Exceedingly High Levels Of Insider Buying & Low Analyst Coverage
Insider buying has always been a great sign essentially for any company. It demonstrates that management has an optimistic view towards their company. Needless to say, it is quite rare for a company to go bankrupt within 6 months of insider purchases (even though Fuel Tech is debt free). Fuel Tech has actually recently experienced record high levels of insider transactions, showing management's strong faith in the company's future prospects. It's even a better sign when main insiders such as Douglas Bailey [CEO] and Ralph Bailey are allocating a sizeable margin of their salaries to share repurchases, which is shown below.

Click to enlarge
Another sign of a great potential stock is when institutions have absolutely no desire at all to own or even get caught looking at a company. In addition to this, whenever any analyst has completely given up on even rating a firm, I generally view it as a good sign. The stock today has metaphorically become an underground stock. Matched with the psychology of being deemed as a speculative micro-cap, significant potential upside could await the stock. Below is the history of institutional upgrades over the last decade.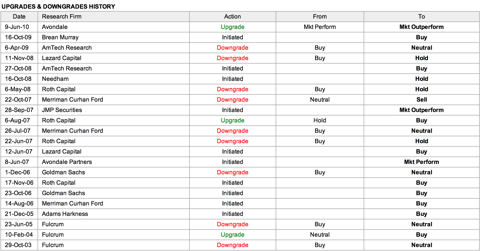 Click to enlarge
Correlating with the argument above, the last time an institution provided guidance for the company was nearly three years ago, when the stock traded around $13 a share (four times higher than current levels).
The Bearish Scenario and Bottom Line:
Indeed, no company is a complete worry-free deal. Fuel Tech faces serious competition from General Electric (NYSE:GE), as investors have no clue as to what technologies GE could be developing for the clean-air space. The Company's significant operating leverage also makes for volatile earnings. Over the last several years, earnings have been rocky, as EPA regulations have been proposed and then appealed. At the end of the day, there is always some speculation with any micro-cap working in a field such as this one. But at current levels, FTEK looks too attractive to not consider taking a further look at. The fundamentals are there, and it has the opportunity to grow tremendously. It also lacks an astronomical valuation, trading at only 20x earnings. That is a modest multiple to pay for the type of growth that Fuel Tech is capable of, in addition to not having an insane risk level involved with it.
Disclosure: I am long FTEK. I wrote this article myself, and it expresses my own opinions. I am not receiving compensation for it (other than from Seeking Alpha). I have no business relationship with any company whose stock is mentioned in this article.