Dividend investing is a popular strategy as more investors are uncertain about the future of the stock market and the economy. With interest rates at historical lows, it is very difficult to generate income from your investments. Saving for retirement is becoming a more challenging task for more Americans and recent propositions to individual retirement accounts would only make the situation worse. The combination of political and economic security is resulting in a flight to high quality US equities. Most companies with high yields have strong financial positions that make them attractive to investors. Additionally, these companies usually have high cash flows from operations, one of the most important factors in a prospective investment. While some investors are buying Italian ten-year bonds yielding less than five percent, I suggest considering relatively safe American equities with comparable or higher yields.
This week there were only two candidates that met the explicit screener requirements; therefore, I expanded to discuss stocks that are popular with investors. Two real estate investment trusts ("REITS") were added because they met all requirements except P/E ratio (as discussed in previous articles, when possible I try to avoid analyzing REITs using P/E.) Two other large consumer care companies were also analyzed due to past requests. Both companies have lower dividend yields but both have growth their dividend payments dramatically over the past five years. Overall, five candidates have been analyzed below based upon SA readership criteria. The majority of the companies this week are financial services firms with yields all in excess of four percent. Market capitalizations are all lower than six billion except for the two large consumer care companies mentioned above. I prefer that my ex-dividend candidates have market caps greater than five billion dollars but that is not a requirement, especially with smaller financial services. The ex-dividend dates are spread throughout the week but one went ex-dividend today.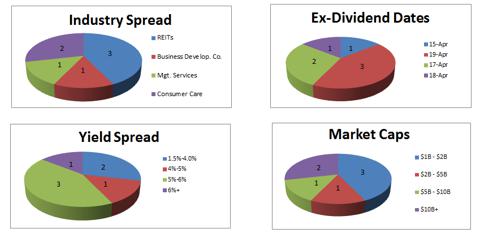 For details of the strategy and my screener details, please consult my methodology on the topic (last modified 4/7/2013). In brief, the screen focuses on relative stable equities with a concentration on liquid companies at affordable valuations. This is summarized below:
Dividend Yield ≥ 4.0% (Relaxed this week)
Ex-Dividend Date = Next Week
Market Capitalization ≥ $1B
P/E Ratio: 0-20 (Relaxed this week)
Institutional Ownership ≥ 15%
Ideally Modest YTD S&P 500 Underperformance
Minimal European Exposure
After applying this screen, I arrived at the equities discussed below. Depending on your belief in the investment hypothesis, you may decide to hold long enough for the dividend or to hold for long-term. The information presented below should simply be a starting point for further equity research in consultation with your professional financial advisor before making an investment decision. My goal is to present new companies to you and provide a brief overview of their recent developments; this should not be considered a substitute for your own due diligence.
Main Street Capital (MAIN): 5.98% Yield; Ex-Dividend 4/17
Main Street Capital is a $1.1B business development company that specializes in equity, equity related, and debt investments in companies with revenue between $10M and $100M. The majority of investments are non-controlling/non-affiliate; however, approximately 25% of the portfolio is in controlling investments.
The stock was upgraded by Robert W. Baird from 'Neutral' to 'Outperform' in March but has slumped more than nine percent in the past month. The major news the past month was the filing of the 2012 10K annual report. Over the past year, NAV per share surged from $15.19 to $18.59. Despite the 22% appreciation in NAV per share, the stock still trades at a very high premium to book value (1.67 price-to-book ratio). Net investment income has jumped from 19M in 2010 to 59M in 2012 and net assets from operations have tripled over the same period. Despite this strong performance, dividends per share have only increased by 14%. The dividend is paid monthly and was recently increased by three percent.
Despite the recent increase, the dividend payment has exhibited only slight growth throughout the years. Cash flows from operations have been volatile but have generally been on an uptrend. I scanned Main Street Capital's schedule of investments and I admire the fact that the company has hit numerous home runs and grand slams. For example, one investment in CBT Nuggets, LLC., has appreciated to $8.25M from a cost of $1.75M. Based upon my review, these great investments appear to outnumber the poor investments by a healthy margin.
I covered Main Street in detail in January and concluded that it was worth considering for dividend capturing but I would be cautious given the high premium to book value. This is a company with a track record of success but I am leery about buying a business development company with a price-to-book ratio of 1.67.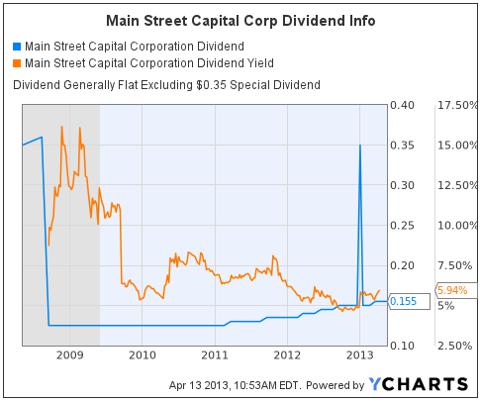 Senior Housing Properties Trust (SNH): 5.66% Yield; Ex-Dividend 4/15
Senior Housing Properties Trust is a $5.3B healthcare mREIT that owns 392 properties across 40 states. SNH was created by CommonWealth REIT (NYSE:CWH), which has been in the news recently for its takeover offer, and spun-off in 1999. The majority of properties are senior living communities and properties leased to medical related businesses. Over 75% of net operating income is derived from 'five star quality care' facilities and 'multi-tenants medical office buildings'. The properties are geographically diverse but are clustered in states with older populations, such as Florida.

(Source: Jefferies 2013 Healthcare REIT Day Presentation)
The investment hypothesis is easy to understand: the US population growth for those older than 85% is forecasted to be above average for the intermediate term and many of those people will request/require senior housing. In the near-term, these companies should benefit from low senior housing construction, which reduces supply of rooms available. The rationale for investing in medical office buildings is similar as an aging population will likely result in higher medical expenses and a strong medical sector overall. Largest customers include Aurora Health Care, Inc. (8% of the portfolio) and The Scripps Research Institute (5% of the portfolio), which have leases expiring in 2024 and 2019, respectively.
One large risk with any company that derives healthcare revenue from older consumers relates to medical reimbursement risk but SNH is the least exposed out of its industry group. Ninety four percent of net operating income is derived from private pay properties and revenues derived from Medicare and Medicaid are both less than ten percent, respectively. The company has been opportunistic with acquisitions and has been active based upon market conditions. Financially the company is well capitalized and has no major debt maturing until 2016.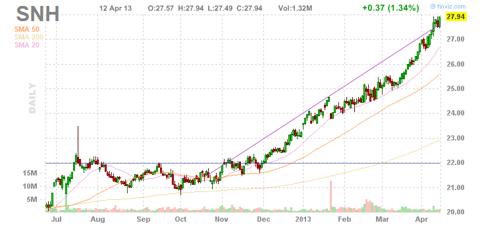 (Source: Finviz.com)
The dividend has exhibited marginal growth that generally has lagged inflation over the past five years. The stock has jumped over 39% in the past year in a straight line-up, which has pushed the dividend yield to a five-year low. Overall, I do not see any major risks or red flags with Senior Housing Properties Trust but the stock is too expensive for me at this level. Not only is the price-to-book ratio well above 1.5 but it is expensive based upon historically funds from operations.
The best way to analyze this type of REIT is by reviewing normalized funds from operations ("FFO") which is a non-GAAP measure that adjusted net income for depreciation and other relevant non-cash charges. 2012 normalized FFO were $296M, or $1.75 per share; in contrast, 2012 net income was $0.80 per share. With the stock currently trading at $27.94, it is trading at a price-to-normalized FFO ratio of 15.97, which I believe is rich given the marginal FFO growth over the past three years. Both Jefferies and The Street.com have downgraded the stock from 'Buy' to 'Hold' recently. For these reasons, I suggest avoiding a dividend capture with SNH.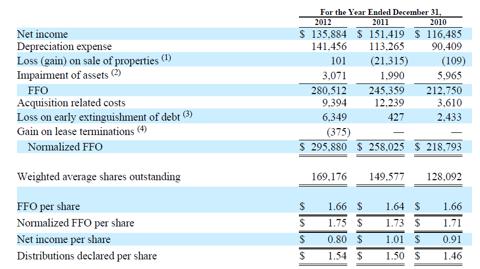 (Source: 2012 SNH 10K)
Corrections Corp of America (NYSE:CXW): 5.23% Yield; Ex-Dividend 4/17
Corrections Corporation of America ("CCA") owns or controls 51 correction and detention facilities, the majority of which are accredited by the American Correctional Association, an independent third party. Essentially CCA is private prison that allows the government to outsource its correction services to a third party. CCA is the fifth largest prison operator in the United States (the largest four are government entities) and the largest publicly traded prison operator. Currently 90% of the $74B market is still operated by the government so there is potential for strong future growth. There are many other intricacies to the company and private prison industry and investors should read CCA's business strategy in the latest 10K.
The company's revenues have been relatively flat with less than five percent annual sales growth in the past five years. I see two main risks with CCA: reduction in government spending and marijuana legalization. Sequestration threatens to reduce government spending in the future and prisoners are an easy target to reduce spending on. If marijuana is legalized, at least partially, the number of prisoners in the United States could drop significantly. For reference, at the end of 2011 nearly half of all federal prisoners were in jail for drug offenses. The tides are starting to shift in favor of marijuana legalization and CCA could suffer. Approximately 12% of revenue is derived from California, a state that is notoriously in favor of marijuana legalization.
The stock has been a hot topic since it declared a $675M special dividend, or approximately $6.63 per share, to distribute previously undistributed accumulated earnings and profits to convert to a REIT. With the stock currently trading at $40.78, this is a 16.25% dividend yield for this payment alone. Before you immediately click buy on CXW, note that there is a significant caveat to the dividend - the cash payment is capped at $135M, or $1.326 per share, with the excess being distributed in common shares. This still translates into a cash dividend yield of 3.25% plus a healthy amount of CXW shares so it is still very compelling.
Aside from the immediate shareholder payment, the conversion will result in lower taxes, higher net income, higher dividends, and the reversal of deferred taxes. As you can see from the presentation below, 2013 estimated adjusted FFO is $2.80, a 20% increase versus estimated 2012. CCA might appear expensive with a forward P/E of 19.4; however, it is more meaningful to value the new REIT using adjusted FFO. The stock is much more affordable on a forward price-to-adjusted FFO basis with a ratio of 14.6. With an expected annual dividend increase of 162% and forward yield of 5.1%, I believe investors are more than compensated for the risk assumed.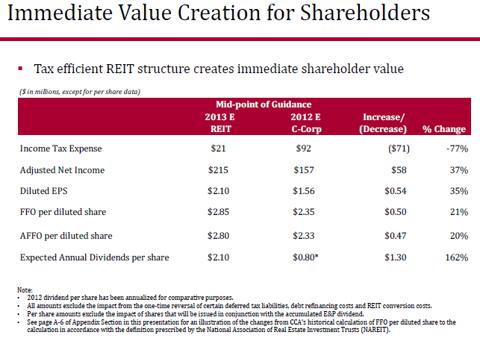 (Source: CCA s 2013 REIT Conversion Conference Call Presentation)
Tempering some of the stock's rally was a surprising admission by the company that it violated an approximate $30M contract with the state of Idaho when some employees falsified staffing records. There is no indication that this issue relates to facilities in other states; however, the Private Corrections Institute issued a statement that "this is likely the tip of a larger iceberg." It is too early to tell what the impact on the company or the stock will be but this is a potential negative event that must be monitored.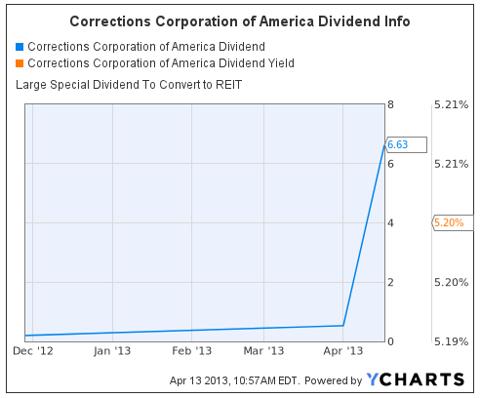 Colgate-Palmolive Company (NYSE:CL): 2.30% Yield; Ex-Dividend 4/19
Colgate is the $55B consumer goods giant that sells products ranging from toothpaste to dog food. Major brands include products you will find in most bathrooms and kitchens around the world such as Colgate, Palmolive, Softsoap, and Speedstick. The company has two operating segments for financial reporting purposes: 'Oral, Personal, and Home Care' and 'Pet Nutrition'. In 2012, Colgate had $17.1B in net sales, of which approximately 87% were derived from personal care products. Seventy-five percent of sales are generated internationally so this is a stock for those who are seeking global exposure in their portfolio.

(Source: Finviz.com)
Colgate competes with other large personal product companies such as Procter & Gamble (NYSE:PG) and Kimberly-Clark Corporation (NYSE:KMB). All three companies trade for very similar forward P/Es but KMB is marginally cheaper despite posting double-digit EPS growth the past year. Procter and Gamble is the largest by a wide margin but it has faced declining earnings in the past year. Colgate is forecasted to have the highest EPS growth in the next five years but trades at an alarmingly high price-to-book ratio of 25.4. I generally do not put much faith in book value for traditional companies because they are subject to accounting policies; however, it is unusual to see such a wide variance between similar companies. This could indicate that future write-downs are possible at Colgate. The quick ratio of 0.9 does not hint at any liquidity issues but the debt-to-equity ratio is also quite high at 2.4.
Colgate has been a strong performer in the past year with a 26% return along with very low volatility but this is a mature company content with achieving five percent earnings growth. I personally believe the entire personal products sector is relatively overvalued compared to sectors that are more attractive. There are no major red flags with investing in Colgate but I think income investors can do better. For example, maybe you should consider one of the large retailers who sells Colgate products… Hint: read below.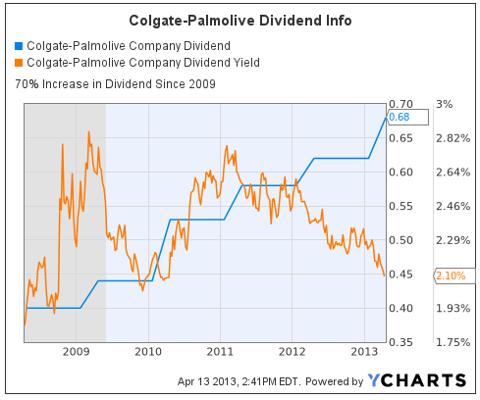 CVS Caremark Corp. (NYSE:CVS): 1.56% Yield; Ex-Dividend 4/19
CVS is one of the largest drug store chains in the United States with over 7,400 retail locations and 21% of the total US prescription market. CVS has been very successful at creating customer loyalty through its ExtraCare card that is active in 70M households and used in 68% of front store transactions. This has enabled CVS to emerge as a leader in prescriptions and the company now fills over 200M more prescriptions than its next closest rival. In addition to its core offerings, the introduction of the MinuteClinic in 2007 has made CVS the largest retail clinic provider. CVS plans to more than double the number of MinuteClinics by 2017, a logical move based upon the 39% CAGR earned by the clinics since 2007.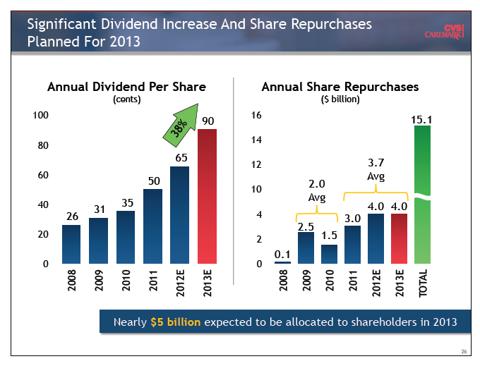 (Source: CVS Caremark Corporation at JPMorgan Global Healthcare Conference Presentation)
CVS has increased its dividend payment by nearly 200% since 2009 and recently improved it in 2013 from $0.1625 per share to $0.225 per share. Despite the dramatic dividend increases, the payout ratio is only 21.1% so there is the potential for future increases. As the presentation above reveals, management has made it a priority to increase shareholder returns through "significant dividend increase and share repurchases." The company's quick ratio is a little soft at 0.7 but there is minimal debt and I have no concerns about the financial position.

(Source: Finviz.com)
The stock trades at a similar forward P/E of 13 to its chief competitor, Walgreen Co. (WAG), despite having a lower price-to-book ratio, higher relative free cash flows, and historical sales/earnings growth. Overall, there is a lot to like about CVS given its above-average revenue growth, attractive valuation, low debt, and strong cash flows. The increase in dividends and share repurchases are just icing on the cake that should continue the stock's recent strong performance.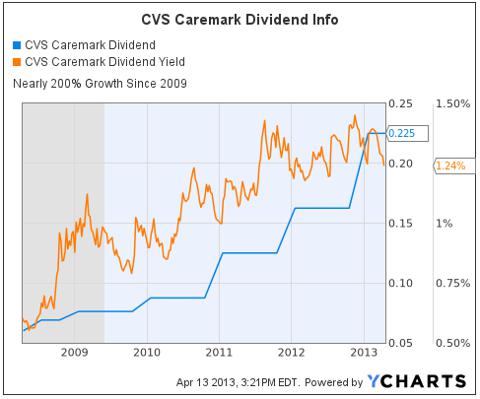 The information presented has been summarized below. I make no guarantees regarding the information in the chart as industry classifications and yield calculations are frequently imperfect. Orange and green represent "avoid" and "consider" classifications, respectively.

Please refer to profile page for disclaimers.
Disclosure: I have no positions in any stocks mentioned, but may initiate a long position in CXW over the next 72 hours. I wrote this article myself, and it expresses my own opinions. I am not receiving compensation for it (other than from Seeking Alpha). I have no business relationship with any company whose stock is mentioned in this article.