Business: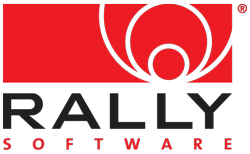 Rally Software (NYSE:RALY), the latest enterprise software company to go public, debuted on the NYSE on Friday, April 12th. Largely viewed as a successful IPO, RALY raised approximately $84 million. Early in trading, RALY shares jumped 31.71% from its, ultimate, IPO pricing of $14.00/share to a high of $18.44. At the end of the trading day, shares closed at $17.81.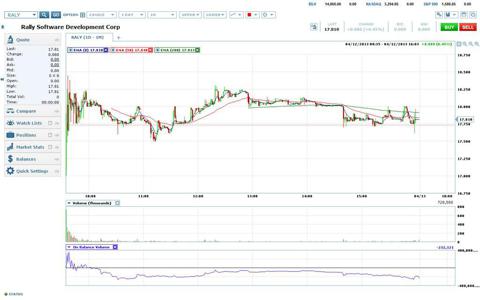 Click to enlarge
Rally Software is a provider of Cloud computing technology, which was designed to provide computer software solutions, over the Internet, to companies and individuals. The main benefits to Cloud computing are the reduction in hardware costs to those who utilize the Cloud, and the time individuals and businesses save by not having to back-up their own data.
Founded in 2001, RALY has, to date, not turned a profit. With funding from several venture capitalists, however, RALY has made several acquisitions along the way. Among those acquisitions are: Agile Adventures, AgileZen, and Flowdock. Also noteworthy is the fact that the company has continued to grow its revenue; from $29.7 million in 2011 to $41.3 million in 2012, for a total increase of 39 %.
In its most recent S-1/A filing, RALY boasts that, as of October 31, 2012, it has more than 1,000 customers, 34 of which are Fortune 100 companies, and that it has 168,562 paid users on the service. According to the company's CEO, Tim Miller, the company plans to use the proceeds from the IPO to " 'increase financial flexibility, continue to invest in growing the business organically (both domestically and internationally), invest in the sales force, and product development.' " Miller also said "…that the company will continue to make acquisitions along the way as it grows the business." [Link]
Fundamentals & Risks:
As previously mentioned, RALY has not turned a profit since its inception, and its own assessment of potential company risks is extensive.

Click to enlarge
Some of the more notable risk factors listed in the company's S-1/A filing are as follows:
We have a history of losses, expect to incur future losses as we grow our company and may be unable to achieve or sustain profitability.

We have been in existence since 2001 and have experienced net losses in each year since our inception. We experienced net losses of $9.9 million, $11.6 and 10.8 million in fiscal 2011, 2012 and 2013, respectively. As of January 31, 2013, we had an accumulated deficit of $75.5 million. We are at an early stage in the development of our business and much of our growth has occurred in recent periods. Our historical rates of revenue growth may not be sustainable. We expect to make significant expenditures to support and grow our business, including investing in our data center infrastructure, expanding our sales force and increasing our international presence. In addition, as a public company we will incur significant legal, accounting and other expenses that we did not incur as a private company. Furthermore, we may encounter unforeseen expenses, complications and other difficulties. We expect to incur losses for the foreseeable future and may not be able to achieve or sustain profitability. Our limited operating history may make it difficult for you to evaluate our current business and our future prospects.

Our success depends on the continued adoption of Agile software development.

We do not know whether Agile adoption will continue to grow and displace traditional methods of software development. In particular, many organizations have invested substantial personnel and financial resources to integrate legacy software development techniques, such as waterfall techniques, into their businesses over time, and may be reluctant or unwilling to migrate to Agile practices because of the organizational changes often required to successfully implement this methodology. Further, some organizations may not realize the expected benefits from adoption of Agile practices and, as a result, may discontinue adoption of those practices. Agile adoption may also be limited if other software development techniques emerge. If Agile software development techniques are not adopted as broadly and quickly as we expect, our growth may slow or stall and our operating results would be harmed.

Demand for Agile management solutions may not grow as we anticipate.

Our solutions have not yet gained broad market acceptance. Even if adoption of Agile software development techniques continues to grow, the market for solutions that enable companies to manage software development processes may not increase at the pace we expect or at all. Organizations may choose to manage Agile software development manually or utilize other offerings that render our solutions uncompetitive or obsolete.

Our growth is largely dependent on our ability to retain and secure additional subscriptions from existing customers, and nonrenewals and downgrades could harm our future operating results.

We primarily sell our solutions through one-year subscriptions. We typically negotiate the total number of seats a customer is entitled to provision as part of their subscription, but these seats may not be fully utilized over the term of the agreement. Upon expiration, customers can renew their existing subscriptions, upgrade their subscriptions, downgrade their subscriptions or not renew. Our ability to grow revenue and achieve profitability depends in part on customer renewals and upgrades exceeding downgrades and nonrenewals. Our land-and-expand go-to-market strategy requires that a significant portion of our customers who initially purchase our solutions will subsequently upgrade their subscriptions. However, we may not be able to increase our penetration within our existing customers as anticipated and we may not otherwise retain subscriptions from existing customers. Customers may choose to not renew or upgrade their subscriptions, or may downgrade, because of several factors, including dissatisfaction with our prices or features relative to competitive offerings, reductions in our customers' spending levels, unused seats previously purchased, limited adoption by a customer of our solutions or Agile practices, departure of Agile users from the customer's organization or other causes. If our customers do not upgrade or renew their subscriptions, or they downgrade their subscriptions, our revenue may grow more slowly than expected or may decline, and our profitability and gross profit may be harmed.
Other risk factors to the company's business are potential outages and security breaches. In June of 2012, a powerful summer storm caused an outage at a data center owned by Amazon (NASDAQ:AMZN). Affected businesses were forced offline while technicians scrambled to repair damages. Potential security breaches are also a concern because, for those businesses and individual clients who opt to utilize Cloud computing, they essentially relinquish control over their data, often to third party data centers. If hackers were to breach the security measures put in place by Cloud computing data centers, sensitive information could be compromised and clients would have no control over the situation (i.e. they would have no way of taking steps to mitigate the damage). Thus, businesses and individuals may be less inclined to trust their information to the Cloud. Though, it offers businesses and individual customers time and cost savings advantages, those advantages come at the expense of control over sensitive and/or personal data.
Conclusion:
Though an interesting concept, Cloud computing is still in its infancy, and it is a technology that has yet to be proven, both, in terms of viability and reliability. Those who may be interested in investing in RALY, or in other similar companies, will most certainly be betting on the future of the wide spread adoption of Cloud computing.
Although, its concept may be widely accepted in decades to come (much like tablet computing), it does not appear as tough it will be widely adopted in the near future. With hardware costs continuing to decline, and with the ever increasing creation of new, more user friendly, storage/back-up solutions, Cloud computing does not appear to be ready for primetime - at least not yet.
Note: Chart courtesy of optionsXpress.
Disclosure: I have no positions in any stocks mentioned, and no plans to initiate any positions within the next 72 hours. I wrote this article myself, and it expresses my own opinions. I am not receiving compensation for it (other than from Seeking Alpha). I have no business relationship with any company whose stock is mentioned in this article.