A while ago a Blackberry (NASDAQ:BBRY) made history by being the first smartphone in Canada to record a Near Field Communication ("NFC") mobile debit transaction.
Holding a blackberry phone in front of an Interac Flash point-of-sale terminal, test participants successfully securely payed for their order in a McDonald's restaurant and funds were immediately deducted from their accounts at RBC Royal Bank (NYSE:RY).
The importance of NFC for the further growth of the smartphone industry, is in my mind self-evident. Just consider this. The Hong Kong Monetary Authority is forming a working group, under the auspices of the Hong Kong Association of Banks, to create a set of standards for the introduction of NFC payments in Hong Kong. The study is aimed to identify the appropriate approach for establishing a safe and effective NFC mobile payment infrastructure that will achieve interoperability among all NFC mobile payment services.
The New York City Department of Transportation is to pilot test PayByPhone's mobile payments system, which is already live in San Francisco, Miami, London and Vancouver. Users register their license plate number and credit card details on the PayByPhone website before downloading the PayByPhone app. Motorists can then either scan a QR code or tap their phone to an NFC tag attached to Muni-Meter parking meters to pay for parking in fifteen minute periods.
Spanish banking group Banco Sabadell has launched an NFC payments pilot in partnership with Telefonica and BlackBerry. Customers taking part in the pilot receive an NFC-enabled BlackBerry Curve smartphone with their Visa bank card details stored in the SIM. Customers can then use a Telefonica mobile wallet app on their phone to pay for goods at contactless POS terminals while also keeping track of their spending.
Clear Channel has launched the UK's first permanent high street mobile platform for outdoor media. Consumers will be able to deepen their engagement with thousands of Clear Channel's sites by tapping or scanning their mobile device on interactive panels on high streets and in town center right across the UK.
Consumers who tap or scan interactive panels next to adverts will be able to watch film trailers, while panels next to KFC posters will provide a proximity search that will let consumers find their nearest restaurant. The platform gives advertisers the interaction with consumers by offering interactive content and social media integration, while consumers will be able to use their smartphones to download vouchers and promotions.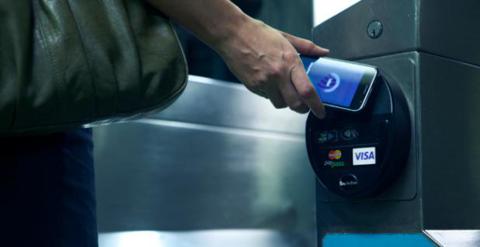 NFC enabled applications are only limited by ones imagination. Besides payment systems, NFC can be used for many different types of interactions like playing games. Nokia (NYSE:NOK), for example, uses NFC technology to connect Lumia phones to JBL wireless speakers, that in addition to letting you hear music, charges your smartphone at the same time.
However, in order for people to be able to use NFC technologies, they have to have a NFC enabled phone. Well that's not a problem. According to a study by the Pew Research Center, 46 percent of American adults own smartphones as of February 2012, an increase over the 35 percent of Americans who were smartphone users in 2011. I assume the numbers are even greater for this year. ABI Research says that the number of NFC-enabled devices in use will exceed 500 million in 2014.
So in a wa,y the Genie is out of the bottle, and just about everyone is now joining the NFC bandwagon. And while the use of this technology is not exactly mainstream as of yet, it is destined to become mainstream.
The question is, is there any one smartphone manufacturer that has a lead or some kind of edge in the NFC space? As far as having an edge, BlackBerry seems to have a small lead, because it has been making NFC enabled phones since 2011. The fact that there are so many banks and companies testing NFC payment systems with BlackBerry phones is a testament to the company's lead.
BlackBerry's Secure Element Manager ("SEM") solution for Near Field Communication mobile payments has met the stringent norms and usability guidelines of Visa (NYSE:V). According to the Canadian handset manufacturer, its latest step will enable its carrier partners to securely manage credentials on SIM cards installed in the NFC enabled devices.
Also, as ABI Research notes (link above).
Companies such as Blackberry and Samsung have developed and implemented clear strategies around NFC. They are differentiating themselves as they look to generate new service-based revenue streams utilizing NFC. Other brands, such as LG and Sony, are taking a different path as they horizontally integrate NFC across their broad product portfolios.
An example of NFC service-based revenue stream is BlackBerry's Secure Element Manager solution. In October of last year, a joint venture of Bell Mobility Inc., Rogers Wireless Partnership and TELUS Communications agreed to adopt BlackBerry's Secure Element Manager solution to manage credentials on wireless handsets in Canada that support Near Field Communication services. Samsung is also very active in the NFC space.
In a recent agreement, Samsung has agreed to load the Visa payWave applet onto its mobile devices featuring NFC technology. Visa payWave is Visa's mobile payment applet that enables consumers to make "wave and pay" contactless payments using mobile devices.
Google (NASDAQ:GOOG) is also very active in the NFC payment systems space with Google Wallet. The sheer size of the Android platform and the deep pockets of Google, makes Google Wallet a formidable NFC payment competitor by default.
Isis is another mobile wallet technology similar to Google Wallet that is backed by AT&T (NYSE:T), T-Mobile and Verizon (NYSE:VZ). Using NFC technology, users can pay for products and services at Isis authorized merchants.
Oddly enough, Apple (NASDAQ:AAPL) is the only major player in the smartphone space that has not offered consumers a single model with an NFC chip. While there is speculation that the iPhone 6 will offer NFC, officially Apple has not announced anything. In fact, Apple does not officially have an NFC strategy at all.
Many speculate that Apple has not adopted NFC technology because of the costs involved. Others say there was not enough space in the original iPhone 5 design to fit in a NFC antenna. While others say that Apple has not adopted NFC yet, because it is not a safe enough technology yet .But do not count Apple out.
There is speculation that Apple will surprise everyone this summer. Morgan Stanley analyst Katy Huberty thinks Apple will introduce the "killer app", a wallet feature that would surface as part of iOS 7, which Apple is expected to preview at its Worldwide Developers Conference in June.
Concluding thoughts
I am not sure how all the different wallet payment systems and the many different technologies in the NFC space will make money for all these companies in the long run. There is no company that has a clear lead or any one technology that has an absolute advantage over everyone else.
One thing I am sure of, is that NFC and secure mobile payment technologies are here to stay and payments via these technologies, will only increase in the future. ABI Research said payments made using touchless technology totaled just $4 billion in 2012, but that the figure is expected to balloon to $191 billion by in 2017.
Irrespective of which NFC payment technology prevails, smartphone manufacturers will win either way, because NFC transactions (financial or otherwise) need a smartphone to be conducted on.
And because NFC electronic payment systems are changing our way of life, everyone in world will eventually need to have a smartphone, because they will not be able to get by without one.
So as I see it, companies like BlackBerry, Nokia, Samsung, and eventually Apple, will continue to register increased sales for the foreseeable future, simply because the smartphone -- in more ways than one -- is becoming an indispensable part of our daily life.
Disclosure: I have no positions in any stocks mentioned, and no plans to initiate any positions within the next 72 hours. I wrote this article myself, and it expresses my own opinions. I am not receiving compensation for it (other than from Seeking Alpha). I have no business relationship with any company whose stock is mentioned in this article.