DirecTV (DTV) remains a favorite in my long term portfolio. I added recently again at $56 and expect new highs shortly in this stock. With a market cap of $32.59 billion, DTV is up 13% YTD and also trades near its 52 week high of $56.86 per share. DTV provides digital television entertainment in the United States and Latin America. DTV engages in acquiring, promoting, selling and distributing digital entertainment programming. At the end of 2012, DTV has 35.56 million subscribers. DTV's competitors include Dish Network Corp. (NASDAQ:DISH) and cable providers like Comcast Corporation (NASDAQ:CMCSA).
DTV's Latin America division ended 2012 with over 10 million subscribers on a consolidated basis, and over $6 billion of revenue for the year, up 20 percent-plus, representing truly one of the fastest-growing media businesses in the world.
Company outlook
DTV owns 93% of rights in Brazil, in South America 100% and they have a 41% stake in SKY Mexico (partner is Televisa). Management remains very bullish on Brazil as discussed in a management call recently. Other countries including Columbia, Peru, and Chile continue to see strong growth.
Brazil remains the biggest market. There are 60 million homes and pay-TV penetration is very low. At the end of 2012, there were only 21-22% of homes that subscribed to the service. Even markets like Argentina that have a high 60% rate continue to increase in numbers, which is very bullish.
2012 was a very strong year for DTV when one discusses Latin American growth. I believe this run will continue in 2013 as well. The market is still under penetrated and there is great room for expansion.
DTV continues to invest in new products. In the sports world, they continue to grow and diversify their product. They have the licensee of La Liga Española, the Spanish soccer league. In the coming season, DTV will be the licensee for the English Premier League which I expect to be huge demand for in Spanish speaking South America and Mexico.
Earnings
In DTV's last earnings call, estimates were impressive. DTV managed to beat estimates by a whopping 28%.
A number of positives can be seen in DTV's earnings report and their year over year they keep showing big numbers. Furthermore, the management continues to believe in the company DTV and has repurchased over %5 billion in shares in each of the past 3 years. Cash flow remains strong as seen in the last 2 quarters, where $5 billion in revenue was brought in. Price per earnings remains low at 12.24, below the industry average.
In their last earnings report, DTV reported revenue of $8.05 billion. This beat analyst estimates. GAAP reported sales were 7.9% higher than the prior year's quarter. These are big numbers for a company that is valued at around $32 billion.
Technical Analysis
Let's have a look at the daily chart of DTV. One can see how stochastics read around 38 and slightly oversold. The 4,8 and 13 day moving average is trending up and I expect the RSI to make new highs again over 70 soon.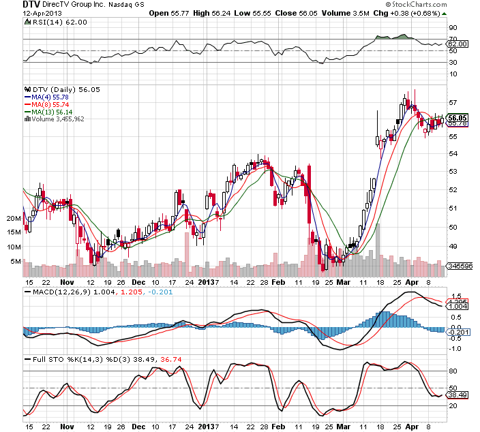 Click to enlarge
The weekly chart is also a beauty. See how a cup was formed in the last few weeks and a handle after, with a massive rise in price on the breakout.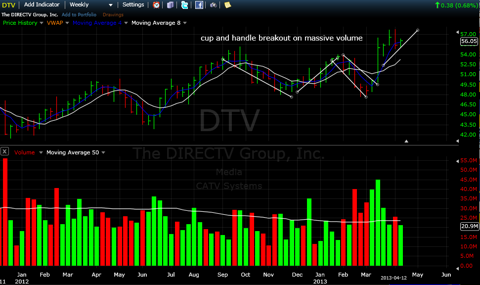 Click to enlarge
Conclusion
After analyzing DTV, I believe this stock is a strong buy right now. I expect big numbers in their next earnings call and I believe new highs are around the corner. With great management, massive growth potential in Latin America and the continuation of buying back shares, I believe DTV can be a long term buy and hold.
Disclosure: I am long DTV. I wrote this article myself, and it expresses my own opinions. I am not receiving compensation for it (other than from Seeking Alpha). I have no business relationship with any company whose stock is mentioned in this article.