The housing recovery helped financial stocks and homebuilders lead the way in 2012, and both have done well along with the broad market rally in the first quarter of 2013.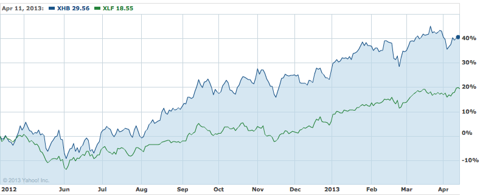 Homebuilders (NYSEARCA:XHB) and Financials (NYSEARCA:XLF) are up 40% and 20% respectively, over the past year. Many have pointed to the improving housing market as the impetus for these sectors, especially homebuilders, doing so well. JPMorgan (NYSE:JPM) and Wells Fargo (NYSE:WFC) reported earnings Friday morning, and Goldman Sachs (NYSE:GS), Bank of America (NYSE:BAC), Morgan Stanley (NYSE:MS), and Citigroup (NYSE:C) all report next week. Many of these banks have done better in 2012 and 2013, as they have removed toxic assets from their balance sheets, and on the hopes of a rebound in the housing market. But is the housing market already beginning to slow? Well there is some data that points to that case.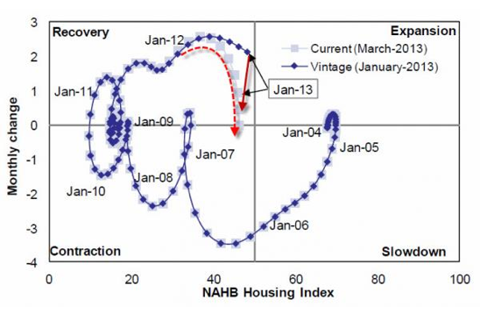 Source: Zerohedge via Goldman Sachs
This nifty swirlogram from Goldman shows the vintage monthly change in the NAHB Housing Index. It could take a while for the date to reach the trade. Theoretically, we should have seen the housing bubble "pop" in 2005 or 2006. Of course, it did not. It was not until 2007-2008 that those who shorted CDOs, such as Mike Burry and Greg Lippman saw their bets pay off. Today, there are many restrictions placed on banks after the 2008 financial crisis.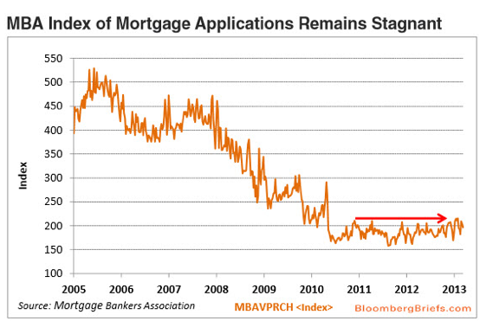 This chart shows the rate of mortgage applications. As you can see the level of mortgage applications has not picked back up to the pre-crisis levels. Of course, this is a good thing, as it would be unhealthy to return to those levels. But this chart would seem to point to the fact that the lending rules put in place after the financial crisis are not what is slowing down lending. Mortgage applications are down, which leads me to believe that most of the growth in financials has been based on banks ridding their balance sheets of their toxic assets. Where have these toxic assets been going? Well some banks, like Citigroup, created a separate entity (Citicorp Holdings), and some hedge funds that focus on distressed assets have no doubt been buying them, but the Federal Reserve's programs have been responsible for most of the buying of mortgage backed securities.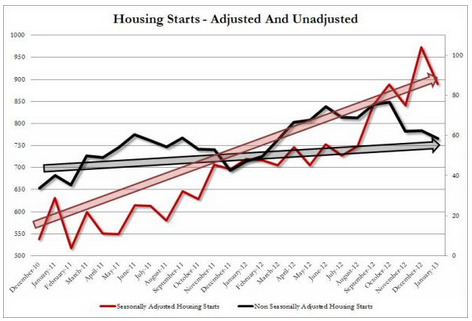 Source:Zerohedge
I believe that much of the hotness in homebuilders, such as PulteGroup (NYSE:PHM) and Lennar (NYSE:LEN), is due to the housing starts numbers highlighted above. When positive housing starts numbers are reported, these stocks pop, and when the previous months numbers are revised? Well there is always a new number, creating a vicious cycle in the data. So while there might not be an actual bubble in the housing market on the ground, there seems to be a bubble in homebuilder stocks, many of which are up 50% or more over the past 12-18 months.
Conclusion
I think that it is safe to say that the easy money is long gone in most homebuilder stocks. Some areas of the country, like the Southeast, have not experienced a recovery similar to areas such as Atlanta and Phoenix, both of which have seen hot housing markets. I think the biggest danger in homebuilders and the housing market is the public's perception of the housing market. A recent survey done by the MacArthur Foundation found that three fourths of all Americans believed that we were either in the middle of the housing crisis or the worst was yet to come. I don't know what to make of that data, but it does provide some insight into where most people think the housing market is, and who knows? They might just be right.
Disclosure: I have no positions in any stocks mentioned, and no plans to initiate any positions within the next 72 hours. I wrote this article myself, and it expresses my own opinions. I am not receiving compensation for it (other than from Seeking Alpha). I have no business relationship with any company whose stock is mentioned in this article.