BreitBurn Energy Partners LP (BBEP) is an independent oil and gas limited partnership. It acquires, explores, and develops oil and gas properties for the purpose of generating cash flow to ultimately distribute to its unit holders. It pays about a 9.3% dividend currently. It has a market capitalization of $2.01B and an enterprise value of $3.11B. It has approximately 77% of its production hedged. Approximately 78% of oil production is hedged at $92.93/barrel; and approximately 77% of natural gas production is hedged at $5.96/MMBtu. This makes BBEP a relatively safe company to invest in even if you think the US economy is in for a slowdown/recession. Further, natural gas prices closed at $4.14/MMBtu on Thursday April 11, 2013. This is much higher than the approximately $1.90/MMBtu at the nadir in 2012. The hedging chart going out several years is below.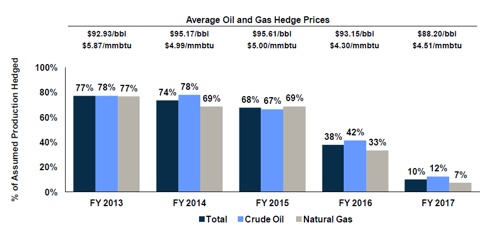 Click to enlarge
In Q4 2012 BBEP increased its distribution for the eleventh straight quarter to $0.47 per unit. For the full year it paid $1.85 per unit. This represented a 7.2% increase over the distribution for FY2011. For Q4 2012, distributable cash flow was approximately $44 million. For FY2012 distributable cash flow was $170.8 million with a coverage ratio of 1.18x. BBEP is targeting 5% annual distribution growth. The last several years of distribution increases are charted below.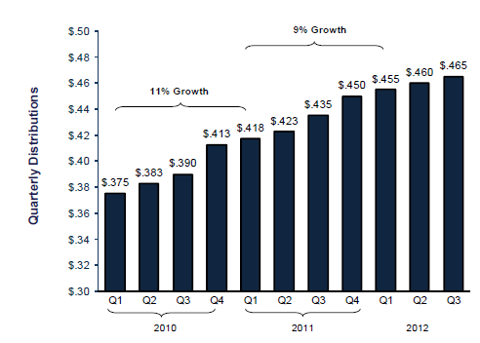 Click to enlarge
The chart below shows how advantageously BBEP's distribution yield compared to its peer group and to 10 year US Treasury Notes on November 30, 2012.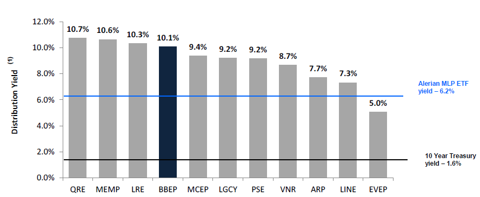 Click to enlarge
For FY2012 BBEP increased production by 18% from FY2011 to 8.318 million Boe (about 22,700 boepd). The year end exit rate was about 25,000 boepd. BBEP's production breakout at the end of 2012 was 53% oil and 47% natural gas. At 2012E the breakout of reserves was 49% oil, 47% natural gas, and 4% NGLs. In FY2012 BBEP increased adjusted EBITDA by 31% from FY2011 to $295.8 million. BBEP forecasts adjusted EBITDA for FY2013 (before any acquisitions) to be between $330 million and $340 million due in part to a FY2013 $260 million CAPEX program. The midpoint is approximately 13% higher than the FY2012 results. However, BBEP is targeting at least $500 million in acquisitions for FY2013. This should push the year over year adjusted EBITDA gain up considerably higher than +13%.
BBEP saw a few problems in 2012, which had negative effects on results. Some natural gas reserves had to be written down due to lower 2012 natural gas prices (-163 Bcf). Some pipeline problems resulted in significant downtime. BBEP shutdown some low volume natural gas wells in need of repair. BBEP decided to wait for more economic natural gas prices to spend money repairing the low volume wells.
BBEP lost money on GAAP net income during Q4 2012 and for FY 2012. However, these losses were largely due to unrealized derivatives losses. Excluding the unrealized derivatives losses (losses on derivatives for future quarters and years), BBEP would have had net income of $8.4 million for Q4 2012 and $41.2 million for FY2012. Since the unrealized derivatives losses are more of an artifact of GAAP accounting than anything else, the results without the unrealized derivatives losses are more reality than supposition. BBEP looks good.
Recent economic news suggests it might be a good idea to look for safe havens to invest in. Most PIIGS news has been bad. The overall Eurozone unemployment hit a high of 12.0% recently. The US Nonfarms Payrolls number for March 2013 was a big miss at only +88,000 versus an expectation of 210,000. According to the Household Survey a huge 496,000 people dropped out of the workforce. This means the lowering of the US unemployment rate to 7.6% was in reality fiction. US Retail Sales for March were also a big miss as both the headline number and the ex-auto number were -0.4% versus an expectation of 0.0%. The Chinese Q1 2013 GDP growth number was also a miss at +7.7% versus an expectation of 8.0%. Plus the Cyprus bailout/failure continues to be an ongoing mess that bodes ill for many other nations (see link). BBEP is a long term buy, especially with a 9.3% dividend.
The five year chart of BBEP provides some technical direction for this trade.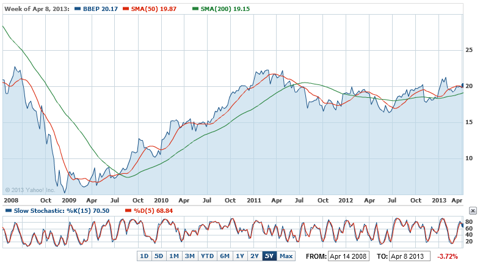 Click to enlarge
The slow stochastic sub chart shows that BBEP is near overbought levels. The main chart shows that BBEP has been in a consolidation pattern for roughly two years. Its latest purchases and the recent rise in natural gas prices may finally push its stock price upward. Alternatively a US recession could push its stock price downward as commodities (including natural gas and oil) often fall in a recession. The relatively poor European, US, and Chinese economic news lately also argues for a pullback. It may finally be time for the overall market to retrace. If that is the case you may want to wait for the retracement before buying.
Still BBEP has great hedges, so it is relatively immune to a recession. It has reasonable debt levels with a Total Debt/Total Capital (MRQ) ratio of 40.92%. It has great value with a Price/Book ratio of only 1.07. It is a bargain long term with the long term secular growth story in energy likely to continue well into the future due to the huge growth in emerging markets' energy demands.
Yes, the stock price did fall precipitously in the last recession; but BBEP only IPO'd in October 2006. It was still a very young and much smaller company when the Great Recession hit. BBEP is now in the mid-cap category with a commensurate Beta of 0.64. It should withstand a possible US recession much better this time around. It should rebound on growth and value as the recession ends. Plus it will pay you that nice 9.3% distribution/dividend while you wait for the stock price to rebound. BBEP does carry a mean analysts' recommendation of 1.7 (a buy). I note you will need to file a Form K-1 for this LP.
NOTE: Some of the above fundamental financial data is from Yahoo Finance and TD Ameritrade.
Good Luck Trading.
Disclosure: I have no positions in any stocks mentioned, but may initiate a long position in BBEP over the next 72 hours. I wrote this article myself, and it expresses my own opinions. I am not receiving compensation for it (other than from Seeking Alpha). I have no business relationship with any company whose stock is mentioned in this article.