Over the past five years, as healthier eating has become mainstream among American households, Whole Food Markets, Inc. (NASDAQ:WFM) has seen its valuation rocket, rising from just under $32/share in 2008 to around $84/share today. Adjusted for dividends, that represents a compound annual return of 21.29% -- far better than the 7.86% compound annual of the broad market, as represented by the Wilshire 5000.
Whole Food's compound return is also 7.8 times that of the S&P 500's (2.74% CAR) in the same period. That should not surprise investors. As seen by the blue line in the chart below, consumers' desire to eat more healthily has bolstered Whole Foods' profits considerably:
Whole Foods Markets: 5-Year Price vs. EPS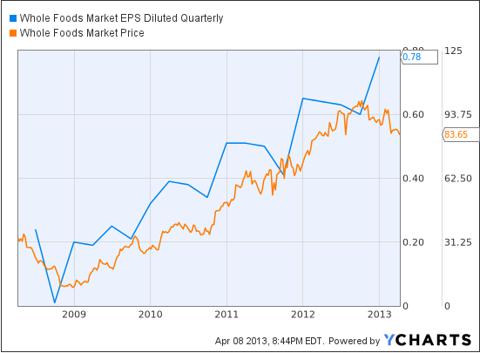 Source: YCharts
For the most part, WFM's returns have mirrored the ebbs and flows of its earnings. However, looking at the tail-end of the chart, one can observe a divergence, with the share price moving in the opposite direction of the company's EPS. Indeed, Whole Foods share price has fallen 7.9% in the year to date largely because EPS growth has slowed (even though actually EPS is at record levels).
Moreover, while WFM continues to beat expectations, the margin by which it has done so is declining - last year, for instance, it beat estimates 3 out of 4 quarters (it met expectations in the third quarter) but the magnitude by which it did so declined from 8.5% to just 1.3%.
In essence, the market appears to have come to the realization that Whole Foods' earnings cycle has entered a new phase more akin to that of larger, more established companies. To be sure, Whole Foods can still grow profits strongly - the consensus is for Whole Foods to report earnings growth of 14% for its fiscal second quarter on May 7 - but it won't be growing at the heady 20% to 30% pace of years earlier.
Slowing earnings momentum is the bane of high-flying stocks - just ask shareholders of Apple (NASDAQ:AAPL) - but does that mean Whole Foods doesn't deserve precious investor dollars?
Whole Foods deserves inclusion in investors' portfolios for the following reasons:
1. Still the leader among premium grocers. Whole Foods doesn't have a lot of direct competition and is usually lumped together with other companies in the Grocery Stores industry. The closest company is Natural Grocers by Vitamin Cottage (NYSE: NGVC), which listed a little over eight months ago. NGVC is reminiscent of Whole Foods in ways other than selling healthy, organically-grown food - for instance it recently beat earnings estimates by 25% - something that Whole Food used to do on an ongoing basis.
Unsurprisingly, given its head-start in the space, Whole Foods has more variety than Natural Grocers does. It also has a larger footprint. In fact, investors can be forgiven for not knowing what Natural Grocers is since it only operates 65 branches in 13 states. Contrast that with over 340 locations operating in 39 U.S. states, in addition to branches in Canada and the United Kingdom for Whole Foods.
Interestingly, mainstream grocery giant Safeway (NYSE: SWY) recently set its site on Wholefoods' hegemony in the Health and Premium Grocery space, ostensibly deciding to become a "wellness company selling food" with emphasis on 3 product lines - Open Nature, O Organics and Eating Right. It remains to be seen whether Safeway can mount a serious challenge to Whole Foods since these products account for less than 2% of its revenues.
Regardless, Whole Foods should expect stiffer competition from other competitors going forward. The Centers for Disease Control estimate that nearly 36% of Americans are obese - in effect, the target market for Whole Foods and its competitors is at least 86 million large and remains under-served as the obesity level has hardly improved.
The premium nature of products targeted at those concerned with eating healthily means that Whole Foods will probably be able to continue charging higher prices going forward. In fact, Whole Foods' gross margins are at 38.2% - 60% higher than the gross margins of its peers in the grocery industry. That alone may explain why Safeway wishes to transform itself into a company more similar to Whole Foods.
Given the current state of the competition, we expect that Whole Foods will remain the leader in this industry for some time.
2. Cheaper than it used to be. Whole Foods' current P/E is at 31.3x earnings - that's a considerable premium compared to its peers' 25.8x and 76% higher than the S&P 500's 17.7x. Even on a Forward P/E basis, Whole Foods is trading at over 24.5x forward earnings compared with 14.1x forward earnings for the S&P 500 on aggregate.
However, the P/E comparison does carry some caveats. The first is that Whole Foods is among the smaller components of the S&P 500 with a market capitalization of 'only' $15 billion - that's just a little more than 50% of the average S&P 500 company's market capitalization ($27.85Bn).
This means that Whole Foods' price momentum is far greater on its P/E compared to a larger company like Exxon Mobil (NYSE: XOM). More importantly, Whole Foods revenue growth is nearly 170% higher than the aggregate revenue growth rate of the S&P 500 and double that of its grocery peer group.
To be sure, the reason Whole Foods has seen its share price fall in 2013 is precisely because its earnings and revenue momentum has slowed - but sales are still expected to rise by 11.6% in 2013 and 14.3% in 2014 - higher than its 5-year average - and those rates would still be at least 2.5x and 3x higher than those of its peer group and the S&P 500, respectively. At the same time, its EPS growth is at 20% -- more than 3x that of the S&P 500's 6%. Even with the expected slowdown in EPS to mid-double digits, its EPS would still be growing at 2x that of the S&P 500 and 3x that of its peer group.
In essence, while Whole Foods no longer provides the heady top line growth more closely associated with technology companies, it still performs far better than its peer group and continues to warrant a multiple.
3. Solid fundamentals other than revenue and earnings. Where Whole Foods is different from high flying companies in the past, its solid fundamentals go beyond Revenue and Earnings.
Specifically, Whole Foods boasts a quick ratio that is more than double that of its peers - in fact, its level of Quick Assets (Cash and Near Cash items) is more in line with the larger companies of the S&P 500. In short, it doesn't keep a lean cash cover or play with its inventory cycle in the way that the typical grocery company does, making it less prone to downturns in the credit cycle or hiccups in consumer demand.
Related to this, Whole Foods has virtually non-existent debt - both its Long-Term and overall Debt-to-Equity Ratios are 0.01 - compared with 1.24 for its peer group and 0.87 for the S&P 500. The dearth of debt servicing cash outflows does two things for Whole Foods: it ensures that more cash can go to shareholders in the form of dividends and it enables Whole Foods to expand with less restrictions.
The latter, in particular, will serve Whole Foods well as it gears for more competition in its space; it enables Whole Foods to act nimbly in the fashion of a much smaller company.
Conclusion
All things considered, it seems that the decline in Whole Foods' share price in 2013 represents an opportunity for investors to take new positions in the stock. We believe that while the heady days of 30% EPS growth are behind it now that it has essentially carved out the new market for health eating, Whole Foods still has far better sales momentum and earnings growth than its peers or other S&P 500 companies. We therefore see a 30% upside to the share price going forward.
Disclosure: I have no positions in any stocks mentioned, but may initiate a long position in WFM over the next 72 hours.
Business relationship disclosure: Black Coral Research is a team of writers who provide unique perspective to help inspire investors. This article was written Jonathan Lara, one of our Senior Analysts. We did not receive compensation for this article (other than from Seeking Alpha), and we have no business relationship with any company whose stock is mentioned in this article.
Additional disclosure: Black Coral Research is not a registered investment advisor or broker/dealer. Readers are advised that the material contained herein should be used solely for informational purposes. Investing involves risk, including the loss of principal. Readers are solely responsible for their own investment decisions.