The Obama administration, US energy policymakers, and the American public have an important choice to make: transition to natural gas transportation or stay addicted to gasoline and projects like the Keystone-XL pipeline to deliver the foreign oil needed to refine it. This is not necessarily an either/or decision, but framing the choice in this manner is helpful to crystallize the nature of the problem.
The Obama administration and US energy policy (if you can call it that) has placed its energy and environmental hopes on three main strategies:
"Clean Coal"
Electric Vehicles
Ethanol Mandates
Vehicle Fuel Efficiency Standards
Energy Efficiency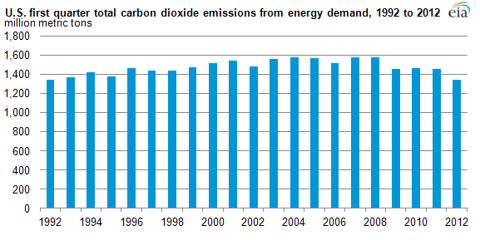 US Energy & Environmental Policy: Not Working Despite Billions of Taxpayer Dollars
Some will say President Obama's strategy is working as 2012 CO2 emissions have fallen and according to the Energy Information Agency ("EIA") were less than 1994 emissions. However, it would be incorrect to give Obama and US energy policymakers credit for this reduction. "Clean coal" is a myth and an oxymoron. Despite massive governmental subsidies, "clean coal" has not become reality (and never will).
Affordable and reliable electric vehicles (EVs) - those getting 100% of their propulsion via batteries, have likewise failed to materialize. Again, despite massive governmental subsidies, the EV strategy has only been successful in leaving behind a trail of bankruptcies like battery company A123 Systems, Fisker Automotive (pending bankruptcy), and others. General Motors' (NYSE:GM) Chevy Volt was an admitted disappointment. EV volumes from companies like Nissan and Tesla (NASDAQ:TSLA) will remain miniscule. More details of the failed EV effort can be read in my article The Fall of the Electric Car...And The Rise of the NGV.
By now, most people realize the ethanol mandates are terrible energy and environmental policy. The mandates unintended side effects are poised to get even worse, as I outlined in Will Ethanol Mandates Hurt Your Refining Stock, Your Car, And The Economy. Yet the Obama administration, like the Bush administration before it, continues to double down on the ridiculous ethanol mandates.
Although fuel and energy efficiency standards have achieved reductions in emissions, most reductions in this area are a result of Americans driving less due to a combination of continued weakness in the economy, high unemployment rates, and high gasoline prices.
Oil Realty
Despite all the press about increased US oil production in the Bakken and Eagle Ford shales (a good thing!), 2012 average gasoline prices were a record high at $3.60/gallon. Foreign oil imports continue to be the largest component of the US trade deficit. In 2012, America spent $434 billion dollars on foreign oil. In February 2013, the US imported 267 million barrels of foreign oil with a price tag of more than $30 billion dollars. It's clear US energy and environmental policies are not working, and in some cases, like the ethanol mandates, government policies are more problematic than not.
Natural Gas To The Rescue!
Luckily, the economic, environmental, and national security benefits of using the country's abundant, clean, and cheap natural gas reserves are so overwhelmingly positive that not even the US government can stand in the way:
In the power generation sector:
The biggest reason for reduced US CO2 emissions has been the replacement of coal by natural gas in the electric power generation sector. The EIA reported that power plant operators shut down about 7.9 gigawatts of coal-based generation capacity in 2012. That represents 2.5 percent of all installed coal capacity at the beginning of 2012, and is a sharp increase from the 2.6 GW sidelined in 2011. The EIA reported the good news in its 2013 Short-Term Energy Outlook.
In the transportation sector
Primarily due to the efforts of a single company, Clean Energy Fuels (NASDAQ:CLNE), and its "America's Natural Gas Highway" effort, natural gas vehicles (NGVs) are beginning to make a serious dent in oil consupmtion by replacing dirty and expensive diesel with natural gas. The company reported a 25% increase in natural gas gallons delivered in 2012 to 194,900,000 gallons.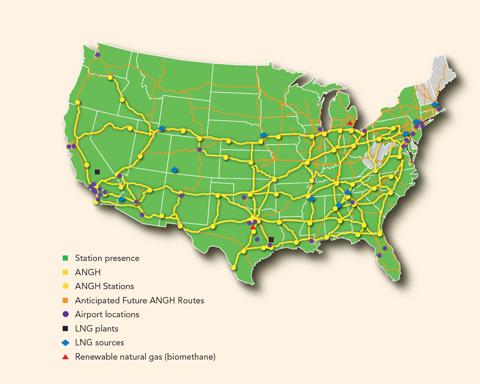 America's Natural Gas Highway
Despite the positive impact natural gas has made in reducing emissions and oil consumption, the pace of change is too slow. As I pointed out earlier, gasoline prices are still very high and foreign oil imports are far from going away: 9.53 million barrels/day in February 2013.
Environmentalists Have Themselves to Blame for Keystone-XL
Natural gas vehicles emit 30% less CO2 than do gasoline or diesel powered vehicles. Even better, NGVs emit 100% less (that's right, "0") of the toxic particulate emissions gasoline or diesel powered engines emit and that cause smog and health issues. It's clear so-called "environmentalists" are making a big mistake to lump natural gas into their nasty "fossil fuels" category. Natural gas is the only domestic fuel capable of significantly reduce foreign oil imports and oil consumption in the transportation sector. That is something every true environmentalist should come to grips with.
It is ironic then that "environmentalists" have themselves to blame for the necessity of projects they hate - such as the Keystone-XL pipeline. Their refusal to acknowledge the environmental benefits of natural gas transportation combined with their inability to understand the facade and failure of the "clean coal"/EV strategy has done absolutely nothing but increase US addiction to gasoline (NYSEARCA:OIL). They have, in effect, made projects like TransCanada Corp's (NYSE:TRP) Keystone-XL pipeline project an absolute necessity from an economic and national security perspective.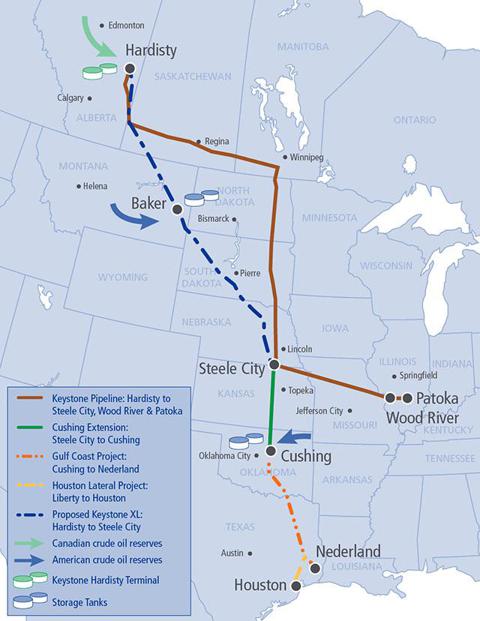 As we all know, the Keystone XL Pipeline (Phase 4) is a proposed 1,179-mile, 36-inch-diameter crude oil pipeline beginning in Hardisty, Alta., and extending south to Steele City, Neb. The pipeline will bring 830,000 barrels/day of mostly Canadian oil sands to Midwest and Gulf Coast refineries.
In January, 2013, Nebraska Governor Dave Heineman approved TransCanada's proposed route. The revised route will minimize disturbance of land, water resources and special areas in the state. On March 1, 2013, the U.S. Department of State released a Draft Supplementary Environmental Impact Statement (Draft SEIS) on Keystone XL that reaffirmed:
there would be no significant impacts to most resources along the proposed Project route.
With an anticipated decision on the Presidential Permit in 2013, the Keystone XL Pipeline has a projected in-service date of 2015. I fully expect President Obama to permit the construction of XL. After all, what choice does he have? With average gasoline prices in 2012 at all time highs, foreign oil imports in February at $434 billion, a stagnant economy in need of jobs, and with the risk of alienating one of the few allies the US has left (Canada), Keystone-XL must go forward.
USA Today recently published an article citing a Pew Research Center poll indicating 66% of Americans supported the pipeline, with 22% opposed. I wonder what the 22% are putting in their gas tanks? From an investment point of view, I can suggest three possible ways to profit from the coming Keystone-XL announcement. One is to buy stock in pipeline's builder: TransCanada Corp.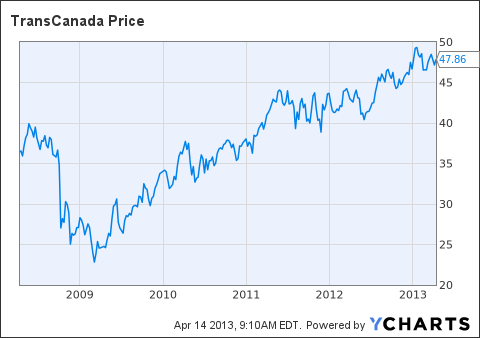 TRP = $47.86
Market Cap = $33.79 billion
P/E ((ttm)) = 25.5
EPS ((ttm)) = 1.88
Div (Yield) = $1.80 (3.8%)
As can be seen from the stock price and metrics above, TRP has been strong, and a case could be made that it is fully valued. The Keystone-XL permit decision may already be priced in.
Perhaps a better way to invest in the pipeline would be Canadian oil sands producer Suncor (NYSE:SU). Suncor has been hammered lately, as investors are concerned about West Canada Select [WCS] crude oil discounts as compared to Brent and WTI.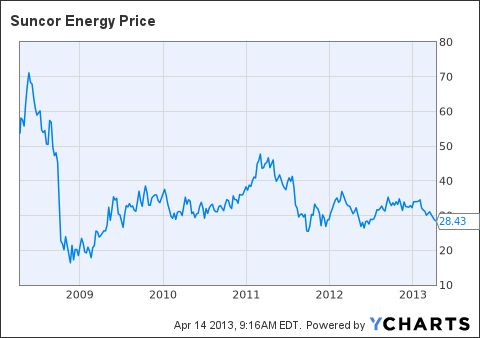 SU = $28.43
Market Cap = $43.3 billion
P/E ((ttm)) = 15.5
EPS ((ttm)) = $1.83
Div (Yield) = $0.51 (1.8%)
SU recently announced its decision not to proceed with the Voyageur Upgrader project. Although this will result in a first quarter charge in 2013, I believe this was a good decision for shareholders, and is a pragmatic step by the company to increase overall shareholder returns.
In addition SU has significant refinery operations that are profiting from its low cost heavy crude feedstock. All in, the company has 460,000 barrels/day of capacity in 3 Canadian and 1 US refineries.
Monthly oil sands production in March 2013 were 375,000 barrels/day, up from 346,000 barrels/day in January. In Q4 2012, total average production was 556,500 boe/d. Cash operating costs for oil sands operations averaged $38.00/bbl in the fourth quarter of 2012.
Lastly, a third way to invest in the Keystone-XL pipeline would be refiner Phillips 66 (NYSE:PSX). PSX has significant heavy crude refining capability in the mid-continent and Gulf Coast regions. The company has been increasing low-cost feedstocks like Bakken crude and heavy oil. Most of increase in advantaged crude is being transported by rail. Keystone-XL would lower the company's transportation costs.
Summary
Unwise energy and environmental policies have left ordinary Americans will little choice but to drive gasoline powered vehicles. In effect, the policies supported by supposed "environmentalists", and their refusal to support natural gas transportation, have kept America addicted to gasoline and the foreign oil needed to refine it. As a result, the Keystone-XL pipeline projectwill be approved by President Obama. The best way for investors to benefit will be to buy companies like TransCanada, Suncor, and Phillips 66.
Disclosure: I am long SU, PSX. I wrote this article myself, and it expresses my own opinions. I am not receiving compensation for it (other than from Seeking Alpha). I have no business relationship with any company whose stock is mentioned in this article.
Disclaimer: I am an engineer, not a CFA. Please do your own research and contact your investment adviser. I am not responsible for investment decisions you make. Thanks for reading and good luck!