Pfizer (NYSE:PFE) is the leader in the biopharmaceutical industry and has performed extremely well in 2012 and 2013 so far, having crossed the $30 mark and breaking out to its highest price since 2004. It has an extensive product line that has performed well for many years, with its primary product (Lyrica) pulling in over $4 billion in revenue in 2012. Refer to the following revenue table of PFE's major products below (there are a further 28 smaller products that PFE sold in 2012 not mentioned here):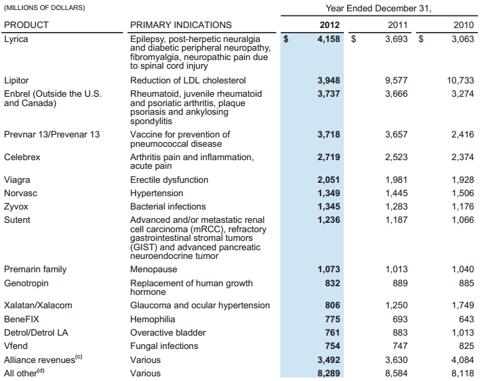 PFE's strong fundamentals can be clearly seen in its 2012 annual report - in 2012 it had revenue of $59 billion, net income of $14.6 billion, and cash of $10.4 billion (total assets were $185.8 billion). It does face some issues regarding the expiration of some of its patents, and some believe that given PFE's slightly lower revenues in 2012 (2010 and 2011 pulled in over $65 billion in revenues), its recent move up to $30 was excessive. (This analysis, for example, gives a final price target of $24). PFE does have a current market cap of around $220 billion which easily puts it in the top 20 largest U.S. companies.
PFE management forecasted revenues of $56.2 billion to $58.2 billion for 2013, which may or may not be conservative. In my view, what should interest PFE investors from this point on is new product roll outs that may represent substantial increased revenue in future. The most recent news concerns PFE's Palbociclib product which I believe has high chances of bringing in billions of dollars in revenue for PFE in the years to come.
Is Palbociclib An Effective Cure For Breast Cancer?
Palbociclib (codename PD 0332991) is just one product out of many that PFE is in the process of developing and bringing to market, but as a new innovation in a massive market, I believe it's the most interesting. Breast cancer is by far the most common cancer in women (see data here), causing hundreds of thousands of deaths each year. Breast cancer can potentially be treated by surgery (such as lumpectomy or mastectomy), radiation therapy or chemotherapy. But we are still in the early stages of developing properly effective treatments for breast cancer, and sadly, it still has a substantial mortality rate.
There are a number of targeted drugs to potentially treat breast cancer, many of which are from PFE's major competitors. These include the following:
However, of all the drugs on the market, none of them are similar to Palbociclib. Palbociclib works as an inhibitor of cyclin-dependent kinases (NYSEARCA:CDK) 4 and 6. CDK 6 has been shown to interact with Cyclin D1, and research conducted in 2008 also found that targeting Cyclin D1 may block the expansion of cancerous stem cells. As the leading biopharmaceutical company by market cap, I believe there is no better company than PFE to develop a new breast cancer treatment drug to inhibit CDK 4 and CDK 6. Palbociclib may even have applications beyond breast cancer, and could be applied for a wider range of tumors.
Palbociclib has already successfully gone through Phase 2 trials, with the conclusion that "The combination of PD 0332991 [Palbociclib] and letrozole is well tolerated and shows encouraging clinical benefit" (the date of this study publication is December 15th 2012). At the Citi Global Healthcare Conference on February 26th 2013, Geno Germano (president and general manager of PFE) commented as follows:
We were very pleasantly surprised last year when -- I'm not sure surprised is the right word -- but it was a pleasant day when we saw the outcome of the Palbociclib trial, the Phase 2 trials in breast cancer. And the data are very promising, very exciting. The external community is very excited about the compound, and I think with the combination of the talent that we have, and the network that we have in the marketplace, advisors throughout the oncology community that we're well positioned to bring this molecule forward … I think that there's a tremendous amount of enthusiasm for the drug and enthusiasm for the results that were achieved in Phase 2 … Now, the data, even the Phase 2 data, continue to mature. We've completed what we call Part 1 of the Phase 2 trial, and the results were very strong, and that was kind of an all comers population. There's a second stage or a second part to the trial that was a selected population, and that is ongoing. It will complete -- we expect that to complete by around the middle of this year.
Later on April 10th 2013, PFE announced that Palbociclib had received breakthrough therapy designation by the United States Food and Drug Administration (FDA). The FDA assigns breakthrough therapy designation for drugs that it believes have the potential to treat serious or life-threatening conditions (more information here). However, it does not necessarily increase the likelihood that such drugs will be eventually approved (it only expedites the process of reviewing the new drug). Based on PFE's long history of product approvals and its high Research and Development expenditures for Palbociclib, I believe it's more than likely that Palbociclib will be approved.
Many analysts are optimistic about the recent news and developments for Palbociclib. Leerink Swann analyst Seamus Fernandez believes that Palbociclib could become a $5 billion drug, and states that "we assume data at 18 months (possible by late 2014/early 2015) would be sufficient for approval." Chris Schott of JPMorgan commented that FDA's breakthrough therapy designation for Palbociclib is a "clear positive for Pfizer shares," and that approval will take place on 2016 or sooner.
Clearly the interest surrounding Palbociclib is irrelevant to how PFE will perform for the remainder of 2013. Even with the breakthrough therapy designation for Palbociclib, we can see that PFE investors will have to wait patiently for the drug to eventually come to market, and Palbociclib will not be a serious revenue booster for PFE until at least a few more years. But the approval and marketing of Palbociclib is a catalyst that will undoubtedly result in serious excitement when it does take place.
Disclosure: I have no positions in any stocks mentioned, and no plans to initiate any positions within the next 72 hours. I wrote this article myself, and it expresses my own opinions. I am not receiving compensation for it (other than from Seeking Alpha). I have no business relationship with any company whose stock is mentioned in this article.