Abbott Bringing More Interest to Galectin-3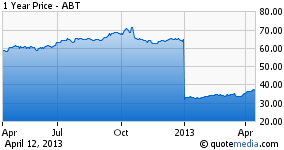 We saw fresh news regarding Galectin-3 last week from Abbott Labs (ABT), which continued its excellence in the diagnostic products market with the CE marking of the Architect Galectin-3 assay in Europe (link). Note that the CE Marking is similar to an FDA approval, and clears the product for market launch.
This is exciting, as Galectin-3 is a biomarker that is strongly prognostic for heart failure, which allows healthcare providers to identify those patients who are at higher risk for re-hospitalization or death.
Also exciting is the potential for Galectin-3 to become a more prominent biomarker of cardiovascular risk in clinical trials, which could generate significant sales revenue for Abbott due to the sheer size of cardio risk trials. Two notable trials include:
1.) GlaxoSmithKline's (GSK) STABILITY trial for Lp-PLA2 inhibitor darapladib, which has an estimated enrollment of 15,828
2.) Amarin Corp's (AMRN) REDUCE-IT trial for Eicosapentaenoic acid capsule Vascepa, which has an estimated enrollment of 8,000
With the introduction of Architect, Abbott has already introduced a very useful tool into the market for cardiovascular risk diagnostics, although (as mentioned below) Galectin-3 may see additional potential as a biomarker in other diseases and indications. In addition, it holds promise as a therapeutic target.
Galectin-3: Brief Overview
Galectins are a very interesting family of proteins that are part of the bigger class of proteins known as "lectins." Lectins are proteins that interact with carbohydrate sugars outside of the cell membrane to cause important events and to modulate important activities. For instance, galectins may cause cells to migrate to new areas, or even multiply.
"Galectins" refer to the 15 known lectins that bind specifically to β-galactoside, and play a major role in the mediation of cell-cell interactions & adhesion. Also very interesting is their importance in the regulation of blood vessel growth, immune regulation, and inflammation. Galectins connect to β-galactoside with something known as a carbohydrate recognition domain (CRD), which is a section on these proteins that recognizes and interacts with the target, and "triggers" the effect that the Galectin was supposed to have.
Galectin-3 in particular is the oddball of the group due to its structure. The protein has a carbohydrate recognition domain and an Amino Acid tail, which allows it to form oligomers - or "bundles" of Galectin-3. Overexpression of Galectin-3, which can form those "bundles," has been linked to cancer and organ failure in non-clinical studies.
The Curious Case of GCS 100
As of now, the only drug that inhibits Galectin-3 is GCS 100, a first-in-class Galectin-3 agonist that was born at the Barbara Ann Karmanos Institute and originally developed by Prospect Therapeutics. Prospect collapsed in the financial maelstrom of 2008/2009, which ultimately allowed La Jolla Pharmaceutical Company (NASDAQ:LJPC) to acquire the rights to the compound.
Ongoing research suggests that Galectin-3's role in various other diseases may be significant, as Galectin-3 overexpression has been shown to lead to fibrosis and scarring of tissue which leads to additional complications found in other indications, but La Jolla is limiting itself to the diseases/indications that have the strongest links to Galectin-3 overexpression. These include Chronic Kidney Disease (CKD), Chronic Liver Disease (cirrhosis), and cancer immunotherapy but not cardiovascular risk (possibly for strategic reasons).
Treatment of CKD has proven difficult, and the disease generally leads to poor outcomes and co-morbidities which is why CKD seems to be a particularly great indication for a first-in-class Galectin-3 inhibitor. The drug's safety profile should prevent the outcome of Abbott and Reata Pharmaceuticals' bardoxolone - a Phase III CKD therapy that was abandoned in 2012 after patients died in the trial.
For the CKD indication in particular, GCS 100 is in a Phase I/II trial which just started enrolling at the beginning of the year. This implies that we will see fresh data in Q3 2013.
The Takeaway
New studies suggest that Galectin-3 is a lot more important than we thought, and it may rise to prominence as a biomarker for cardiovascular risk (and other indications) due to the commercial availability of Abbott's Architect assay.
Abbott is a diversified company that has probably the best overall product line for diagnostic products, and may have a big winner with Architect due to the overall importance of Galectin-3.
After its failure with bardoxolone last year, Abbott may be looking for another way to develop a CKD treatment. La Jolla happens to have the only Galectin-3 inhibitor in clinical development, which synergizes not only with Abbott's presumed desire to play the CKD treatment market but with newly launched Architect assay which should help boost the overall profile for Galectin-3.
Disclosure: I have no positions in any stocks mentioned, and no plans to initiate any positions within the next 72 hours. I wrote this article myself, and it expresses my own opinions. I am not receiving compensation for it. I have no business relationship with any company whose stock is mentioned in this article.