I posted a blog piece last Wednesday stating that I thought Thursday's high would be the market top and we would begin a rapid recalibration in stock prices to bring the extremely overbought market relative to the economy into synch. A bold prediction to be sure and one that sets me up for ridicule if I am wrong.
That said, I feel compelled - as usual - to put in writing what I see and what I think will happen from here and I think Thursday was the high for this Fed-induced stock market bubble. I will give you my reasoning in a minute but first a review of my 2013 forecast. Here is an excerpt:
I see the upside of the 2013 trading range reaching and possibly exceeding the all-time highs at 1576 on the S&P. A 15% gain from the 2012 close would put the S&P at 1607 and I see nothing that would justify exceeding those levels for 2013. Furthermore, I am not assigning a high degree of probability to reaching those levels but at the moment momentum is solidly with the bulls and that could propel stocks higher in the short term.

On the downside I see three possible lows, the 2012 low on the S&P at 1260; the 2011 lows at 1070; and the 2009 lows at 670. Many will discount my extreme call back to the 2009 lows but I think the possibility exists for just such a sell-off based purely on the fundamentals. As I stated in Part 1, we are in a pickle and few seem willing to give credence to the very serious nature of the problems facing us as we enter 2013.
The reason - in part - for offering this excerpt is the need to address the issue of timing. Many of my readers are constantly reminding me that it is no big deal to make a market correction call without defining a time range setting forth when it will occur. They are absolutely right - calling for a market crash without also stating when that crash will occur is akin to making no call at all and it is totally useless.
In an article appearing in Futures Magazine in the January, 2012 issue I made the following statement which establishes that I do get the need for accurately defining the timing of a market call:
Look no further than recent headlines to illustrate this. Numerous ill-informed analysts have made the point that former MF Global head Jon Corzine could end up being correct on his positions in foreign bonds. No, no, no. When you take a leveraged position, you are not simply speculating on the direction of the market, you also are making a market timing decision and a position on volatility. You limit how far the market can go against you before you must bail.
That article dealt with futures and the leverage afforded futures traders makes the need for timing and money management much more critical than it is in stocks - usually. Notwithstanding that caveat, I do understand that a call for a stock market move must be made with a time frame, a stop point and a target objective.
Here's my point - money management and trade structure are crucial to one's overall long term success in trading the markets. My call for a possible high in the 1600 range in the near term suggests that I get that point and have allocated my money in a way that makes sense. In other words I didn't take an all in position on the bear side back in January when I wrote that forecast article as I did see the possibility that the markets could move through the all time highs.
I also stated that the outside high would be in the 1600 range and this isn't a defense of my call at all - it is a simple fact. That is what I saw and I was still willing to start a process of scaling in short positions in anticipation of a major sell off.
So how many readers are going to remind me of the fact that I missed a pretty major move by being so bearish? A lot I suspect but keep in mind my 2013 forecast wasn't inaccurate - even in the short term - so far. I did note that the market could move to the 1576 level and even to 1607. Once again, here is what I said back in January: "at the moment momentum is solidly with the bulls and that could propel stocks higher in the short term."
Why Friday's gold sell-off was so amplified and what it means for stocks
As those who follow me know I have been bearish gold (NYSEARCA:GLD) and bullish the dollar (NYSEARCA:UUP) for some time now. The reason - the Fed's policy designed to induce inflation is not working and in fact deflation is going to take center stage in the coming months. That is bearish for gold and all risk assets denominated in U.S. dollars.
That's why gold has been drifting lower for some time now but the reason it broke down on Friday is simple enough - stops were triggered when gold broke through support coupled with heavy margin call selling.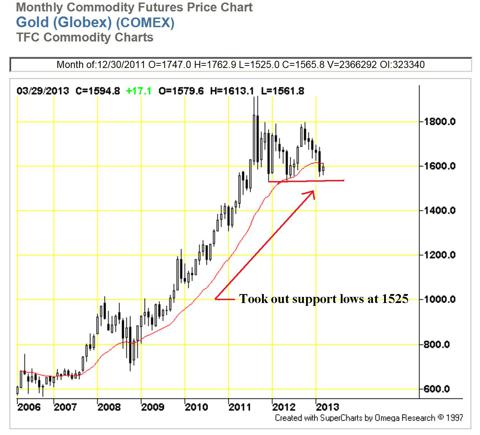 Click to enlarge
(Click to enlarge)
The monthly chart is useful for a long term view but doesn't show the breakdown. The weekly chart gives a better view of the support level break down.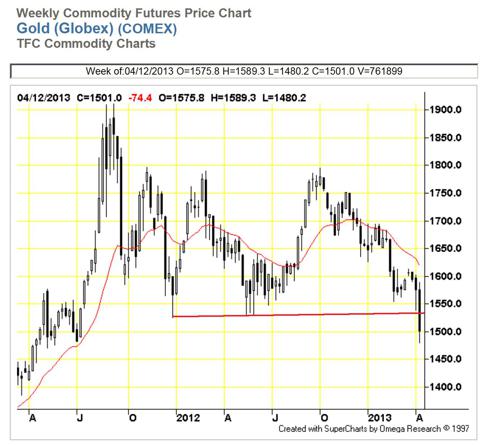 Click to enlarge
(Click to enlarge)
What should be a little disconcerting to the gold bugs is that there is really no support until the 800 to 1000 level. You can see that more clearly if you look at the monthly chart.
My views have not been popular but they have been relatively correct regarding the fundamentals. The truth is we are moving into a period of rapidly deteriorating fundamentals. As far as I am concerned and as far back as September of 2012 this was quite clear as the Fed's policies have not worked. Their efforts to avoid deflation have been valiant to say the least but they simply haven't worked.
Gold, the U.S. dollar and Treasuries started to reflect the rapid deterioration of the fundamentals well ahead of stocks and for the simple reason that stock investors believe in the Fed. That can't be said for those investing in the gold and other commodities as they have been signaling a problem for some time now. The pace of the sell-off is picking up as gold bugs that believe the Fed's monetary policy is inflationary are finally giving up.
As I write this it is Sunday evening and gold is off another $70 and trading in the $1430's. There will be those who are convinced they are right and continue to hold on for a while longer. Some may even step in assuming that gold is a good buy at these levels. My suggestion is simple - don't try it.
Another one of my bear calls was Apple (NASDAQ:AAPL) and the nature of the sell-off in Apple should serve as a warning to those who see gold as a buy at these levels. I made this comment on September 18, 2012 regarding Apple:
Does anybody give any thought to the idea that a global slow down is really happening. I think there are a lot of factors that are about to cause the public to run for cover.

I think iPhone sales are going to suffer. Price has to play a part here.
Here's the chart on Apple: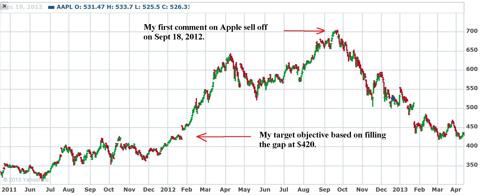 Click to enlarge
(Click to enlarge)
I made this statement on November 2, 2012 in the comments section of an article entitled Expect Apple To Surge In Coming Months. Apple closed that day at $576.80.
As to supply issues, in my opinion a lack of supply is by design as the global slowdown has been anticipated. I think the odds are better that you see a $200 drop than a $200 rally in the next 3 months.
Here is another comment on an article - Apple: Why I Was Wrong - The Company Is Just Too Cheap To Sell. This one was on November 6, 2012:
Wow. The comments here should be sounding an alarm - no bears in the mix.

Be careful folks - this is a classic "groupthink" situation.

The problem with buying Apple is much bigger than Apple itself. The macro situation globally literally assures a double dip recession. Apple won't defy gravity here. A global recession will wreak havoc on those stocks who have appreciated the most and Apple certainly falls into that category.

Please don't respond with hate mail. I am entitled to my opinion.
Apple's sharp sell-off exceeded what almost everyone expected. It wasn't until the stock had fallen about $150 that the matter of iPhone sales was offered as an explanation. There are an awful lot of investors and a lot of buy and hold pundits that claim analysts can't time the market. My own view is that a good analyst should be able to get ahead of the curve and call a market sell-off.
My point - don't summarily dismiss the contrarian view - especially if that view is based on solid analysis. Just because you want a stock to go up doesn't mean it will do so. Also, the idea that following the trend is the only way to play it is not a valid basis to stay in a trade. By the time the trend has changed you could be deep in a hole - case in point Apple and gold.
Here's the truth - the stock market is up because of the Fed. QE has taken on a "rigged" market connotation that makes investors think the Fed is literally guaranteeing higher stock prices. Some actually believe we aren't in trouble - at least that is what you will hear if you listen to the buy side pundits who continue to claim that we are in a recovery and the Fed's policies are working.
On October 1, 2012 I wrote Making A Case For Buying The U.S. Dollar Now. A lot of the comments on that article were akin to accusing me of being a blasphemer - how dare you say the U.S. dollar will go higher. We know the Fed is easing and destroying the dollar. That's why gold and stocks are going up. Well, here is a look at the U.S. dollar index.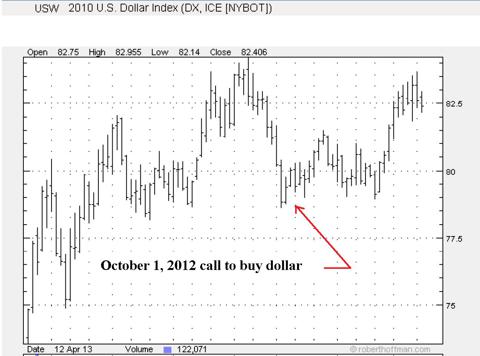 Click to enlarge
(Click to enlarge)
So did I get the market top call right?
I know it is beyond belief that an analyst could make a call -- specific to the day -- on a market top. For the most part I agree with that point, too. It is rare indeed for me to make such a bold prediction. I am not shy about stating what I think will happen but I am also quick to acknowledge that timing a market top in a bull market is extremely difficult.
That said, there comes a point where the probability of an accurate call increases quite a lot. That is the case at the present and the reason I went out on a limb here. There are just too many indicators that suggest we are really at the top of this run and set to move sharply lower from here.
First we had a barrage of negative data last week. In other words those hoping for a consumer led recovery in the economy are suddenly finding out that the numbers just aren't there to support those beliefs.
More important to my call though was price. Here is what I said last Wednesday on my blog post:
We have made a pretty good run to the upside and we have reached a point where we can now say the market is truly overbought. A look at the S&P (NYSEARCA:SPY) chart below with Bollinger Bands included shows that Wednesday's move pushed well above the upper band at 156.97.

Click to enlarge
(Click to enlarge)

Another tool that I have great faith in is my trade structure chart. I create the chart by plotting the close against a grid work that sets pivot points at the mean and 1 and 2 standard deviations above and below the mean. The chart below is the 90 day mean version:

Click to enlarge
(Click to enlarge)

The +2 standard deviation consistently contains the closing price. The current value for the +2 standard deviation is 159.62. The +3 standard deviation value --not reflected on the chart -- is 1647.30.

As you can see from looking at the chart the markets tend to move back and forth from the +2 standard deviation to the -2 standard deviation levels. The chart dates back to January 20, 2012 and the market moved from top to bottom 2 ½ times in the last 15 months.

The next chart is the 30 day mean version reflected below. You will notice that the bands are much closer and the mean value has a steeper slope. The +2 SD band on the 30 day is 158.48 and the +3 SD band is 160.30.

Click to enlarge
(Click to enlarge)

The -2 SD is 139.17 and 151.13 respectively for the 90 day and the 30 day mean. The fact that the +2 SD on both charts is within a few points of each other is significant and usually provides confirmation that we are at a top.

As you can see from the charts above the close is consistently contained within the +/- 2 SD bands. There is nothing that precludes the close hugging the upper band as the mean value -- a moving average - moves steadily higher as it has done for most of the year but the fact that we have moved substantially above the upper Bollinger Band and the fact that the market is beginning to have a broader range than earlier in the year suggests that we are in fact not going much higher.

I generally argue that it is almost impossible to call a high in a bull market but the probability of doing so is greatly enhanced with the tools I am using here. The point I am making is that at these levels the odds of being right are much greater than trying to call a high when the market is trading at the mean value.

The probability of the market moving much higher than 2 standard deviations is about 95% against that occurring. It does happen on occasion but it is very rare. Additionally, for the market to move further above the upper Bollinger Band than Wednesday's close is also not likely. One thing for sure - we won't have more than a day or two to see if this call is a good one.
Concluding thoughts
As I write this it is Sunday evening. Gold and crude oil are sharply lower. The stock index futures are also lower with the Dow down 46 and the S&P down 6.60. We've moved down from Thursday's high by about 10 points.
The S&P topped at 1597.35 on Thursday. My chart shows a +2SD high of 1596.20. I made the call based on that number and we have moved about 10 point's lower based on Friday's action and this evening's futures price. In other words I have a little cushion at this point. The big question now is this - do we pick up the pace and move lower or will we once again gain some traction and push into new high ground? .
There are no doubt a good number of investors who will see this sell-off as short lived. After all, we've pulled back a number of times only to move back up in a day or two to new highs. I suggest that this time is different. The sharp sell-off in gold and crude informs us that all is not well with the Bernanke put. Additionally, the negative data on the economy is suggesting the economy is in trouble. Here is a list that Zero Hedge put out on the number of misses in the last week or so:
Markit U.S. PMI Miss
ISM Manufacturing Miss
ISM New York Miss
Vehicle Sales Miss
ADP Employment Miss
ISM Services Miss
Challenger Job Cuts Miss
Initial Claims Miss
Trade Balance Beat
Non-Farm Payrolls Miss
Hourly Earnings Miss
NFIB Small Business Miss
Wholesale Inventories Miss
MBA Mortgage Apps Miss
Import Prices Miss
Initial Claims Beat
Retail Sales Miss
PPI Miss
UMich Confidence Miss
Business Inventories Miss
None of this bodes well for stocks. The complacency in the market is stunning to me but it is hard to argue the point that this market just doesn't want to go down - even a little bit. Even so, we all know that this rally will end at some point and a correction will begin. I suggest that correction started last Thursday and that it will gain downside momentum much like Apple did and like gold is doing at the present.
Disclosure: I am long FAZ, TZA, TECS, UVXY. I wrote this article myself, and it expresses my own opinions. I am not receiving compensation for it (other than from Seeking Alpha). I have no business relationship with any company whose stock is mentioned in this article.