By Erin Davis
European bank stocks have outperformed the market significantly since European Central Bank president Mario Draghi announced in July 2012 that he would do "whatever it takes" to save the euro. As markets absorbed this statement, the discount associated with the possibility of a eurozone breakup faded. In the following nine months, the shares of European banks shot up more than 47% compared with just 16% for the S&P 500. This impressive performance has led many investors to wonder whether there is still upside in European bank shares, or whether markets have gotten ahead of themselves. We argue that it is the latter that is true and that European banks are now, on average, fairly valued. We think their stock prices are built on the current calm in the market, which we see as mere complacency. We argue that significant risks to Europe's economic outlook remain, and that European banks will not return to their former profitability and instead will struggle to earn their costs of equity. Moreover, we think material risks remain to the market's generally sanguine view of European banks, as evidenced by Cyprus' recent deposit grab, and that at an average of 1.0 times tangible book, most European shares face more downside than upside.
The Key Question: Will the Rally Continue?
The rally in European bank share prices has piqued the interest of many investors, who are now asking whether the outperformance is likely to continue, and whether dips -- like the one associated with the recent Cyprus deposit tax brouhaha -- should be viewed as a buying opportunity. We assert that the shares of European banks are, on average, fully valued and that the current prices do not offer investors a sufficient margin of safety, given the still-large risks facing the European economy and the risk of additional shocks to the banking system. We think the recent events in Cyprus highlight the risk of unexpected negative shocks and demonstrate that the rules in Europe are being written as we go along.
Market Prices Assume a Certain Recovery
For all but the most troubled European banks, our fair value estimates are based on the assumption that there will be a slow economic recovery in Europe. In this scenario, we forecast that most European banks will, over the medium term, produce returns near their cost of equity (typically 12%), plus or minus a few percentage points depending on the quality of the bank's business model, geographic footprint, and management. Our fair value estimates, therefore, tend to average 1 times book value.
However, we think this outcome is far from assured, as demonstrated by our fair value uncertainty ratings. With the exception of Banco Popular, which is rated extreme, all the major European banks that we cover carry uncertainty ratings of high or very high, which reflects our recommendation that investors demand a 40%-50% discount to our fair value estimates before buying the shares.
Current market prices, now averaging 0.9 times book value, appear to reflect an underlying assumption that a steady, if slow, recovery is close to certain. Many European banks are trading near or above book value. These valuations imply that the markets expect these banks, on average, to earn their costs of equity without further diluting shareholders.
Events in Cyprus Could Continue to Weigh on Investor Sentiment
The MSCI Europe Financials ETF EUFN fell only 2.2% on March 18, as markets absorbed the meaning of the proposed tax on deposits in Cyprus. We saw this as a modest decline given the potential broader impact of the proposal, which we think broke the taboo against haircutting deposits. First, it increases the risk of deposit flight in peripheral Europe. Whether the proposals in Cyprus result in capital controls or a bank run, either is likely to draw the attention of Spanish and Italian depositors. The negative impact on deposits may not be immediate, but we think rational savers in peripheral Europe will move their deposits to safer geographies at the first hint that their banks may need additional capital. Second, while Cyprus' banks' senior bondholders were spared in this instance, because the banks have a uniquely thin cushion of senior bond funding, the forcing of a depositor bank "bail-in" is likely to increase bond market jitters. In the past, European officials had gone to great lengths to assure senior bondholders that they would remain unscathed and that bond markets should continue to fund banks, but the actions in Cyprus are likely to undo much of this effort. It appears to us that officials in core Europe have run out of the political capital necessary to back bank bailouts, and that senior bondholders may be asked to participate in any future bailouts. If bond markets agree, funding for risky banks could become much more expensive, if available at all.
Weak Prospects for Underlying Profitability Growth Mean Little Upside for Bank Valuations
European banks have increased their regulatory capital ratios dramatically since 2007 in response to market pressure and regulatory requirements. We've also seen improvement since the crisis in our preferred measure of a bank's capital strength, the ratio of tangible common equity/tangible assets (adjusting for international differences in accounting standards), although not as dramatically. While the TCE ratios of major European banks remain below those of U.S. peer banks, they have improved from an average of 4.1% at the end of 2010 to 4.6% at the end of 2012.
We continue to see many European banks as undercapitalized by this measure, and we think TCE ratios between 5% and 7% would be more appropriate and would better protect investors against the risk of further dilution should Europe's recession continue longer than expected. We assert that adequate levels of tangible common equity to unweighted assets are necessary to protect investors against the potential for gamesmanship in regulatory capital ratios and the risk-weighting of assets.
Excess Leverage Was a Key Source of European Banks' Pre-crisis Profitability
While we stand behind our assertion that European banks currently hold too little tangible common equity, here we make a different argument: European bank leverage was outrageously high in the years leading up to the crisis, and this excess leverage was a driving force behind European banks' attractive profitability during those years. The average gross leverage of 11 of Europe's largest banks peaked at 42 times in 2008 and had fallen to 27 times by the end of 2012. This drop in leverage is echoed by an increase in Tier 1 capital levels over the same period.
Similarly, average return on equity was very high among major European banks in the years leading up to the financial crisis. It peaked at 18.8% in 2006, as banks leaned into the growing free-for-all situation in markets.
Average Return on Equity at Major European Banks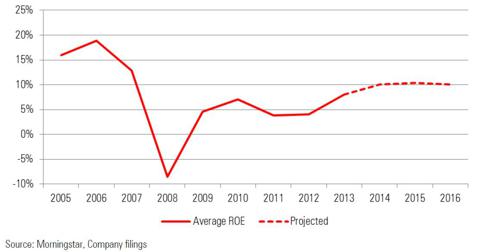 Click to enlarge
We project that leverage will continue to decline over time, and that return on equity will stabilize around 10% in the near term, far below precrisis levels. In the medium term, as Europe's economic recovery takes hold, we expect returns to increase to 12%.
The likelihood that excess leverage, rather than normal market conditions, was the driving force behind pre-crisis profits is reinforced by comparing return on equity with return on assets. We project a return to near-pre-crisis returns on assets, but this will fail to translate into pre-crisis levels of returns on equity because of lower, and still falling, leverage.
Average Return on Assets at Major European Banks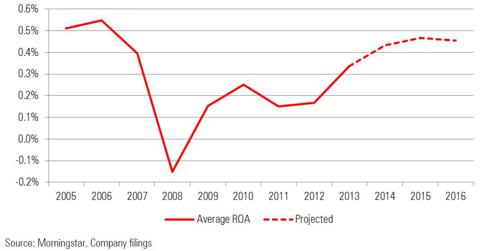 Click to enlarge
Better Operating Results Are Unlikely to Drive Higher Returns on Assets
We are projecting near-term improvement in return on assets that is largely driven by decreases in items such as deleveraging costs, losses on noncore assets, restructuring charges, and accounting charges, rather than an improvement in operating performance. In fact, we see little room for improvement above our projections in net interest margins or efficiency ratios in the medium term. Our forecasts already incorporate a 10-basis-point improvement in net interest margin by 2016 and a return to 2005 levels.
Our bleak forecast for net interest margins is driven both by historically low net interest margins in Europe and by our expectation that interest rates will remain low in the medium term as the central bank tries to stimulate economic growth against a backdrop of high unemployment and little structural improvement in labor markets. Current International Monetary Fund forecasts call for a 0.2% decline in GDP in 2013 in the euro area and only 1.0% growth in 2014.
Finally, we see limited potential for higher-than-expected profits to come from more efficient operations. Efficiency -- as measured by the ratio of noninterest expense/net revenue -- has improved significantly as the large trading losses experienced during the crisis have rolled off. We project a further 800-basis-point decrease in this ratio through 2016, 600 basis points of which will come in 2013 as restructuring charges roll off. We expect another 200 basis points of medium-term improvement as an economic recovery leads to higher revenue, but we see little room for improvement beyond historical levels. Costs are likely to remain high as European labor markets remain tightly regulated, and revenue growth is likely to remain modest on slow economic growth.
Recommendations
We think the rally in European bank share prices will soon run out of steam, and we recommend that investors take advantage of the current generous valuations to reduce exposure to the sector. For investors who want to maintain or increase their exposure, we advise first looking toward the strongest, best-capitalized European banks -- HSBC (HBC), Standard Chartered (STAN), and Julius Baer (OTCPK:JBARF). Each of these banks, though based in Europe, offers significant exposure to faster-growing markets and is likely to report faster earnings growth than peers that are more tightly tethered to Europe. For investors seeking a larger discount to fair value, we recommend Barclays (NYSE:BCS) or UBS (NYSE:UBS), both of which are trading at a discount of around 10% to our fair value estimate and both of which have new management teams that have staked their reputations on making the banks into less risky institutions.