Cemex (NYSE:CX) is a leading global building materials player based in Mexico. The company has over the years diversified its revenue base smartly into other countries with Mexico accounting for only 18% of its revenues in 2008 from 37% in 2003.
click to enlarge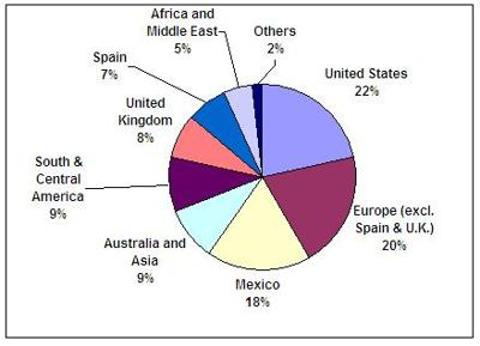 Click to enlarge
Source: Gridstone Research
This has been despite a 45% rise in Revenues within Mexico to $3.8 billion. Revenues outside Mexico grew an astounding 300% over this period to $18 billion in 2008.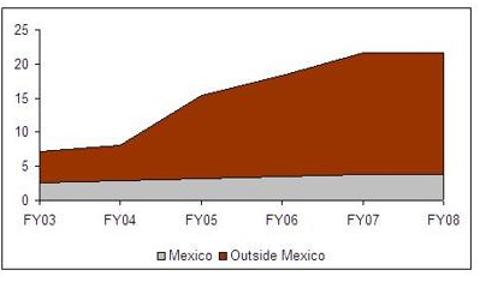 Click to enlarge
Source: Gridstone Research
As a barometer of construction activity globally, the state of the cement industry today reflects the sad state of affairs in the real-estate industry. The table below suggests very weak construction activity in the U.S and Europe, while Austral-Asia & Mexico seem to have seen some dip.
| | | |
| --- | --- | --- |
| Region | % y/y | % of Revenue |
| United States | -39% | 20% |
| Europe (excl. Spain & U.K.) | -39% | 16% |
| Mexico | -15% | 21% |
| Australia and Asia | -19% | 10% |
| United Kingdom | -43% | 7% |
| Spain | -61% | 5% |
Source: Gridstone Research
Mexico has been least impacted in 1Q09 and constituted 21% of the revenue. As the epicenter of the current "Swine flu", Mexico could see further slowdown in construction. This is not a good scenario for CX, which is also faced with high debt.
With total Debt of $18 billion, Net Debt to EBIDTA rose to 4.3X in 1Q09 from 4x at the end of FY08. Also, Net income during 1Q09 dropped 99% and Free cash flow declined by 76% to $118M. This reduces the comfort available to lenders and is not a very comforting scene for equity investors too.
Cemex may have just caught the flu. Just hope it is not for long. An infrastructure stimulus may be what the doctor ordered for Cemex, with cement being one of the largest beneficiaries of any such government push.
Disclosure: No holdings in CX