The real reason for the plunge in gold and silver is that the momo crowd is losing its grip on the precious metals. Since 2011, the momo crowd has been the controlling factor in the trading of gold and silver.
There are outflows from the popular gold ETF SPDR Gold Trust (NYSEARCA:GLD) and silver ETF iShares Silver Trust (NYSEARCA:SLV). Gold and silver miners have been hard hit. Several components of popular miner ETFs Market Vectors Gold Miners (NYSEARCA:GDX) and Market Vectors Junior Gold Miners (NYSEARCA:GDXJ) have hit new lows.
If you were privy to the results from complex computer algorithms at The Arora Report, gold behavior would make perfect sense to you. Different types of participants leave different types of footprints when they trade. Over years, we have refined our algorithms to detect such footprints from trading data across the world.
These are the same algorithms that called for allocation of 20% of assets to silver for a long-term investment at $17.73, and then called silver to be sold at $45.00 - $50.00. In addition to silver, the record of these algorithms on gold is also well documented. When I gave a call to sell gold at $1904- $1917, after being a mega bull for a number of years, the credit goes to these algorithms.
The long-term chart shows the zone where the vast majority of buying was by the momo crowd.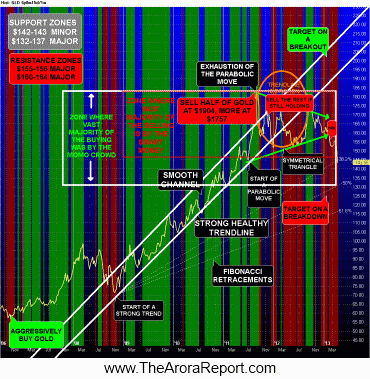 Please click here to see the full size chart.
The momo crowd in gold is a relatively recent phenomenon. The momo crowd is not to be confused with momentum players. Further, gold bugs and the gold momo crowd are often confused. The reality of the differences between the two groups as I have assessed from a large number of emails is stark.
Gold bugs tend to be intelligent and well-steeped in economics, especially monetary policy. They understand the arguments against gold and silver. Gold bugs tend to be long-term oriented and disciplined investors. As an example, in 2011 I did not see gold bugs mortgaging their homes and buying silver on margin.
The gold momo crowd is another story. Gold momo crowd buys gold and silver simply because everyone else in their social circle is buying gold and silver, they think it is going up, and they are scared of monetary policy pursued by the Federal Reserve.
According to our algorithms, the zone outlined with red on the long-term chart is the zone where smart money has been consistently selling. Our algorithms detect footprints of smart money from the trading data.
Until recently, the momo crowd had not been selling even though on the average the momo crowd is sitting on a loss in gold. To make matters worse, the momo crowd has continued to buy gold during most of the decline since gold hit $1904. Further, the momo crowd has consistently engaged in bizarre behavior of buying on good news and buying on the news of low inflation. Traditionally gold is a hedge against bad news and rising inflation. From the large number of emails I receive, the momo crowd contends that it is different this time. My 30 years of experience and deep study going back centuries shows that any time a specific group contends 'it is different this time,' it is a danger signal.
A review of our data, going back a while, shows that for the first time on April 4th, slight selling by the momo crowd was seen and then it stopped. There has not been any selling from the momo crowd today. Perhaps it is the deer in the headlights syndrome and the momo crowd just does not know what to do.
The danger here is that the momo crowd will panic and start selling. If such selling were to occur, gold will quickly fall to $1250 to $1425 range.
Negative psychology in the gold miners is evident from the fact that Barrick Gold (NYSE:ABX) on April 9th fell 8.36% on relatively minor news, compared to the scope of this company, to halt work on the Pascua-Lama mine in Chile. Subsequently, Barrick Gold went on to make a new low along with Newmont Mining (NYSE:NEM) and Goldcorp (NYSE:GG). Our favorite silver miner short at this time is First Majestic Silver (NYSE:AG). We have recently taken profits on short positions in Silver Wheaton (NYSE:SLW) and Hecla Mining (NYSE:HL).
According to our algorithms here are our current ratings on gold and silver.
Negative in the very short-term.
Negative in the short-term.
Negative in the medium-term.
Negative in the long-term.
Positive in the very long-term.
Astute investors know the difference between short-term trades and long-term investments. We are likely to upgrade gold and silver to a mild buy in the very, very short-term because of their oversold condition as shown on the following daily-chart. It is important for investors to look at the daily chart in the context of the annotated weekly chart above.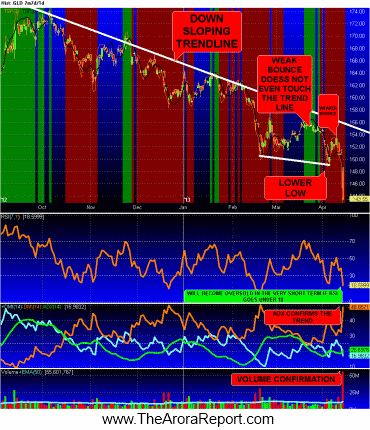 Please click here to see a full size chart.
Disclosure: I am short SLV, AG. I wrote this article myself, and it expresses my own opinions. I am not receiving compensation for it (other than from Seeking Alpha). I have no business relationship with any company whose stock is mentioned in this article.