With over 100 million active users, eBay (NASDAQ:EBAY) is the world's largest online marketplace. Founded just 18 years ago, the company has made strategic acquisitions, formed partnerships, and struck deals to allow for continued growth. The stock started off slow in 2013, but has since rallied and could continue on much higher.
The year that was
In January, eBay released its fourth quarter and annual earnings for 2012 [see call transcript]. It was an impressive year and management had positive guidance going forward. Take a look at the highlights from the report.
Fourth Quarter 2012 Results (year-over-year comparison):
Earnings per share rose 16.7% to $0.70
Net revenues increased 18% to $4.0 billion
Gross merchandise volume in the United States increased 19%
2012 Annual Results (compared to 2011 annual results):
Earnings per share rose 16.3% to $2.36
Net revenue increased 21% to $14.1 billion
Total commerce volume surpassed $175 billion, up 18%
2012 was clearly a strong year for eBay. The $175 billion of commerce volume is the total commerce and payment volume across all of its business unit and this far exceeded expectations. The majority of growth occurred in the fourth quarter and has carried over in to 2013.
Mobile growth and PayPal
Management said it best when they stated, "Mobile continues to rewrite the commerce playbook." It is for this reason they have placed more focus on its growth and the development of new ideas to grab more of the market. eBay's mobile payments exceeded $13 billion in 2012, more than double the volume of 2011.
PayPal was even more impressive than mobile, with $14 billion in mobile payment volume, tripling the prior year. Management expects both units to reach $20 billion in 2013. PayPal, who was acquired by eBay in 2002, has become one of the main catalysts of growth. It currently has about 123 million active users, with 6 million of those being added in the fourth quarter.
Check out PayPal's key statistics from 2012:
Active accounts growth of 15%
Total payment volume increased 24%
Revenue growth of 24%
Mobile payment volume increased over 250% to $14 billion
In-store solutions
Since the start of 2011, PayPal has been working diligently to increase its presence both online and offline. It recently reached a deal with Discover Financial (NYSE:DFS) to allow consumers to pay for products in-store using their PayPal accounts. Discover is a direct banking, payment solutions, and credit card provider. By partnering, PayPal now has access to millions of merchants nationwide while giving customers another speedy checkout option.
The cost of the in-store payment process is minimal to both companies, as it will not require any new software for merchants. The President of Discover Payment Services stated, "This initiative will result in real change and innovation for the industry by bringing new technologies to the point of sale that benefits merchants and PayPal customers." I think both PayPal and Discover will experience substantial payment growth from this partnership.
2013 expectations
For the full year 2013, eBay expects the following results:
Earnings per share of $2.73, a 15.7% growth
Net revenue of $16.25 billion, a 15.5% growth
Total commerce volume will exceed $200 billion
eBay mobile will exceed $20 billion
PayPal mobile will exceed $20 billion
From these projections, earnings would rise a solid 15.7% while revenues increase 15.5% The most important statistic to note is the $200 billion in expected total commerce volume. This would be a 14.3% increase year-over-year and would put the company about two years away from achieving a quarter of a trillion dollars in total volume.
Stock snapshot
Before the market open on April 15, eBay is trading at $57.31
At this level, it is trading at 28.8 times earnings, which is right around the industry average of 29.1
It is just 1.26% below its 52-week high of $58.04 reached on April 11
Year-to-date the stock has risen 6.94%, narrowly underperforming the S&P 500's 8.72% rise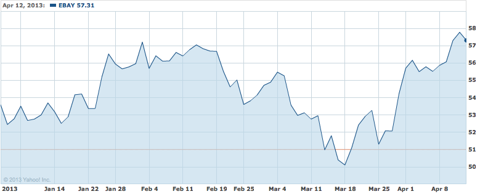 If eBay traded at the same multiple of 28.8 after reporting 2013 numbers, it could rise above $78 by next January based on expectations. I do not think it will appreciate that quickly, but I do see a rise above $65 by the conclusion of 2013. The $65 level is very attainable for a company of this caliber.
Bottom line
eBay is experiencing worldwide growth thanks to its marketplace and PayPal's growing account base. The stock has risen over 10% in the last month, so it would be smart to wait for it to pull back before buying in. It also reports earnings on April 17, so you may want to wait to read over the report before making a decision. I currently own a position and will continue to add to it on any weakness.
Disclosure: I am long EBAY. I wrote this article myself, and it expresses my own opinions. I am not receiving compensation for it (other than from Seeking Alpha). I have no business relationship with any company whose stock is mentioned in this article.