The market has turned around over the past month and bargains are harder to come by than they were in March. In the aggregate, equities are still cheap, but not as cheap as before. Despite some of my bullish writings, I actually have a pessimistic long-term view on the economy. Nevertheless, I do like to pounce when the market overreacts and even if the long-term economic perspective isn't rosy, it doesn't mean there aren't great buys out there. The key is valuation; even if the outlook is bad, if the market believes the outlook is significantly worse than reality might dictate, it can be very wise to buy in.
Over the past couple of months, I have examined several REITs, but as prices in that sector have rebounded significantly, I've decided to turn my attentions to the world of structural materials and small-cap manufacturer Hexcel (NYSE:HXL). Hexcel soared in the commodities bull market of the past summer, peaking above $25 per share. It briefly dipped below $5 in March, before climbing back towards the $9 range. Unfortunately, I was not eying the stock back in March and it would've been an easy buy at that point. All the same, even in $9 or $10 range, it still looks quite attractive, so let's take a closer look.
When Business Meets Nature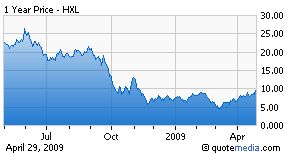 Hexcel is a manufacturer of high-performance composites including carbon fibers, prepregs, adhesives, and honeycomb. Honeycomb is a firm, light weight material modeled after the honeycombs from nature that we're all familiar with. Hexcel was the first company to manufacture honeycomb for commercial purposes and the honeycomb is a frequent theme in the company's marketing efforts.
Hexcel's products are primarily used by the aerospace industry in commercial, military, and space applications. However, it also sells its products for several industrial applications including wind turbine blades, sports equipment, automotive uses, and high-speed trains.
Significant Markets and Customers
Hexcel operates in Europe, the United States, and Asia. Net sales to Europe constituted 51% of their total sales for 2008, while sales to the United States amounted to 36%. In the most recent 10-K, the company states that the rest of its sales (approximately 13% of the total) were 'to other nations'; it might be safe to assume that a significant chunk of that was in the Chinese market.
Nearly a quarter of Hexcel's sales have been to Boeing (NYSE:BA) over the past three years, most of it concentrated in the commercial aerospace market and the rest was used in space and defense applications. A quarter of Hexcel's sales over the past few years have been to the European Aeronautic Defence and Space Company (EADSF.PK); as with Boeing, most of that was concentrated in commercial aerospace. Wind turbine producer Vestas Wind Systems (OTCPK:VWSYF) accounted for 11% of Hexcel's 2008 sales.
Recent Operating Performance
As with most commodity producers, Hexcel's core products tend to go through boom and bust cycles. Hexcel experienced its last bust back in 2002-2003 when the commercial aerospace industry was suffering post-9/11. In the past three years, it has been in a boom cycle:
Total Aircraft Deliveries for Boeing and Airbus
2000
2001
2002
2003
2004
2005
2006
2007
2008
Total Deliveries
802
852
684
586
605
668
832
894
858
This chart suggests that Hexcel's next couple of years could be difficult if the most recent bust period provides any guidance. All the same, Hexcel has improved its operating efficiencies and have products in high-growth markets including carbon fiber used in the aerospace industry and glass prepreg used in wind turbine blades. This might mean that financial results do not suffer all that greatly.
In Hexcel's 1st Quarter earnings call, it announced that revenues were down 10.8% from the prior year, but only down 5.5% on a constant currency basis. Gross margin was very strong at 25.1% of sales. In total, the lower revenues and higher margins balanced out and the company earned 24 cents per share for the quarter; precisely the amount it earnings for the same period in FY 2008.
One thing that might be important to note --- high margins can be both a good and a bad omen. As an investor, you obviously like to see high margins, but high margins also normally imply that there's room for more competition to move into the sphere profitably. Hexcel does have one significant advantage, though, in that it is difficult for companies to enter into their market segments. Moreover, the economic downturn might even be beneficial to them in the long-turn as it creates yet another hurdle for new competition.
Ratios and Additional Considerations
Hexcel's balance sheet is solid. It has a moderate degree of leverage with a 56.2% Liability-to-Value ratio. That number is trending downwards and as it slows capital expenditures, this should continue to be the trend in the near-term future. CFO Wayne Pensky has said that Hexcel wants to be free cash flow-positive for the next two years.
Hexcel also has strong liquidity, with a current ratio of 2.33 and a quick ratio of 1.21; this is on top of good operating cash flows. While higher costs of capital will slow down CapEx, the company at least appears to be in very good shape to pay its bills.
From my own observations, management appears very honest and solid. They have grown Hexcel significantly over the past several years and the long-term outlook, even with a downturn in the aerospace industry, would appear favorable. There have been some small, but notable insider buys over the past few months: CEO Dave Berges purchased roughly 10,000 shares at $4.70 and officer Robert Hennemuth purchased roughly $100,000 worth of HXL stock in the $8.00 - $8.10 range.
Earnings and Cash Flows
Before trying to come up with a valuation for Hexcel, we should take a glance at earnings and cash flows over the past several years. In particular, I want to examine, Net Income, Net Income plus Depreciation & Amortization [NI+DA], Cash Flows from Operations [CFOs], free cash flows [FCFs], and the increase in Stockholders' Equity from the prior year [INCR in SE]. For all of these measures, I have converted the numbers into per share terms based on the current number of diluted shares --- hence, my figures will differ from official results in order to make them more applicable to the future.
Earnings & Cash Flow Figures
2008
2007
2006
2005
2004
Average
Q1 -2009
Annualized
Net Income
1.14
0.63
0.68
1.45
0.30
0.84
0.24
0.96
NI + DA
1.60
1.04
1.06
1.92
0.80
1.284
0.34
1.36
CFOs
1.02
1.09
1.01
0.74
0.92
0.956
0.03
0.12
FCFs
-0.81
-0.15
-0.20
0.06
0.53
-0.114
-0.26
-1.04
INCR in SE
0.84
1.30
0.94
2.42
0.71
1.242
0.17
0.68
All figures in per share amounts based on current diluted shares as of 3/31/09
Free cash flows are negative for most of the years in our window, but given Hexcel's high growth, this is to be expected. For this reason, FCFs tends to be a somewhat meaningless measure. However, for a discounted cash flow analysis, we need to make some approximation of free cash flows over the long haul. The other four measures provide some insight into this issue. As you can see from the chart, all four figures hover around the $1 per share mark for their averages.
If I had to choose the most accurate measurement, I believe Net Income with the add-back for Depreciation and Amortization might be it, since there are high upfront capital requirements involved in most of Hexcel's sectors. At the same time, this is the most aggressive measure according to our averages, so it will definitely be important to consider the other more conservative measures, as well.
Valuation
I have come up with seven different scenarios to gain insight into Hexcel's valuation. For the issue of cost of capital, I decided to use both a 10% and a 12% cost of capital for all scenarios to examine the differences.
For the first five scenarios, I kept it simple and came up with an initial Year 1 [Y1] "average increase in value" figure (which is what I look for in absence of useful historical free cash flow figures); from there, I simply applied a 3% growth rate to that number for every year after Y1. These scenarios are not meant to be an accurate representation of Hexcel's future cash flows, but rather, an attempt at create an approximate average and see how it affects valuation. Scenarios #6 and #7 will be a bit different as displayed below. Here's the rundown of the scenarios:
Scenario #1: Y1 FCFs = $0.60
Scenario #2: Y1 FCFs = $0.80
Scenario #3: Y1 FCFs = $1.00
Scenario #4: Y1 FCFs = $0.35
Scenario #5: Y1 FCFs = $1.25
For scenarios #6 and #7, I created a chart to layout the "average increase in value" figures:
Scenario #6
Y1
$1.00
Y2
$1.20
Y3
$1.30
Y4
$1.50
Y5+
3% growth
Scenario #7
Y1
$0.60
Y2
$0.75
Y3
$1.00
Y4
$1.20
Y5+
3% growth
Here are the results:
HXL Valuation Chart
Cost of Capital
10%
12%
Scenario #1
13.06
11.28
Scenario #2
15.87
13.49
Scenario #3
18.67
15.70
Scenario #4
9.56
8.52
Scenario #5
22.17
18.46
Scenario #6
23.26
19.20
Scenario #7
19.15
15.92
Analysis
Of the scenarios, #3 would appear to be the most accurate to me since I believe the $1 "increase in value" figure is close to what Hexcel is producing now. Based on these valuations and my own assessment of risk, I would value Hexcel at $15 - 16 range right now. Fortunately, I managed to initiate a long position on the stock at $8.60 on Monday afternoon; it's fortunate since the price has jumped all the way up to $9.50 since then. All the same, this looks like a good buy for a large variety of portfolios anywhere under $10. If you're a value investor, you're getting in on a company trading at a significant discount to its historical position. If you're a growth investor, you're getting a growth company at what appears to be a cheap price.
For an investor with a 5-year horizon, downside risk would appear to be in the $3 - $4 range. I based that on Hexcel's net tangible assets of $4.66 plus a reasonable discount in the event that it becomes unprofitable at some point. However, given the company's most recent quarterly results, that does not appear to be a huge concern for the moment.
Upside potential is in the $30 - $35 range. The stock could reach this point if Hexcel continues to increase operating efficiencies, continues to experience growth in many segments, and demand in the commercial aerospace segment returns to 2006 – 2008 levels.
Given Hexcel's historical performance, earnings, and cash flows, this would appear to be a medium-risk stock to me. If you are looking for a stock with more upside, I'd take a look at low-cost carbon fiber manufacturer Zoltek (NASDAQ:ZOLT). However, given the current price, Hexcel offers significant value with good growth prospects without an extremely high degree of risk. That adds up to a good investment.
Disclosure: Author holds a long position in HXL and ZOLT.