Michael Kors (NYSE:KORS) has become one of the most loved and fashionable brands in the world. It reported incredible quarterly results in February and hit its 52-week high, but has since pulled back a significant percentage. Now is the time to buy and earn a high return over the next decade.
The blowout quarter
On February 12, Michael Kors reported one of the most impressive quarters you will see. It blew past analyst expectations and caused a spike in the stock. Take a look at the key statistics with a year-over-year comparison:
Earnings per share increased 220% to $0.64
Revenue increased 70.4% to $636.8 million
41.4% increase in comparable store sales
Analysts expected earnings per share to be $0.41, so the reported amount surpassed this by 56%. Michael Kors' stock jumped from $57 to $62 and reached its high of $65.10 days later.
Full year outlook
Management also raised full year guidance in this quarterly report. The projection blew past analyst expectations and was a catalyst in sending the stock higher.
Management's expectations:
Raised full year earnings per share forecast to $1.80-$1.82 from $1.48-$1.50
Raised full year revenue forecast to $2.1 billion from $1.86- $1.96 billion
Analysts expected earnings per share of $1.57 on revenue of $2.01 billion
The company projects same store sales to increase another 20-25% in the fourth quarter, which would far exceed other retailers in the industry. I believe even the raised guidance is far too low and it will blow past them and raise fiscal 2014's guidance. The strength of the brand and love by consumers should not be underestimated.
Expansion plans
In the last 52 weeks, Michael Kors has opened 66 new retail locations, bringing the grand total to 297 stores. The company also has another 91 stores operated through licensed partners. It is still expanding and now has its eyes set on the Chinese market. In February of last year, CEO John Idol stated "Over the next three to five year, we will have 100 stores open in this market (NASDAQ:CHINA)." China is expected to account for 20% of the world's luxury market by 2015, so this is a strategic move by management.
Stock drop
Ever since reaching its 52-week high on February 19, Michael Kors has fallen 13.6%. At the current price, the stock is trading at just 31 times full year earnings estimates. More notably, it is trading at only 18.7 times 2014's projections. These two multiples are too low for a high-growth company like Michael Kors.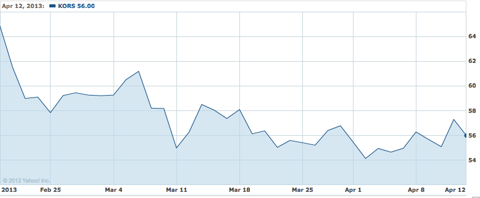 Coach is dying
Since Michael Kors has began dominating the luxury goods market in the United States, analysts have directly compared it to Coach (NYSE:COH). This is not a fair comparison because Michael Kors is a stronger company today and has much more potential going forward. A simple formula is: Michael Kors > Coach.
Here are the two most notable differences:
Michael Kors same store sales GROWTH was 41.4% in the last quarter compared to Coach's same stores sales DECLINE of 2.2%
In the same period, Michael Kors had North American sales increased 67% while Coach's grew just 0.6%
Since Michael Kors' initial public offering, it is up over 130% while Coach is down 10.95%. In its quarterly report, Coach cited its main issue as increased competition. I think this is a vague way of saying Michael Kors and other competitors are taking a higher share of the market. There have been rumors that Coach will go private, and this may be the best route for the company at this time.

Beneficiary to the growth
Estee Lauder (NYSE:EL) is one of the world's largest manufacturers and distributors of skin care, hair care, make-up, and fragrance products. In 2003, it acquired Michael Kors' fragrance unit for a very cheap valuation. Management stated, "We believe that the brand has significant growth potential..." and they could not have been more accurate.
Fragrance sales made up 13.1% of Estee Lauder's revenues last year. These sales were only up 3% year-over-year, but growth is expected to increase over the next three years. Estee Lauder made a great call acquiring Michael Kors' unit and it should continue to benefit from the popularity of the brand.
Summarized: Risks vs. Rewards
Risk: Continued fall to the downside = minimal
Reward: Rise back to its 52-week high of $65 = high
Risk: Coach becomes a loved brand again = minimal
Reward: Continued expansion into the world's largest luxury markets to double earnings = high
Risk: Earnings miss = minimal
Reward: Another earnings blowout = high
Concluding argument
Michael Kors is a great value play at today's price. It has unparalleled growth in the industry and will continue to take share from competitors like Coach. This has become the must-have brand in America, and I think this will become the situation throughout the world. I believe the pullback is a perfect buying opportunity and investors should take notice by piling in. Take a look and see if it makes sense for your portfolio.
Disclosure: I am long KORS. I wrote this article myself, and it expresses my own opinions. I am not receiving compensation for it (other than from Seeking Alpha). I have no business relationship with any company whose stock is mentioned in this article.