While the Bullish Percent Indicators (BPI) of the major indexes and sectors of the market showed few changes this past week, there are a few ETFs (VPU and VHT) that merit special consideration. The following two screen shots provide a broad look at the condition of the U.S. equities market.
BPI of Indexes: The NYSE is the primary index to follow and a few more stocks within that index shifted over to the bullish side. Both the DJIA and DJTA are controlled by the defensive team. With so many of the indexes positioned above the 70% mark, it is not difficult to conclude this market is highly priced and has been for some time. This does not imply the market will stall at this point, but the laws of probability are moving in favor of caution.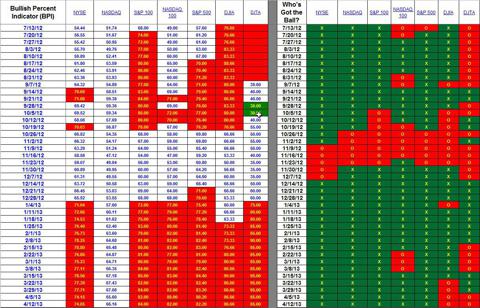 BPI of Sectors: The following table shows BPI results for ten market sectors. Half are controlled by the offense and half by the defense. As with the major indexes, the sectors are also priced quite high and a few cracks are beginning to show (red background), although most sectors actually increased in numerical value this past week.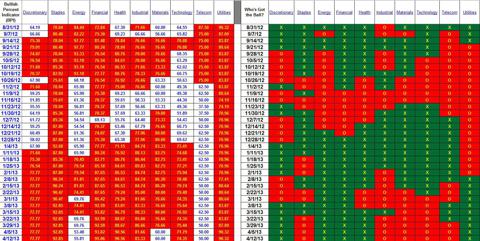 Efficient Frontier of Sectors: The following Efficient Frontier comes from a sample portfolio made up only of Vanguard sector ETFs. The current portfolio (diamond dot) almost exactly matches the optimized portfolio (red dot) as it is difficult to see the difference on this graph. The individual Return-Volatility coordinates are shown for each ETF.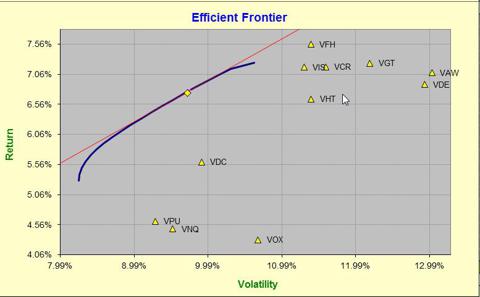 Sector Rankings: Below is a ranking of the 10 ETFs based on performance over the past three and six months. A 50% weight is assigned to the past three month performance and 30% to the past six month performance. The final 20% weight is allocated to volatility as we are looking for low volatile ETFs. Utility ETF (NYSEARCA:VPU) merits serious consideration for momentum investors as this ETF is showing the greatest growth over the recent time frame. The other sector is Healthcare (NYSEARCA:VHT), our top ranked ETF for the past six months.

Disclosure: I am long VHT, VFH. I wrote this article myself, and it expresses my own opinions. I am not receiving compensation for it (other than from Seeking Alpha). I have no business relationship with any company whose stock is mentioned in this article.