In the process of scanning the investment landscape to find value amidst the all time highs for the indices, I've noticed that a number of big cap tech stocks are priced at low valuations relative to their earnings and free cash flow, measured on an absolute basis and relative to their own historical valuations. Some of these stocks are producing huge amounts of free cash flow and are paying (and growing in a few cases) their dividends. These are good companies with competitive advantages that have mature businesses and demanded products.
I loosely categorize my investments into three separate groups:
Compounders ("Franchise"-type quality businesses that are compounding their values over long periods of time)
Cheap and Good (This middle ground is where I spend most of my time. This represents Joel Greenblatt's favorite two metrics: low earnings multiples and high returns on capital)
Cheap Assets (These are simply cheap stocks relative to their assets. We're talking extremely cheap in the Graham tradition. Net-nets, stocks priced below tangible book value without much debt, etc... this basket needs to be diversified as on balance, a basket of these stocks can do quite well, but it's difficult to pick individual winners from this group)
I think of these groups like a bond manager would think about credit ratings for different classes of bonds. (i.e. Compounders have the highest quality, Cheap Assets have the lowest). My portfolio will tend to fluctuate the weightings of each of these categories depending on the market conditions and where the opportunities for value are. The Cheap and Good category tends to represent a majority of my portfolio most of the time.
Today, I want to mention four names in big cap tech that I think fall into the franchise type "compounder" category, but still are selling at cheap prices relative to their earnings and free cash flow.
High Quality Businesses
These are four of the most well known names in the stock market, with well known products that people and businesses use daily. As I write this, I'm using 3 of the 4 (INTL, CSCO, and MSFT), and the 4th has two products on the table next to me. These products have created durable competitive advantages for these four companies. Look at the gross margins:
MSFT: 75%
AAPL: 41%
CSCO: 61%
INTC: 62%
Buffett has said that a company that can consistently produce 40% or greater gross profit margins likely has a durable competitive advantage. He said the same for net margins over 20%, which all of these companies have as well.
Here are some other quality metrics that these four big guys have:
Fort Knox style balance sheets with no net debt (AAPL has no debt at all and its famous $100+ Billion cash hoard; the other three also have net cash on their balance sheets and very low debt/equity ratios of <.25)
Very High Returns on Capital
10 years of consecutive positive free cash flow
10 years of consistent book value growth
Sizeable dividend yields with low payout ratios (leaving room for growth in payments)
Valuation
So you have really good companies here that should be priced at a premium. But take a look at the valuations for these four stocks:

This chart is market weighted, but all of the stocks are selling at single digit multiples (on an enterprise value basis) to their cash flow. They have been producing significant positive free cash flow for over a decade, with little to no debt. This unlevered free cash flow will allow them to begin buying back shares (which all have done with the exception of AAPL), and continue to raise their dividend payments, both of which will improve shareholder value.
Here is the current dividend yields (payout ratios in parenthesis):
MSFT: 3.2% (45%)
AAPL: 2.5% (12%)
CSCO: 3.2% (25%)
INTC: 4.1% (40%)
As a group, they yield 3.25% with relatively low payout ratios, healthy balance sheets, and a stable and growing earnings and free cash flow base that should allow for steady dividend increases over time.
Sometimes Even the Mega-Caps get Mispriced
Charlie Munger once described how it's possible to find extremely mispriced stocks even when they are among the largest and most well known names in the stock market. His example of course was Coke (NYSE:KO). When he and Buffett began buying that stock in the late 80's, it was one of the largest companies in America (as it is now). But Munger pointed out that even a company that size can become significantly undervalued. Of course, he was correct and Coke, in spite of its size, actually rose 1000% over the next decade.
I don't say these to even remotely suggest any of these stocks will become 10-baggers. They won't. But at times, like Munger said, the market allows you to buy some of the largest, most well known companies at discounts to their intrinsic value. Often times, it takes being somewhat of a contrarian to make these purchases. There are reasons why these stocks are selling at low valuations, and all have to do with an uncertain future. But like Coke in the 1980's, the future is uncertain, but these companies have durable competitive advantages and the balance sheet and cash flow firepower to weather any storm that they face.
Contrarian View
So we have high quality companies that are compounding their book values, cash flows, earnings, and sales over long periods of time, and they are selling at below average valuations. Plus, it helps when others have become apathetic to these names (this apathy applies to CSCO, MSFT, and INTC over the past decade... of course, AAPL has been a darling stock in the last 10 years, but in the last six months has become moderately unloved).
Take a look at the 10 year charts for these four stocks, and notice the financial data over the corresponding time period:
MSFT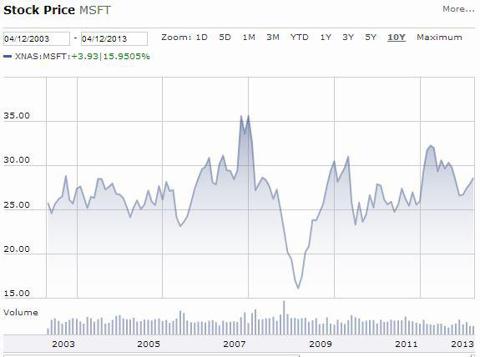 AAPL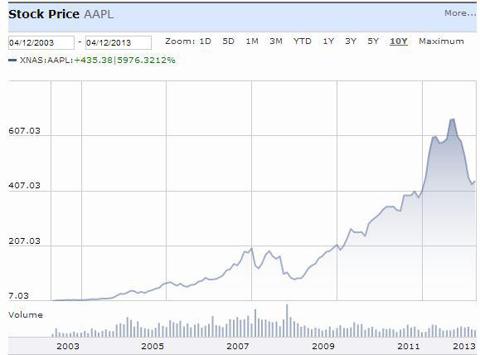 CSCO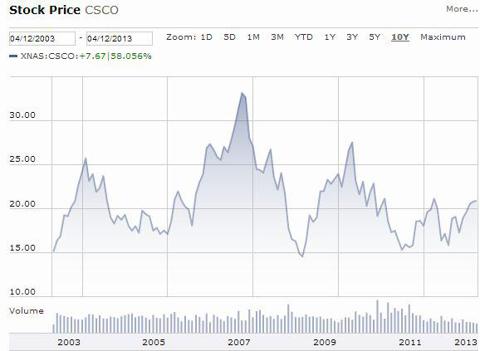 INTC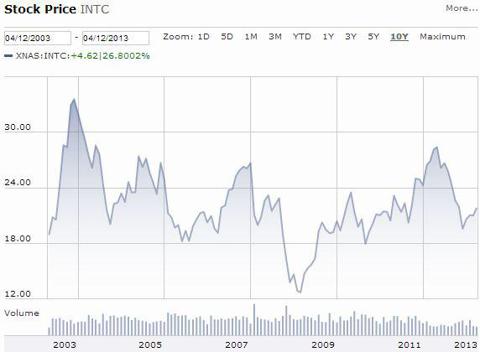 AAPL is the glaring exception, but notice how the other three's stock prices have gone basically nowhere in the last 10 years while their businesses have steadily improved year after year, producing more sales, more free cash flow, high book values, buying back shares, and implementing and growing dividend payouts.
Values of course started the decade too high, but after a stock goes nowhere for 10 years, investors begin to become apathetic or even frustrated, and lose interest. This is where opportunity lies. Human nature creates similar scenarios in small caps, mid caps, large caps, foreign stocks, and any other asset class where humans do business with each other.
Good Quality, Good Prices
Leaving aside the biases that most of us have one way or another for each of these companies, and you'll see 4 extremely profitable, high quality businesses with very low multiples of earnings and free cash flow. I have no idea of the upside in these names, but I am very confident that each of these stocks have a high margin of safety embedded into the current price. Even with little to no future growth, these companies should continue to produce high levels of free cash flow over time which will allow them to increase share buybacks and/or dividends, thus compounding value for shareholders over time.
Please note: this is not a recommendation for or against these stocks. Each person has a different financial and risk profile, and each person should rely on their own research or consult their advisor when making investment decisions. John Huber does not own any of the mentioned stocks for himself or for his clients, but may initiate a position in any of them in the near future.
Disclosure: I have no positions in any stocks mentioned, but may initiate a long position in MSFT, INTC, CSCO, AAPL over the next 72 hours. I wrote this article myself, and it expresses my own opinions. I am not receiving compensation for it. I have no business relationship with any company whose stock is mentioned in this article.